Obituary - DR. NORMAN WALL
Retired cardiologist, author and lifelong supporter of Israel and the Jewish community, Dr. Norman M. Wall of Heathrow, died at his home Sept. 3, 2013. He was 99. Wall was born Feb. 9, 1914, in Girardville, Pa., the youngest, and sole survivor of nine children born to Russian immigrants. He attended the University of Pennsylvania and its medical school on a scholarship in the 1930s and later trained at the Leahy Clinic in Boston and Montefiore Medical Center in Pittsburgh. When World War II broke out, Wall served as an Army medical officer and was dispatched, along with the 24th Field Station Hospital, to establish medical facilities in Tel Aviv, Palestine, which was then under British control. When the State of Israel was established, Wall helped establish what eventually became known as Sheba Medical Center, Israel's largest hospital and research center.
He became a commanding officer of the 367th Station Hospital Middle East Theatre, with the rank of lieutenant colonel when he completed his tour of duty, according to The Republican-Herald archives.
His many accomplishments in his almost century-long life included serving as medical director of Good Samaritan Medical Center, a Catholic hospital in Pottsville, Pa., where he wrote the first clinical papers on Black Lung disease, and in 1982, The Friends of Norman M. Wall, M.D. honored the doctor's accomplishments by raising $100,000 to build the Norman M. Wall Auditorium at the hospital; helping to found Ben Gurion Medical School in the Negev; fighting anti-Semitism and social injustice wherever he encountered it; smuggling medical supplies to Jewish "refuseniks" in the Soviet Union during the 1970s; and serving as a national officer for the Anti-Defamation League.
Wall and his family moved to Heathrow, Fla., after retiring his medical practice in 1995. He supported the Holocaust Memorial Resource and Education Center, was active in the Jewish Community.
His most recent honor was received this past May when the Congregation of Reform Judaism and the Maimonides Medical Society of Greater Orlando announced the establishment of the Norman M. Wall, M.D. Fellowship in Cardiology by one of Wall's former students, Dr. Ron Waksman, who is associate director, Division of Cardiology at MedStar Washington in Washington, D.C. The program is a multiyear fellowship for Israeli heart specialists from Sheba Medical Center who will be able to come and study at MedStar Washington and Georgetown University medical centers.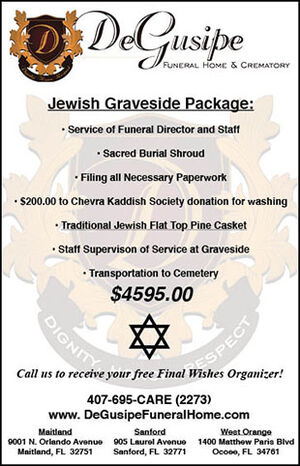 "For an old guy, I've been getting a lot of honors but this one's topping it. It's very pleasing," Wall said in a phone interview with the Girardville, Pa., Republican Herald newspaper last April.
"I have enjoyed a remarkable life," Wall once told his friend Mark Pinsky, a journalist, author and former Orlando Sentinel writer. "I was born to parents who fled the pogroms of the Czar in 1890; grew up in a small coal region town in Pennsylvania as the only Jewish boy there, free of any anti-Semitism; and during the Great Depression was able to go to college and medical school on a scholarship."
In addition to his wife of more than 20 years, Faye, Wall is survived by his sons, Jay of Tel Aviv, Israel, and Harry of Larchmont, N.Y .; daughter, Sharon of Rockville, Md .; five grandchildren; and five great-grandchildren.
He was interred at Kehillath Israel Cemetery in Shenandoah Heights, Pa.