Party After Dark to honor Shayna's Village founders
On Nov. 6, 1994, the Roth Jewish Community Center of Greater Orlando opened the Shayna Cai Presser Parenting Center within its Richard S. Adler Early Childhood Learning Center.
Twenty years later-to the week-the Roth JCC will celebrate the center, now known as Shayna's Village, by recognizing its founders, Es Cohen, and her sons, Justin and Matt Presser at a "Party After Dark" on Saturday, Nov. 8 at 8 p.m. at the Roth JCC.
Shayna's Village is a unique kid-sized village housed within the Roth JCC's preschool, where young children and their parents can learn through creative classes like Baby Rock, iKid Productions, Bon Appetit, and First Impressionists.
While Shayna's Village is a bright place full of laughter and learning, the center was actually born of tragedy, named in memory of a young girl named Shayna Cai Presser.
Beginning in 1988, Shayna's mother, Esther Presser (now Cohen), was the membership director of the JCC, where her sons Justin and Matthew attended the preschool, after school, and summer camp programs. In 1990, Shayna was born and began attending the JCC's preschool the following year. Tragically, after just two weeks attending the school, Shayna was diagnosed with a brain tumor from which she passed away on Aug. 26, 1991.
"Shayna's passing was horrific to our family, the loss unimaginable," Cohen said. "The JCC was like a family to me and they became very supportive during this time. I wasn't sure how I was going to get through it, but they were there for me and my family."
After a few years, Cohen saw the opportunity to express her family's gratitude to the JCC, while also creating a loving memory of her daughter.
The Shayna Cai Presser Parenting Center became a place for babies and young children and their parents to come together and learn and make friends.
Many outstanding educators contributed to the center's success over the years, including Bonnie Friedman, Judy Levin, Amy Geboff, Nancy Greenfield, Paula Roth, Carol Miller, Debbie House, and Jodi Alter.
In 2007, Karen Duncan, who had worked as a teacher and supervisor in the preschool for 15 years, took the reigns in reinventing the parenting center. With sponsorships from Blue Cross and Blue Shield and Darden, Shayna's Village was reborn with a new look and schedule of unique classes.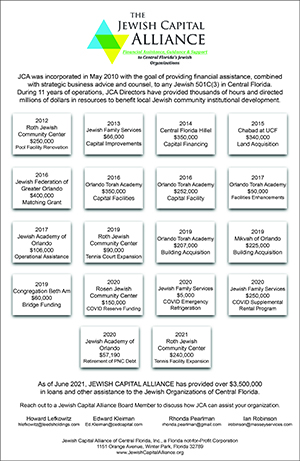 The Party After Dark event on Nov. 8 will recognize Es, Justin, and Matt, while also raising funds for the Richard S. Adler Early Childhood Learning Center. The evening will feature hors d'oeuvres, cocktails, a children's art auction, and a live band.
For more information or to RSVP, visit http://www.orlandojcc.org/partyafterdark, or call Carol McNally, early childhood director, at 407-645-0923 or CarolM@orlandojcc.org.