Weekly roundup of world briefs from JTA
Burial set for elderly Jewish couple who died in Houston flooding
(JTA)—Funeral services were set for an elderly Jewish couple who drowned in the floods that swept through Houston last week.
Shirley and Jack Alter, who died when their rescue boat capsized in the rushing floodwaters, were scheduled to be buried Sunday at the Congregation Beth Yeshurun Cemetery in Houston. The boat suffered engine failure before capsizing on May 26, the Houston-based Jewish Herald-Voice reported.
The couple—Shirley Alter was 85 and Jack Alter was 87—were wearing life jackets but were not strong enough to withstand the strong current. The couple's 55-year-old daughter was able to float to safety, the Jewish Herald-Voice reported.
Shirley Alter's body was recovered on the same day as the accident. Jack Alter's body was recovered on May 28 in the Port of Houston and positively identified the next day.
The Alters were among at least nine people killed in last week's flooding.
Three Houston synagogues were flooded and damaged during the storm: United Orthodox Synagogues of Houston; Congregation Beth Israel's Reform Temple; and the Meyerland Minyan, an Orthodox synagogue.
The Jewish Federation of Greater Houston is collecting money for a flood relief fund. The Jewish Federations of North America is sending Houston's Jews $25,000 for urgent assistance.
Over the weekend, volunteers and federation staff handed out recovery supplies at the Evelyn Rubenstein JCC, including boxes, bins, tape, packing materials, cleaning supplies, protective equipment, trash bags, bottled water and replacement cellphone chargers. The volunteers also accepted donations of such items, according to the Herald-Voice.
Federation staff also went door to door in flood-struck areas delivering packaged meals.
Report: U.S. paid $20M in Social Security benefits to suspected Nazis
(JTA)—The United States paid out some $20.2 million in Social Security retirement benefits in the past half-century to suspected Nazi war criminals and other Nazi collaborators.
A report prepared by the Social Security Administration's inspector general showed that some $5.7 million was paid to individuals who were found to have played a role in the Nazi persecution and were deported, and more than $14 million went to people who were not deported but were alleged or found to have assisted the Nazis during the Holocaust, The Associated Press  reported Sunday.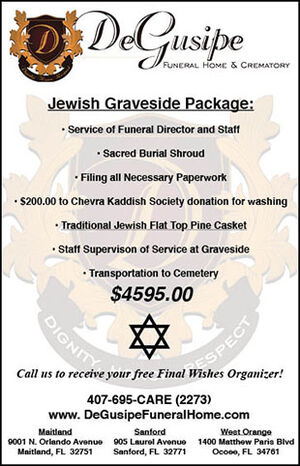 A total of 133 suspected Nazi war criminals and other alleged Nazis received the benefits, according to AP, which obtained the report that was scheduled to be released to the public next week.
The payments occurred between February 1962 and January this year, when a new law called the No Social Security for Nazis Act went into effect. At that time, the four remaining beneficiaries still alive lost their retirement benefits.
The report does not include the names of the benefit recipients.
Late last year, AP reported that Social Security benefits were paid to ex-Nazis who agreed to leave the U.S. rather than being forcibly deported.
"We must continue working to remember the tragedy of the Holocaust and hold those responsible accountable," Rep. Carolyn Maloney (D-N.Y.), who requested the inspector general's investigation after the earlier AP report, said in a statement. "One way to do that is by providing as much information to the public as possible. This report hopefully provides some clarity."
Jewish physicist's Nobel Prize sells for $765K
(JTA)—The 1988 Nobel Prize in physics won by Jewish-American experimental physicist Leon Lederman sold at auction for $765,002.
Lederman, 92, and his wife, Ellen, decided to sell the medal after he was diagnosed with dementia, The Associated Press reported.
The online bidding was conducted by the Los Angeles-based Nate D. Sanders Auctions. The results of the daylong auction on May 28 were reported over the weekend.
Ten Nobel Prizes have been sold at auction; only two were put up by a living winner.
Lederman won the Nobel Prize with Melvin Schwartz and Jack Steinberge for their discovery of the muon neutrino, a subatomic particle. He also won the Wolf Prize in Physics in 1982 and the U.S. National Medal of Science. He is a member of the board of the Weizmann Institute in Rehovot, Israel.
Lederman is credited with coining the nickname the "God particle" for the Higgs Boson subatomic particle, a term he used in a 1993 book promoting support for the Superconducting Super Collider.
He used his share of the approximately $1 million prize to buy a vacation home in Idaho, where he now lives permanently, according to AP.
Marchers at N.Y.'s Israel salute 'standing up for what is right,' Netanyahu says
(JTA)—Israeli Prime Minister Benjamin Netanyahu told participants at the Celebrate Israel Parade in New York that they are "sending a powerful message of support for the essential justice of Israel's cause."
Tens of thousands gathered on Sunday for the 51st annual parade, which this year had the theme of "Israel Imagines." The march down Fifth Avenue  between 57th and 74th streets featured such notables as New York Gov. Andrew Cuomo and New York City Mayor Bill de Blasio.
"In this turbulent region of the Middle East, where countries are imploding, militant Islam runs rampant, terrorists butcher the innocent and human rights are routinely trampled upon, Israel stands out as a beacon of freedom and human rights, as a model of tolerance and diversity and as the one country in which the equal rights of all citizens are fiercely protected under the law," Netanyahu wrote in his message.
"So as you salute Israel today in the streets of Manhattan, know that you are standing up for what is right and what is just," Netanyahu wrote.
The grand marshal this year was the Russian-speaking community, represented by high school student Angela Reyzelman and recent college graduate Alan Meskin.
The government of Israel was represented at the parade by Ido Aharoni, the counsel general in New York; Danny Danon, minister of science, technology and space; and government minister Ofir Akunis.
Some 11,000 Madoff victims could receive payments on claims
(JTA)—About 11,000 victims of Bernard Madoff's Ponzi scheme could recover some of their losses.
Richard Breeden, special master of the Madoff Victim Fund, said he will recommend U.S. Justice Department approval for payments on the claims totaling some $1.3 billion, Reuters reported Friday. The fund, which contains more than $4 billion, allows those who were indirectly affected by the scheme, such as hedge fund and bank clients, to try to recoup some of their losses.
The number of victims who could be approved for payments could double in the future, according to Reuters. Some 60,000 claims are being reviewed.
The fund is separate from the monies being administered by trustee Irving Picard, who is liquidating Madoff's business.
Madoff victims lost about $17.5 billion of principal in the scheme.
Madoff, 76, is serving a 150-year sentence in federal prison for a scheme believed to be the largest of its kind in U.S. history. He pleaded guilty in March 2009.
The scheme affected a disproportionate number of Jewish individuals and organizations.
British Jewish woman wins $25K in religious discrimination suit
(JTA)—A British Jewish woman won $25,000 in damages from a company that refused to hire her because she is Sabbath observant.
Aurelie Fhima applied to Travel Jigsaw in Manchester, but was rejected after she said at a job interview that her religious observance prevents her from working on Friday nights and Saturdays, the Telegraph reported last week.
Travel Jigsaw officials sent her a letter saying that they could not hire her because "We are still looking for people who are flexible enough to work Saturdays."
When the company refused to reconsider its decision, she sued for religious discrimination.
Fhima's attorney told the Telegraph, "This case serves as an important reminder to employers of the obligations they have to job applicants—not just their employees. It also shows that many large employers still fail to understand the law surrounding discrimination."
Child Holocaust survivors get $60 million—in a single day
NEW YORK (JTA)—The Claims Conference sent out payments totaling about $60 million in a single day last week—the first of an estimated 70,000 one-time payments of approximately $2,750 to child survivors of the Holocaust.
The payments follow the creation last year of a new $190 million Child Survivor Fund that offers one-time payouts to Jews born in 1928 or later who spent time in Nazi concentration camps, ghettos or at least six months in hiding or living under a false identity during World War II. The payouts are in addition to any other monies the survivors receive or have received.
"These children endured devastating separation from parents, witnessed unimaginable atrocities, suffered from malnutrition and hunger, and lived through other persecution that stole their childhoods," Julius Berman, the Claims Conference president, said in a statement last week. "All of these have had a cumulative effect and are resulting in late-onset problems that only now are manifesting as physical and psychological symptoms in the survivors' advanced age."
Germany is providing approximately 75 percent of the funding for the program. The balance comes from the Claims Conference's so-called Successor Organization, which is funded by the sale of Jewish properties recovered in the former East Germany for whom no heirs could be found.
The Claims Conference has received approximately 85,000 applications and anticipates that 70,000 to 75,000 will be eligible. Last week's payments went to the first 21,600 eligible applicants—mostly Jews in Israel, the United States, Canada and France. In all, claimants from 52 countries have been found eligible.
In Belgium and France, Jews and Jewish museum employee threatened
(JTA)—A Jewish family from Belgium and a French university director received anti-Semitic threats, according to reports in French-language media.
The family from Rhode-Saint-Genese near Brussels received a letter on May 26 with a swastika and the words "dirty Jews." The mother, identified only as Anne in an article published by La Capitale, said she did not know who might have sent the letter.
One of the family's children attends a Jewish school but the family describes itself as secular. The family filed a complaint with police and contacted Joel Rubinfeld, founder of the Belgian League Against Anti-Semitism.
The family received the letter two days after a commemoration held on the one-year anniversary of the murder of four people, allegedly by an Islamist who is on trial and is denying his involvement in the attack, at the Jewish Museum of Belgium.
The museum's spokeswoman, Chouna Lomponda, a Belgian of African descent, also received a threat the same day on Facebook, she told La Capitale. "Stop showing and talking for Jews. It could be dangerous for you," the text read.
In France, the director of the Technical University Institution, or IUT, in Saint-Denis near Paris, who has received multiple death threats this year, is believed to have been targeted anew by unknown individuals who sent five of his colleagues text massages reading: "You too will fall. You work for Jews."
In addition to the messages to the colleagues of Samuel Mayol, a star of David was painted on the door of an office of a teacher at the institution, the Le Figaro daily reported Thursday.
The National Bureau for Vigilance Against Anti-Semitism, or BNVCA, condemned the incident in a statement May 27 and praised France's education minister, Najat Vallaud-Belkacem, for also condemning it and classifying it as anti-Semitic.
"The anti-Semitic climate at this university has been worsening for several years," BNVCA founder Sammy Ghozlan wrote in a statement, which blamed "anti-Israel propaganda disseminated by student bodies that are supported by the French and foreign far-left groups."
Alleged Nazi war criminal who moved to Canada dies at 93
MONTREAL (JTA)—Vladimir Katriuk, a native Ukrainian who avoided deportation from Canada for 64 years after hiding his Nazi past to move there, died in Quebec.
Katriuk died on May 22, according to his lawyer. He was 93.
For years Katriuk was second on the Simon Wiesenthal Center's list of "most wanted" Nazi war criminals. As a member of a Ukrainian battalion serving the Nazis in 1943, he was alleged to have been a key player in the massacre of Jews in a Belaraus village, with especially compelling evidence emerging in 2012.
Although in 1999 Canada's Federal Court ruled that Katriuk lied about his Nazi past to enter Canada and ordered his Canadian citizenship revoked, he exploited Canada's lengthy appeal process to stay in the country.
That brought decades of criticism from Canadian Jewish bodies such as B'nai Brith, the defunct Canadian Jewish Congress, and the Centre for Israel and Jewish Affairs (CIJA).
Just hours before news of Katriuk's death was made public, CIJA issued a statement reacting to Russia's criticism of Canada for not having extradited Katriuk back to Ukraine.
"We call on the Government of Canada to review this case and take the necessary steps to ensure that... Katriuk be held accountable for war crimes..." CIJA said.
For decades, Katriuk lived as a beekeeper in the municipality of Ormstown, one hour southwest of Montreal.
Washington court ruling opens door to lawsuit over BDS
(JTA)—The Washington state Supreme Court reversed a ruling that protected the Olympia Food Co-op from lawsuits over its boycott of Israeli products.
In a 9-0 decision on May 28, the justices voided a 2012 ruling by the Thurston County Superior Court against five people who in 2011 sued the co-op over its policy on Israel.
The 2012 ruling not only dismissed the five plaintiffs' claim, but also slapped them with a $230,000 bill for legal expenses and fines connected to state legislation designed to punish those found to have used litigation to intimidate political rivals.
Last week's ruling allows the plaintiffs to again sue Olympia in a trial court and have their claims reviewed. It also means the plaintiffs do not have to pay the $230,000 bill.
The Olympia Food Co-op is the only commercial establishment in the United States officially to vote to boycott Israeli products, according to StandWithUs, an American pro-Israel group that funded the plaintiffs' motion to have the supreme court review the county court's 2012 ruling.
In their original lawsuit, the plaintiffs accused the grocery store of unlawfully adopting the boycott measures in a process that violates its own bylaws.
StandWithUs called the May 28 ruling "a major setback to the anti-Israel boycott, divestment, sanctions (BDS) campaign."