Rabbi Adler dies at age 96
Rabbi Rudolph "Rudy" Adler, a pillar of the Jewish community in Orlando for more than 50 years, passed away Monday morning, Sept. 19. He was 96 years old.
He was born in Kassel, Germany, and was a Holocaust survivor. For him, living through the Holocaust strengthened his faith in a ''supreme being... and the need for divine guidance and morality.'' He also believed that education was extremely important to fight against prejudice.
''I still feel that there's a lot of prejudice based on ignorance,'' he once stated. ''If more people would know about Judaism I think the prejudice would be less.''
Rabbi Adler was the rabbi of Congregation Ohev Shalom from 1960 to 1990. He then became COS's Rabbi Emeritus. He also had a weekly column, titled Rabbinical Thoughts, that ran in the Heritage Florida Jewish Newspaper for several years. Jews and non-Jews were always asking questions about Judaism and the column was a good medium to explain many things. Still, he always received many calls from nonmembers of the congregation with inquires. He always took the time to answer their questions. He loved teaching about his faith. To Rabbi Adler, it was just part of his job.
Because of his undying service to the Jewish community, the Heritage honored him with the Human Service Award in 2006. He is the only rabbi to receive this award.
"Rabbi Adler was known for his great kindness and his loving care of the members of our synagogue. With his wife Rose z"l, by his side, Rabbi Adler tended to the needs of this congregation," wrote Rabbi Aaron Rubinger in a letter to the COS members.
Rabbi Adler was so well known in the entire community that when he retired as rabbi at COS, that Friday was proclaimed by Orlando Mayor Bill Frederick as Rabbi Rudolph Adler Day in the city. An entire weekend was dedicated to special recognitions, culminating in a banquet.
Rabbi Adler and Rose always walked to the synagogue on Shabbat and stated that he would always walk to shul as long as he was able.
Myrtle Rutberg, a member of the congregation for almost 50 years at that time, told the Orlando Sentinel in 1990, ''In the 16 and a half years since I became a widow, he and Rose walked me home from synagogue every Friday that I attended services. They honored the fact that I wanted to do this, and they never let me go alone.''
Rabbi Adler was always reaching out to others through many different positions, on staff or as a volunteer. He served as a chaplain at the Orlando Naval Training Center, the former U.S. Air Force base, and a Winter Park nursing home. He also visited Jewish inmates at jails in Central Florida and the Florida State Prison near Starke. He saw visiting the inmates as "bringing them a little sunshine."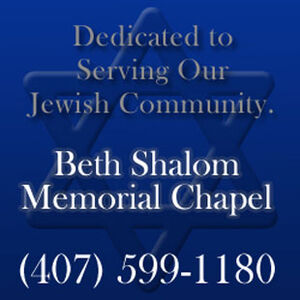 ''It's part of human service, loving your neighbor and being kind, especially to the downtrodden, the less fortunate,'' he said. ''I think I can help them a little bit, bring them a little sunshine.''
In the Orlando Jewish community, Rabbi Adler was the founder of the Greater Orlando Board of Rabbis.
"His death is a great loss to his family, our synagogue, the Jewish community and the Orlando community at large," wrote Rabbi Rubinger. "He will be deeply missed by so very many."
Rabbi Adler is survived by his children, Paul and Parinaz Adler, Allan and Ann Adler, and Rae and Dr. Paul Wallach.
Funeral services were held on Wednesday morning at 10:30 a.m. at Congregation Ohev Shalom, followed by burial at the COS cemetery.
The family requests contributions in memory of Rabbi Rudolph J Adler to Congregation Ohev Shalom, 613 Concourse Parkway South, Maitland FL 32751.
Services were entrusted to Beth Shalom Memorial Chapel, 640 Lee Road, Orlando 32810.