Scene Around
More about BDS...
I read this in a current issue of the World Jewish Congress (WJC) digest and wanted to share it with you:
"The World Jewish Congress criticized a recent decision by the city council of Trondheim, the third largest city in Norway, to back a boycott of Israeli goods from West Bank settlements.
In a letter to Norwegian Foreign Minister BORGE BRENDE, WJC CEO ROBERT SINGER stated the resolution was based on 'double standards' and added: 'To Jews around the world, due to what happened not so long ago in Europe, calls for a boycott of Jewish businesses resonate in a special way.
In its resolution, the city (council of Trondheim) declares its opposition to Israeli policies that harm Palestinian sovereignty and livelihood. Ironically, the boycott will... not just punish Israelis, it will also harm the thousands of Palestinian workers employed there by Israeli companies. Moreover, it will undermine efforts to coexist and cooperate on the ground, two necessary elements for the two-state solution that is essential to ending the conflict.'
Singer concluded: 'Everybody has a right to express views and voice criticism about international affairs of concern. However, in this instance... no other country is being made the target of such a hypocritical campaign. Trondheim wants to boycott Israeli goods, and Israeli goods alone, for political reasons. Apparently, Israel is the only country of interest to the members of the Trondheim City Council that backed this resolution.'"
(That says it all. There is nothing to add.)
Remembering Jewish history...
Harry Houdini was born Ehrich Weiss on March 24, 1874, in Budapest, Hungary. His family emigrated to the U.S. and his father became the first rabbi in Appleton, Wisconsin.
Young Ehrich's life was transformed after he learned his first trick (the vanishing quarter). At age 17, he changed his name to Harry Houdini and began performing.
On October 22, 1926, while backstage, a student punched Houdini in his midsection, not realizing that he had to brace himself to avoid injury. After his next appearance, Houdini collapsed after the final curtain and was taken to the hospital where his ruptured appendix was removed. He died on October 31, Halloween.
Matzah or Matzo? What's the difference?...
Either way it tastes great!
On Sunday, April 16th, beginning at 10 a.m., Congregation Ohev Shalom will host a "Matzah Ball Drop & Matzah Brei Brunch at Bob White Field in Mt. Dora, 7001 W. Jones Ave, Mt Dora 32757 (only 20 minutes from COS).
It is described as "a fun event benefitting the youth, family and education programs and scholarships."
For more information, phone 407-298-4650 and to RSVP: http://www.ohevshalom.org/event/matzah-ball-drop-and-matzah-brei-brunch.html
(Yum yum...matzah or matzo. Either way!)
A Jewish Pavilion mensch...
I received this email from the Jewish Pavilion and pass it along:
"There are many ways to share your compassion and sometimes you can help from the comfort of your home.
SUSAN LACKMAN has been knitting gorgeous lap blankets for our elders for several years. The blankets are delivered by Jewish Pavilion staff and volunteers to new residents in long-term-care.
Recently, Susan delivered an entire bag of home-knit blankets in magnificent colors to the Jewish Pavilion along with toothbrushes and toothpaste.
All of the items are graciously appreciated by seniors."
(Pictured is LINDA TEITELBAUM at Life Care Center in Altamonte Springs, holding her Heritage Jewish News and enjoying her new blanket knit with love from Susan Lackman.)
JCC 39ers Terrific Thursdays...
On Thursday, April 13th, bring your own lunch for an interactive "Say it your way" discussion at 12:30 p.m. followed by conversational Yiddish at 1 p.m.
Phone the JCC at 407-645-5933 for further details.
One for the road...
One day, Benny the psychiatrist was coming home from work on the subway when he saw an elderly gentleman talking to himself and then laughing aloud. Every so often, the man would put up his hand, stop talking then start all over again. Benny had to find out more.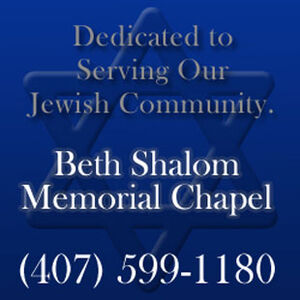 "Excuse me, I hope you don't mind me asking, but is there anything I can do to help?"
"Thank you but no. To keep me awake, I tell myself jokes when I'm travelling."
"But why do you keep raising your hand?" asked Benny.
"Oh, that's to stop me telling a joke I've heard before."