Kehillah: A History of Jewish life in Greater Orlando opening November 12
From the tiny seed of an idea, an enormous community event has grown. In February of 2015, Sara Stern assembled a committee for Congregation Ohev Shalom to begin planning its centennial celebration. COS was the first chartered congregation in Central Florida, and thus, in both concrete and symbolic ways, represents the formalization of Jewish life in the area. The idea to create an exhibit exploring the 100-year history of the congregation intrigued the group, but rather than limit it to one segment of the community, they decided to expand the concept and make it a far-reaching project highlighting the entire history of Jewish life in Greater Orlando. The Orange County Regional History Center (OCRHC) was approached about hosting the exhibit and their leadership greeted the concept enthusiastically. Marcia Jo Zerivitz, a former leader in the Orlando Jewish community and founding executive director of the Jewish Museum of Florida-FIU, volunteered to serve as guest curator, and the original committee began working on a name and themes for the exhibit.
Thus Kehillah: A History of Jewish Life in Greater Orlando was born. Thematically based on the citrus industry-one of the early businesses that attracted Jews to the area-the exhibit will include more than 500 historical photographs, interactive displays, important artifacts that hearken back to past pioneers, and examples of current generations' contributions and extraordinary accomplishments.
Themes include Roots (Founders and Pioneers); Branches (Citrus, Agriculture & Retail); Seeds (Military, Israel, Civil Liberties, Soviet Jewry, Social Change); Growth (Defense, Technology, Business, Industry, Real Estate, Media, Hospitality, Education, Community Service, Arts & Culture); Caretakers (Congregations, Agencies & Organizations) and Blossoms (Philanthropists & Notables).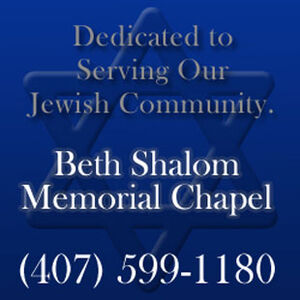 Do you know who the first permanent Jewish settler was in Central Florida, and did you know that he was also one of the area's first great philanthropists? Did you know that in the 1920s nearly 50 downtown Orlando businesses were owned and operated by Jews, and within 20 years that number grew to more than 200? You'll be able to explore this on an interactive map display.
Do you know who was largely responsible for desegregating public schools in Central Florida? Did you know the inventor of the Whack-A-Mole is a Jew from Central Florida? Do you know how many local Jewish philanthropists have made at least a $1 million gift to a local Jewish or non-Jewish community organization? You'll be able to discover all this and more while you peruse and enjoy the photographs and artifacts that detail more than a century of stories from pioneer Jewish families and later arrivals whose remarkable contributions are woven into the fabric of our region's history.
From the citrus barons and general store owners of the early 1900s to participants in world wars, from society's belles to social change agents, from artists and inventors to corporate leaders, Jews have helped shape the Orlando we know today. Learn about the individuals who enhanced our quality of life, influenced Central Florida society and, in some cases, changed the world. And at the same time, you'll discover something about who you are and what made Greater Orlando the community it is today, whether you are Jewish or not.
Kehillah: A History of Jewish Life in Greater Orlando, is a collaborative exhibition presented by its host institution, the Orange County Regional History Center, and the Greater Orlando Jewish Community. The exhibit will be on display from Nov. 12, 2017 through Feb. 20, 2018.