A community builder, Marc Katzen, dies
Marc Katzen, 82, of Winter Park, passed away on Sunday, Dec. 4, 2022. He was born Feb. 11, 1940, in Sykesville, Pennsylvania, to Margaret Gordon Katzen and Harry Katzen and was the middle of five children. Marc's mother took care of the children and his father was a businessman. Marc and all four of his siblings attended college, graduate school and professional programs. His sisters went to Jewish camps in the summer; one of them attended with Henrietta Harris and "fixed them up." Their first date was New Year's Eve 1956 and they spent every New Year's Eve since then together.  
Because both Marc's and Henrietta's fathers died in their early 50s from heart attacks, Marc planned his life so he could retire early and move to Florida. While still in high school and later in college at Penn State, he took over the management of the seven farms and 225 Polled (no horns) Herefords. Marc juggled everything with his college program and did a lot of traveling back and forth from Penn State, 60 miles away from the family home and business in northwestern Pennsylvania. While at Penn State, he was a partner with Penn State and Michigan State in the ownership of some Polled Hereford breeding bulls. Marc's family-owned cattle business was known as MarKay Farms and had about 25 Guernsey dairy cattle and 225 prize Polled Herefords.
At Penn State, he earned bachelor's and master's degrees in business. He went on to law school at Dickinson College in Carlisle, PA. Marc opened a law office in Sykesville when he was 25 and was very active in the Lions Club, Kiwanis Club, Jaycees, Elks and Grange. In 1968 Marc was recognized as one of the Three Outstanding Young Men in the state of Pennsylvania, a Jaycee designation. He was elected the youngest county commissioner in Pennsylvania at 27 and created the first Democratic majority. He was a Trustee at Clarion State University for 12 years. For 30 years he was chairman of the Board for Reynoldsville Casket Company. For 10 years he built and ran public warehouses in his home area in western Pennsylvania. His sons, Hank and Hirsh, joined Marc in the family business.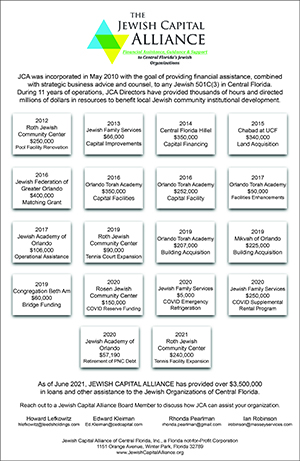 Raising a Jewish family in rural Pennsylvania in the 1960s and '70s was a challenge because of the small number of Jewish families and lack of large active synagogues found in cities. Marc and Henrietta helped run a Sunday School with a handful of children and an Israeli grad student driving in from Penn State to teach Hebrew. They built sukkahs, ran seders and had Purim carnivals. Hadassah and B'nai B'rith were the extent of Jewish activities for Marc and Henrietta. In 1976 they took their first trip to Israel with a group of other young adults from Altoona, Pa. This was an eye-opening experience, and seeing what was missing for a Jewish family in rural Pennsylvania was an impetus to move to Florida in 1980 where Marc enjoyed proximity to family and the opportunity for walks on the beach and time in the ocean.
Marc was very active in the Jewish Academy of Orlando (formerly HDS) supporting the computer program by providing the money required to ensure that every student had an Apple Mac. He also served as a TOP Jewish Foundation Trustee, as CAP chairman, (Community Alliance Program) that built the Maitland JCC campus, and was president of UCF Hillel, spearheading the campaign to build a combination dormitory/Hillel facility which has become a model for other universities all over the country.  
Travel became a large part of the family's activities with trips to Cancun, Key West and Disney Cruises. Marc and Henrietta enjoyed two around-the-world cruises. The Cancun trips were with Marc's mother and siblings and their spouses and were taken every year for almost 15 years. The Disney Cruises, Alaska, the Caribbean and National Parks were enjoyed by Marc and Henrietta with their children and grandchildren. Marc was a lifelong bridge player and traveled with a regular group.
In his later years, Marc enjoyed a monthly book club with friends. He took great delight in his five grandsons, Jaron, Malcolm, Max, Mason and Miles. He was fortunate to live to see a great-grandchild, Kelvin.
He is survived by his wife of 62 years, Henrietta, his siblings Marlene Morris of New Smyrna Beach, Fla., Marcia Gold of Chestnut Hill, Mass., Marian (Arthur) Glasgow of Newton, Mass., and Marshall Katzen (Bari Boyer) of Martha's Vineyard, Mass .; his children - Hank (Marcie) Katzen, Halbert Katzen and Hirsh Katzen (Melissa Marshall); his grandchildren - Jaron Katzen (Katie Clanton), Malcolm Katzen, Max (Elana) Katzen, Mason Katzen and Miles Katzen; and a great-grandson, Kelvin Clanton.
The funeral was held on Wednesday, Dec. 7, at Temple Israel cemetery. Donations in Marc's memory may be sent to the Jewish Academy of Orlando or Central Florida Hillel.
Arrangements entrusted to Beth Shalom Memorial Chapel, 933 Lee Road, Suite 101, Orlando FL 32810, 407-599-1180, http://www.bethshalommemorialchapel.com.