Broward pitcher to play for Maccabi baseball team
Benjamin J. Feinman, a 6' 3", 225lb, senior right hand pitcher for West Broward High School has been appointed as one of 16 U.S. team members to play for the United States Junior Maccabi Baseball Team and will be representing the United States in Israel. The Bobcat Senior currently plays under Head Coach/Manager Sergio Ambrose and has been a member of the West Broward Bobcat Team for the last four years.
Feinman started playing baseball as a pre teen at Pasadena Lakes Optimist. He later moved on to Cooper City Optimist and finally to Pembroke Lakes where he found his niche as a pitcher. He is a student of Benjamin Gryzbek a 1976 first round draft pick and former major league pitcher for the Kansas City Royals who has taught many South Florida athletes out of Flamingo Park at Pembroke Lakes.
Feinman has had the honor of playing for two Cooperstown Dreams Park Teams out of Pembroke Lakes and has played for various travel teams and coaches including, but not limited to, the South Florida Suns under Harry Stampler, South Florida Elite Squad operated by Richie Palmer, South Florida Huskies under Coach Steve Dematties and Broward Bangers under Coach Mike Moss.
Feinman is a alumni of the Under Armour Baseball Factory program where he played in the Omaha National World Series Games. In addition he has played in two U.S. JCC Maccabi Baseball events, representing Broward County David Posnack JCC in San Francisco, Calif. under the late Head Coach Hal Rosenberg and in Omaha, Neb. under Head Coach Wayne Stofsky, currently the Head Coach at Cooper City High School. This summer Feinman will be playing for the Central Florida Baseball League Elite in the Orlando area.
The 19th Maccabi Games will be held in Israel from July 17 - 30. Opening Ceremony is on July 18. Tryouts for the U.S. Maccabi team took place in Los Angeles, Chicago and White Plains, N.Y. Feinman flew to Chicago for the tryouts. Out of the many talented players trying out for a coveted spot, the roster of 16 was completed with Feinman being the only Florida player making the squad.
The team will be coached by Nathan Fish and assistant coach, Eric Holtz. Fish, considered the "King of Jewish Baseball," has participated in the Maccabi Games twice, as a member of Maccabi USA Open Men's Softball team in 2005 and 2009 winning gold and silver medals.
Fish played for the Tel Aviv Lightning in the Israel Baseball League in 2007 and was the assistant coach for the Israel National Team for the 2011 European Championships and recently played for Team Israel in the 2012 World Baseball Classic Qualifier.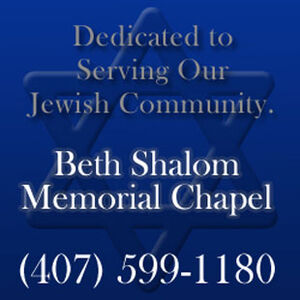 The International Olympic Committee has officially recognized the Maccabi World Union as a Olympiad Sanctioned Organization.
Maccabi USA (MUSA) is a federally-recognized not-for-profit 501(c)(3) organization with an extensive history of enriching Jewish lives through athletic, cultural and educational programs. The organization is the official sponsor of the United States Team to the World Maccabi Games, the Pan American Maccabi Games and the Maccabi competitions in Europe and Australia, as well as a sponsor of the JCC Maccabi Games for teens in North America. As the official Maccabi representative in the U.S., Maccabi USA supports Jewish athletic endeavors, enhanced by cultural and educational activities in the United States, Israel and throughout the Diaspora.
MUSA develops, promotes and supports international, national and regional athletic-based activities and facilities. It strives to provide Jewish athletes the world over the opportunity to share their heritage and customs in competitive athletic settings. MUSA supports programs that embody the Maccabi ideals of Jewish Continuity, Zionism and Excellence in Sport.