JCC's Bercovici retires after 31 years
It was September 1982 when 31-year-old Eli Bercovici arrived in Orlando to begin his new career as the Sports and Wellness director of the Jewish Community Center. There was no gym, no fitness center, only the Early Childhood Learning Center, housed in a small building (what is now to the right of the main entrance to the JCC) and orange groves. But the JCC executive director at the time, Marvin Friedman, had an eye for people and must have known Bercovici would help to conceive and develop the gymnasium as well as all the sports and fitness programs that came along the way. "He grew the program the old-fashioned way, with hard work, dedication and a winning personality," said Friedman. And now, 31 years and many accomplishments later, Bercovici is retiring.
Current JCC Executive Director David Wayne concurred with Friedman. "Throughout his 31-year tenure at the JCC, Eli has had a tremendous impact on all the people he has served and played a significant role in helping the JCC provide quality programs while fulfilling our mission of building community, strengthening family life, and promoting Jewish values," Wayne said.
Born in Tiberius, Israel, Bercovici moved to Montreal, Canada with his family in 1960. He returned to Israel as a spectator of the 1973 Maccabia Games and stayed after the games to help as a volunteer during the Yom Kippur War. Returning to Canada, he studied at Sir George William University. In 1979, he and Lisa married, and after jobs that took him to North Miami Beach and Phoenix, Arizona, he was recruited here through the efforts of Charles Schwartz, who regards Bercovici as a "great personal friend and a valuable asset to the JCC for 31 years."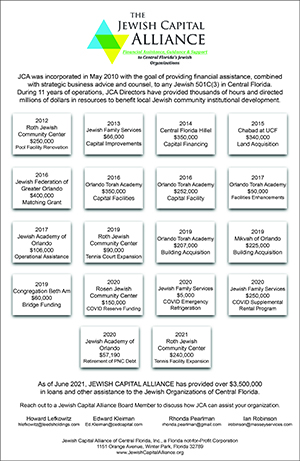 "It was a special time, one of my greatest moments coming to Orlando and being welcomed by all these wonderful people, especially Marvin and Bonnie Friedman. ...This has been my second home," Bercovici said, with mixed emotions about his retirement. He meant that literally. When he came to Orlando from Phoenix, the JCC staff welcomed him with open arms, like family. Marvin and his wife, Bonnie, invited him to stay with them until he could find housing for himself and his wife of four years, Lisa. It was just a couple weeks but in that time the Friedmans knew this young man was the right choice.
"Getting to know Eli and participating in his sports programs, my kids felt that he was 'the best thing since the invention of ice cream,'" Friedman said of his friend. "And that's true of literally hundreds of other children who got to know him through 'giant steps,' basketball, soccer, flag football, tennis and a whole host of sports camps at the JCC."
Within the first six months, Bercovici, with the help of road race chairman Dr. Eli Porth, organized the first JCC Pacers 10,000 Meters & Two-Mile Fun Run. Designed to promote "family fitness and fun," it was a success. That first event had 150 participants from the Jewish and general community and raised $8,000 that was used to purchase gym equipment. Fifteen years later, the fundraising event's name was changed to Beat the Heat 5k road race, and now, 15 years since its name change, the event just completed its 30th annual race. It is an annual event that Bercovici cherishes, and is the longest running program at the JCC.
Porth remembers those beginnings fondly. "Eli (has been) a dear friend for over 30 years. We ran for many years together. He is a Jewish sport and wellness director who loved working with people of all ages to make their lives healthier and happier," said Porth.
In September 1986, the JCC opened its newest facility—the gymnasium, which opened the door for many new fitness programs and events.
"It was wonderful to see all these basketball players coming to use our facility—both the general community as well as the Jewish community," Bercovici commented.
With this new facility, Orlando was able to host the JCC regional Maccabia games in 1995. As the games director, Bercovici oversaw more than 300 Jewish youths from all over the United States who attended the games. He was proud to say Team Orlando won gold medals in basketball and soccer during the games.
Again in 2005, the Orlando JCC hosted the Marvin Blumenthal Basketball tournament, in which more than 100 basketball players ages 16-18 from the southern regions participated. In this event, Team Orlando, under sports assistant Dana Penrod's coaching, finished second out of 14 teams.
Sports and wellness director was not the only title Bercovici held. In addition to having the responsibility of working with the Early Childhood Learning Center; developing the after school activities; and organizing the lifetime sports, which included soccer, football, and adult and youth basketball teams; he was also the financial assistant director. He wore this hat with humility and pride.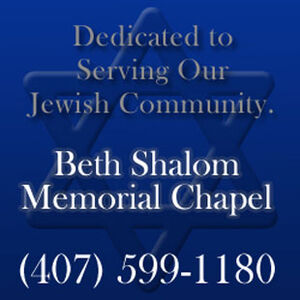 "Over the last five years, the JCC has given out over a million dollars in scholarship assistance to need families in the community," he said. This financial assistance was made possible through fundraisers such as J-Ball, the road races, golf tournaments, Israel Independence day and other events that Bercovici and many others were instrumental in organizing. The funds assist the Early Childhood programs and help many who otherwise would not have been able to afford school or camp tuitions and the after-school latchkey program.
"Nearly everyone who entered the JCC during his time here had some interaction with Eli," said Wayne. "I'm sure they all saw how passionate, committed, and dedicated he was to meeting their needs and ensuring that they felt part of the JCC family. Eli truly cares deeply about how people should be treated and is a real mensch."
In recognition of Bercovici for his 31 years of dedicated service and to thank him, the JCC has established the Eli Bercovici Athletics Fund in his honor. Donations made to this fund will be used to purchase supplies or equipment for the Sports and Fitness program and to enhance the Sports and Fitness facility.
As in all families, there is always time for kidding around. Early in his career here, during one daughter's birth, Bercovici passed out and broke his nose in the delivery room (that is not the funny part). It was Porth who stitched him up and repaired his nose, but rather than show off photos of the new baby, Porth circulated X-rays of Bercovici's fixed nose at a JCC board meeting. Recently, former JCC staff members had a dinner for Bercovici—maybe one should say a "roast"? Friedman teased him about the great job he did in Center fundraising—but now that he is retired, "he needs to call back all the people he solicited and return their money to them."
All kidding aside, Friedman said of Bercovici that he is one of the most dedicated JCC staff people he has ever known.
"When you needed someone to step in 'to lend a hand in a pinch,' he has always been willing to do that something extra. It didn't matter whether he was needed to handle summer camp, carpool, oversee the sale of silent auction items at our annual galas, or coordinate membership assistance scholarships...all you needed to do was ask. You can't say enough about his professionalism, his loyalty to our agency, and his commitment to our Jewish community," said Friedman.
For these reasons, as so many colleagues succinctly put it, Bercovici will be honored with the Jewish Communal Professional Award, presented at the Jewish Federation of Greater Orlando annual meeting, held Aug. 21.
His good running buddy, Dr. Porth, said it best when he told The Heritage "He will be sorely missed at the JCC—he improved the lives of countless numbers of Orlandoans."