Temple Israel presents Torah Fund Study Day workshop
Temple Israel of Winter Springs is hosting a Torah Fund Study Day on Sunday, March 2. Following registration at 9:30 a.m., participants will have the opportunity to study with each of two rabbis: Joshua Neely of Temple Israel and Abbi Sharofsky, deputy director for programming at JWB Jewish Chaplains Council. Rabbi Neely is a graduate of the Ziegler School and Rabbi Sharofsky is a graduate of the Jewish Theological Seminary (JTS).
The topics for the workshop are based on the Torah Fund's theme for 5774, Mishpacha. This theme was chosen both to acknowledge the sanctity that comes with being one big family and the complexity of families and relationships. Today, there is no one kind of Jewish family-congregations are made up of many diverse families.
Rabbi Sharofsky will lead a session titled "Sink or Swim: A view from the Talmud on Parents' obligations to their children." The discussion will explore the rabbis' thoughts about what parents need to teach their children and see how that applies to a parents' role today. Rabbi Neely's session is titled, "Let's fight fair: How to disagree within the context of love." The discussion will explore the realities of conflict within loving relationships drawing from classical texts.
Torah Fund was established in 1942 by Women's League for Conservative Judaism. In 1963 it was combined with the Mathilde Schechter Residence Hall campaign to provide housing for undergraduates at the Jewish Theological Seminary in New York. Torah Fund today supports the education of Conservative/Masorti rabbis, cantors and educators in four international locations: Jewish Theological Seminary in New York, Ziegler School of Rabbinic Studies in Los Angeles, Schechter Institute of Jewish Studies in Jerusalem and the Seminario Rabínico Latinoamericano in Buenos Aires.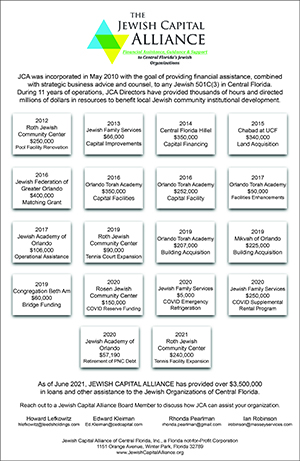 The entire community is welcome to attend this program, which will include lunch. To make a reservation contact Cathy Swerdlow at 407-647-3055. A check made payable to Temple Israel Sisterhood for $12 will secure your reservation. Reservations must be received by Feb. 26. In addition to the mitzvah of Torah study, participants are encouraged to bring canned food items in support of the Pearlman Food Pantry at Jewish Family Services of Orlando.