Jewish Pavilion to honor Gamson
"Elaine Gamson is an extraordinary woman who has tirelessly supported the Orlando Jewish community over the past 50 years," said Nancy Ludin, executive director of the Jewish Pavilion. "We are thrilled to honor her at our annual 'Spring into Fashion' show on May 1st for holding the Jewish Pavilion and its mission close to her heart, and generously offering her time to enhance the lives of our seniors."
Elaine Gamson (nee Gaeser) is a member of the Pavilion's board of directors, as well as an active volunteer. On the first and third Friday of each month Elaine can be found assisting Pavilion Program Director Julie Levitt with Shabbat services at Horizon Bay in Altamonte Springs.
"My mother, Rebecca Gaeser was a resident at Horizon Bay until she passed away last summer at the age of 98. After she was gone, I continued attending services on Fridays. Her friends became my friends, and helping out with the Pavilion helps honor time spent with my mom." Gamson shared. "At first I went as my mother's daughter, now I visit as a volunteer and as a friend."
Pavilion seniors have found a true friend in Elaine Gamson since she began visiting her mother in 2005. When Horizon Bay resident, Anne Goby, was looking for a Mah Jong game, Gamson put one together. When she was unable to find enough Mah Jong players in residence, she brought them to the facility from the outside. After a few months one of the regular players moved out, and Gamson would dutifully pick her up and bring her to the game, and then back home again. Recently, Ann Goby left Horizon Bay for rehabilitation at Life Care Center in Altamonte. Though the senior moved across town, she still receives regular visits from friend Elaine.
Gamson has been such a devoted friend to Horizon Bay's Jewish community that she now serves as a volunteer liaison between the Pavilion and the assisted living facility. Recently, she met with Director Beverly Skaggs, and discussed ways to make Jewish residents feel more at home in the assisted living setting.
Gamson was raised in a close-knit family in Williston, S.C., where she longed to be part of an active Jewish community. She remains close to her three siblings, Philip (Patti) Gaeser of Richmond, Va., Lana Barth (George Rothman) of Bethesda, Md., and Jeffrey (Marci) Gaeser of Chuluota.
Gamson remarked, "We were so attached that if Philip was spanked, I would cry, too."
Her parents, Rebecca and Harold Gaeser, were longtime residents of the South, and moved to Williston to open the family business, Harold's Department Store. "I grew up in a small southern town as one of two Jewish families... Monday through Friday I fit in, and was part of the gang, but never on a Sunday. On Sundays, Williston was prayerful, and I felt lonely and left out," Gamson shared.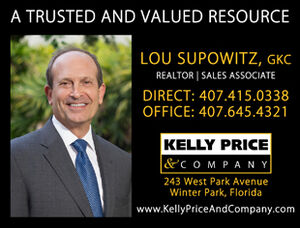 On the High Holidays the family drove to Charleston to spend time with her father's side of the family. Some of Gamson's fondest memories are "spending time in shul with my father." Passovers were spent with her mother's side, where they "drove 60 miles down country roads" to enjoy the Orthodox-style seder with her maternal grandparents.
"I always felt I would leave Williston," Gamson noted. In 1955 she left Williston for Brenau Academy, a boarding school where she would finish her last two years of high school. Rebecca Gaeser hoped the finishing school would offer her daughter an opportunity to become educated in the arts and to become part of a larger Jewish community. Gamson remarked that while she received a well-rounded education at Brenau, she would not become part of an established Jewish community until she attended the University of Georgia and joined Delta Phi Epsilon sorority. She graduated in 1961 with a degree in psychology and later earned a teacher's certification from Georgia State. Gamson's first job was in social work. "I always felt like I was a social worker at heart," she said, and credits her educational background as a force behind her activism. She also worked as a travel consultant for 10 years and holds a real estate license.
In 1963, she married Bob Gamson, and last December they celebrated their 50th anniversary. The couple moved to Orlando in 1965, where they were welcomed into the Jewish community with open arms, and Gamson found a place where she could fit in all week long.
"Two to three days after we moved, I attended my first Hadassah meeting. Almost immediately they asked me to become chapter vice-president," she shared. Gamson and her mother became lifetime members, and have held their memberships for almost half a century. Elaine and Bob joined congregation Ohev Shalom in 1966, and later they joined the ranks of leadership. The Gamsons were the first "first team" at Ohev. While Bob was president of the synagogue, Elaine was simultaneously sisterhood president.
In the past 50 years Gamson has shown her support for almost every Jewish agency in town. The Gamsons were founding members of the JCC, and Elaine served on the committee that helped found the JCC Camp. She was also active in the Jewish Alliance, a pre-cursor to today's Jewish Federation of Greater Orlando. Later, she became a Lion of Judah with the women's division of the federation, as well as co-chair of Choices. In addition, the Gamsons support the Holocaust Center and attend their annual event.
Elaine became involved in the Jewish Pavilion in 2007, and joined the board in 2013.
Their three adult sons, Stephen of Miami, and Jordy (Andrea) and Barry of Atlanta, Ga., grew up in a household in Maitland where giving back to the community was second nature. Son, Jordy, and wife, Andrea, have given the Gamsons two beloved grandchildren, Will (12) and Ella (11), who carry on family traditions at the Solomon Schecter School in Atlanta. She is very proud of her boys, and feels they have benefitted from their parent's community involvement, including her work with the Pavilion. Gamson stated, "There is nothing like seeing elderly people smile, which is only one of the benefits of volunteering... I will be elderly before long. And I hope my children realize, one day, they will be elderly, too. Spending time with the senior community is a reward in itself, and I hope they can see that. When you volunteer, you get back so much more than you give."
Gamson is deeply invested in many other local interests and activities. She and Bob are avid collectors of modern art. Son Stephen, a noted Miami artist, has helped curate their collection, and eye-popping works create a gallery-like effect throughout their Longwood home. Gamson was an active member in a stock purchasing club for 43 years, and has attended the "Second Tuesday Book Club" for the past "15 or 16 years" at the invitation of her friend, the late Harriet Ginsburg. This month she will be ensconced with the Florida Film Festival, where this 74-year-old grandmother continues her pursuit of life-long learning and community participation.
The Jewish Pavilion's annual "Spring into Fashion" show will be held at Hutton on Park Avenue, 329 N. Park Ave., Suite 105, in Winter Park, May 1 at 9:30 a.m. (to allow for parking). There will be goody bags for all who attend. Covert is $25, general admission; $50, fashionista; and $100, couture, which includes front row seats and entry into gift drawings from Hutton. Please RSVP online at http://www.jewishpavilion.org or call 407-678-9363.