Orlando teens win big at JCC Maccabi Games
On Sunday, Aug. 2, six Orlando Jewish teens left the Roth Jewish Community Center of Greater Orlando in Maitland to embark on a trip to the largest international gathering of Jewish teens in the world, the JCC Maccabi Games. Also taking place in Cherry Hill, N.J. and Detroit, the Orlando delegation only had a short bus ride to Boca Raton. This summer, over 6,000 Jewish teens participated in the JCC Maccabi Games. The six Orlando 16U boys' basketball team members-Greg Childers, 15, Lake Highland; Blake Garfinkel, 16, Trinity; Jason Kotzin, 16, Winter Park; Jack Lerner, 16, Winter Park; Adam Lightman, 16, Lake Highland; and Jesse Render, 16, Winter Park-had been to the games together before, capturing the bronze medal in Memphis in 2012, and finishing in the top eight in Austin in 2013. This year, there were 17 teams in the tournament, and with only six players (maximum roster is 10) due to injuries, they knew the odds were against them.
Opening ceremonies, with a lot of pomp and circumstance, welcomed over 1,000 Jewish teens from the United States, Canada, Mexico, and Israel. The highlights included speakers like NBA player James Jones, as well as a Canadian, Jewish athlete who participated in the 1972 Olympics when 11 Israeli athletes were taken hostage and murdered.
Monday began the sports competition, and the boys' basketball team went 2-0 versus Houston and Atlanta. The boys, who always believed in themselves, were beginning to make believers out of others. They enjoyed a Monday night social event at Boomers in Boca with bumper boats, putt putt, arcade games, and a DJ. Tuesday featured two more wins, versus Panama and host city Boca's second team. The boys' record stood at 4-0 and for the first time in Team Orlando's history they earned the No.1 seed in the playoffs. Tuesday night was spent with their host families, local Jewish families that generously open their homes to visiting Jewish teens. Wednesday morning began with community service as the boys help facilitate a carnival for children with special needs. Later that afternoon, the boys defeated a tough Denver team to move to 5-0 and into the Final Four to be played on Thursday. Wednesday evening, the 1,000+ Jewish teens descended on the Boca Beach Resort where a DJ played music over three pools, a buffet of food, and private beach access.
Thursday morning, the boys squared off versus Boca's top team in a gym filled with Boca fans, teens, parents, and supporters. And, after three long days and nights of games and parties, the fatigue of only having six players started to set in, as the boys fell to the host city's top team. The loss did not end the tournament though, as the boys had the chance to play Los Angeles for the bronze medal. Team Orlando fell behind early but kept fighting back and with four minutes left, the deficit stood at only eight points. In the end though, Los Angeles pulled out the victory and Team Orlando finished with a fourth place finish out of 17 teams.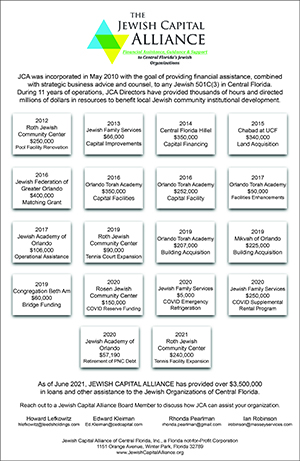 All six boys, and their coach, JCC youth basketball supervisor Whitney Tossie, fought hard the entire week and never gave up. The true character of these teens and their coach was on display throughout the week, especially at the end, for everyone to see. All but one of the boys age out of the JCC Maccabi Games, but the team will continue to play together through the JCC and will go down as one of the best to ever represent Orlando.
The JCC Maccabi Games, a program of JCC Association of North America, allows cities like Orlando to include Jewish teens from nearby cities that do not have JCCs. This year, Orlando also took one swimmer from Sarasota, Fallon Katz, 16, of Pine View, who won medals every day and whose younger siblings hope to participate with Team Orlando going forward.
Next year, Team Orlando will be traveling to Dallas or Milwaukee, Aug. 2-7, 2015. Next summer, with no school conflicts with these dates, Team Orlando has set a goal to bring at least 30 Jewish teens. The age cutoff is 13-16 years old as of July 31, 2015. Team sports offered are baseball (boys), basketball, soccer, and volleyball (girls). Individual sports offered will be dance, golf, swimming, and tennis. Plus, there is a Star Reporter social media option for creative teens.
There will be an informational meeting for all interested teens and their parents on Sunday, Jan. 11, 2015 at the Roth JCC. For more information, please contact Robby Etzkin at RobbyE@orlandojcc.org or (407) 621-4031. You can also "like" Orlando JCC Maccabi on Facebook to see more pictures.
Robby Etzkin is assistant executive director of the JCC.