Scene Around
Oy... here I go, down again!...
I fall very often these days... not that I'm elderly, mind you (shut up!) but sometimes a little unsteady on my feet.
Like the other day, I fell face forward when I tripped over a tree trunk at the dog park. (I didn't get hurt though. I fell directly on my breasts which cushioned the fall and kept me from getting any broken bones.)
And on this very subject, I recently read in a copy of a World Jewish Congress (WJC) digest, the following article under the heading, 'A Delicate Balancing Act That Could Save Lives':
"One out of three Americans over the age of 65 will fall, and for those over the age of 80 these risks increase dramatically and often result in hospitalization, painful surgeries and decreased life expectancy.
To help prevent the loss of balance among the elderly that leads to dangerous falls, Israeli biomedical engineer YONATAN MANOR launched B-Shoe technology.
Studying precisely how stability decreases with age as muscles deteriorate and reflexes slow, Yonatan Manor, along with partners ABRAHAM STAMPER and AHARON SHAPIRO, installed a sensor-driven motorized mechanism in the heel of a sneaker that helps to maintain optimal pressure in the heel area by gently gliding the shoe backwards to correct imbalance.
Operating through a rechargeable battery, sensors in the sole of the shoe detect when the center of pressure is shifting. If the wearer does not adjust his or her step within a few milliseconds, the shoe begins to move backwards a few centimeters to help regain stability and balance.
The B-Shoe has been tested in leading Israeli hospital labs, and has already been granted patents both in the United States and Israel.
Seeking funding for mass production, the B-Shoe could be on the market within the next two years."
(I suggest you show this to your doctor if you have such a problem.)
Remembering Jewish history...
The bombing of Argentine Israelite Mutual Association (AMIA) a Jewish community center in Buenos Aires, on July 18, 1994, killed 85 people and injured hundreds.
Though the attack was believed to be carried out by Hezbollah terrorists backed by Iran, to this day, those responsible for this devastating crime against the Jewish community of Argentina have yet to be brought to justice.
(To keep my sanity,) I must change to a happy subject...
Just a few weeks ago, LESLIE and STEVE BERKE of Weston, Florida, held a wonderful engagement party for their lovely daughter, LAURA BERKE who became the fiancé of a terrific young man, ARI HAUSMAN, son of ESTHER and KEN HAUSMAN of Massachusetts.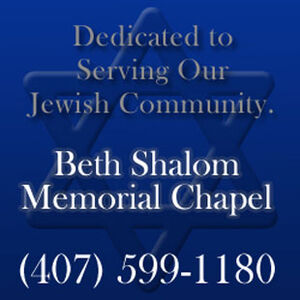 Irv and I had the pleasure of attending the event, which was held in the   Berke's beautiful home.
We are great aunt and uncle to Ari... and extremely proud.
And we are "saving" the wedding date, set for May of next year in Florida!
(Married 54 years, I must admit that Irv still looks as handsome as Ari. I, on the other hand, do NOT look as good as Laura... but then, I never did!)
More "happy" happenings...
On Sunday, October 26th, the Altamonte Chapel will be hosting one of the most gifted musicians ever... ALLAN VACHE!
After completing an extensive tour of the United States and much of the world, Allan will be performing and "swinging" with his horn, according to our own ALAN ROCK, noted radio personality and emcee of the Altamonte Jazz shows. He adds, "This is a rare opportunity to see and hear this world class artist."
The performance starts at 12:30 p.m. and continues for two hours, often with fellow musicians and singers joining in on the last set.
Making wonderful music along with Allan this day will be JEFF PHILLIPS on piano; CHARLIE SILVA on bass; and DENNIS LAAK on drums.
The Altamonte Chapel is located at 825 SR 436 in Altamonte Springs. For directions, cost and other information, phone 407-339-5208.
I'm writing this column way in advance of publication...
I know I always do... but this time way far in advance due to a family emergency in New York City. (My spouse flew up there yesterday and I may have to follow shortly.) However this information, although coming to you on Sukkot, is still timely. Here is the email I received:
"Five congregations in the South Florida area are organizing bone marrow registration drives this Yom Kippur, the holiest day in the Jewish calendar. Through a partnership between the Gift of Life Bone Marrow Foundation and the Union for Reform Judaism, the 75 congregations participating nationally will be educating their communities about the importance of increasing Jewish representation in the bone marrow registry, and providing an opportunity to join the registry.
The South Florida area congregations are Temple Judea, Palm Beach Gardens; B'nai Israel, Boca Raton; Temple Dor Dorim, Weston; Temple Kol Ami Emanu-El, Plantation; Temple Beth Am, Pinecrest.
The Gift of Life Bone Marrow Foundation is North America's only Jewish bone marrow donor registry. By collaborating with North America's largest Jewish denomination, Gift of Life has the opportunity to gather many more potential donors with the hope of saving more lives of patients suffering from leukemia, lymphoma, other blood cancers and genetic disorders. Cutting-edge technology enables potential donors to join the Gift of Life registry with a simple cheek swab.
The high holidays-beginning with Rosh Hashanah and ending with Simchat Torah-are the holiest time in the Jewish calendar and a period when it is customary for reflection and good deeds. Since 2010, Gift of Life has partnered with synagogues in North America to run bone marrow drives and give congregants the opportunity to begin the New Year with a simple mitzvah (good deed) - a swab of the cheek that could save a life."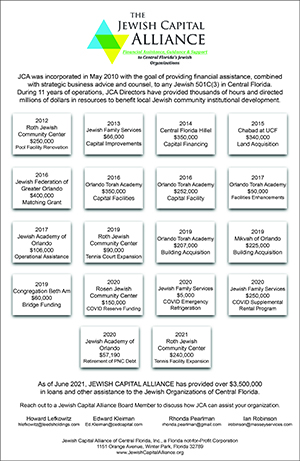 (Wouldn't it be good if our area synagogues got involved as well? Attention: those in charge: the people to contact are MAX ROSENBLUM or VERONICA GRANT at 1-202-387-2800 or news@rac.org.)
So very charming...
And delicious! (Lets not forget delicious!)
My good buddy, STEVE MAMARCHEV, a knowledgeable guy about many things (including good restaurants) suggested I take my spouse to a very special restaurant for his birthday... and Steve even split the cost, although he didn't go along with us because he wanted it to be romantic. (Hello! Are you kidding? Irv and I are married for 54 years... forget romantic. Let's just stick with delicious.)
The place he suggested is Café Trastevere, 825 North Magnolia Ave, Orlando. One of the owners, the very handsome and charming, PHILIPPE MEIFFRET, greeted us and made us feel very special... but with me it's all about the food! Bruchetta, Grouper with spaghetti, chicken parmesan with  linguini, salada, tiramisu, etc. DELICIOUS!
(Better than in Italy, where Irv and I visited a few years ago.)
And speaking of charming... you can't beat the atmosphere... both upstairs and downstairs, with two patios for outside dining. It was very intimate and romantic... but I repeat... WITH ME IT'S ALL ABOUT THE FOOD!
One for the road...
In this most special of seasons, a rabbi joke:
NASA had sent many shuttles to orbit the earth and attempted to include passengers of all races, color and creed. One day, they realized they hadn't invited anyone from the clergy so they invited a priest and a rabbi to orbit the earth.
Upon their return, they were asked to go straight to the Media room to give the world their impressions of the experience.
The priest came into the room with a smile on his face. His statement was full of joy. He said, "It was totally amazing. I saw the sunrise and set. I saw the beautiful oceans. I'm truly in awe."
But the rabbi came into the room completely disheveled. His beard was tangled, his kippot was askew and his tallis was creased. The reporters asked him whether he enjoyed the experience.
He threw his hands in the air and said, "Enjoy? Oy vay, you must be joking. How could I find time to enjoy? Every few minutes the sun was rising and setting! So it was on with the tefillin, off with the tefillin, mincha, maariv, mincha, maariv... Oy Gevalt."