JFGO awards synagogue grants for Jewish teen education
With great enthusiasm, the Jewish Federation of Greater Orlando's Jewish Teen Education Network announces the award of six grants to area synagogues.
Earlier this summer, JFGO announced the formation of the Jewish Teen Education Network (JTEN), an innovative response to the changing needs of today's teens and a clearinghouse for all Jewish teen education in Central Florida. The Federation is thrilled to award grants to all local synagogues that applied to the program.
This first initiative of JTEN, offers grants to synagogues that provide Jewish educational opportunities for teens. Grant applicants were required to meet specific requirements including course length, staff qualifications and program content. Each of the six grant awardees are launching their programming for the Fall. All classes are open to all teens, regardless of affiliation or membership. While some programs are offered for free, others have nominal fees in place to help offset the high cost of the program.
The six recipients of the Fall 2014 JTEN Grant Awards are:
Southwest Orlando Jewish Congregation—Wednesday evening classes for 8-12 grade teens focused on Israel. The program "Bringing Israel Home to Orlando" will focus on connecting teens to Israel, culturally, spiritually and through Hebrew language.
Temple Israel—"What they didn't teach you in Hebrew School" course begins Nov. 2, 2014. The class will focus on text study and modern discussion of perennial issues, giving teens the opportunity to wrestle with the problems of modern times using Jewish wisdom as a guide for these difficult topics.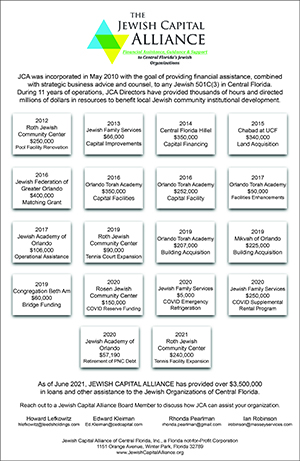 Congregation Ohev Shalom—Offering an ongoing program called "Dinner, Daber & Dvar" for 8th- to 12th-grade teens, which meets on Monday nights. The first hour is dedicated to modern conversational Hebrew, with the second hour being devoted to the "Amazing History of the Jews" from creation to present day.
Congregation Beth Am—Offering a Machon program for teens in 8th – 12th grade. The program will include a monthly Shabbat afternoon class with Mincha service, Talmudic study and Havdallah. Additionally, there will be twice monthly Sunday afternoon classes where teens will study rabbinic sources addressing contemporary themes.
Chabad Lubavitch of North Orlando—Offering a three-part educational series beginning this month. The three sessions each include six classes on Wednesday nights. The series begins on Oct. 22, with "Why I Love Israel (looking at both ancient and modern ties to Israel)" followed by "Hollywood Idol (a deeper look into the values portrayed in film and television)" beginning Jan. 7, 2015 and finishing with "Complicated Me (spiritual insights into the anatomy of the human soul and psyche)" beginning April 15, 2015.
Congregation of Reform Judaism—Offering a 12 week class, "Facing History and Ourselves: Holocaust and Human Behavior". This class will meet for weekly 90-minute sessions. The class will build critical thinking and historical knowledge of the Holocaust. Students will gain understanding of how our identities impact our relationships with ourselves and with those around us.
Interested teens may call each synagogue to make arrangements for attendance at any of these great programs. Further questions can be directed to Lisa Sholk, JTEN director, at 407-261-3175.
Other initiatives will include community-wide teen education days (the first will be held on Nov. 9), providing resources and networking opportunities for Jewish educators, as well as awarding scholarships for organized teen Israel trips made possible by the Ronald Coleman Israel Travel Scholarship Fund.
J-Ten is one of the many initiatives of the Jewish Federation of Greater Orlando that highlights its innovative edge and attention to the community's needs. Through its programs and services, the Jewish Federation makes an impact on the future of Jewish Orlando.