Sol Schick receives George Wolly Leadership award
Christine DeSouza
Back in 1967, when Sol Schick was a mere 27 years old and just starting his insurance business, he met Hy Lake who challenged him to start giving back to the community.
"The more you give, the more you get," Lake told the young businessman.
So, Schick accepted the challenge and wrote a small check to a charity-small in many people's definition perhaps, but a large amount for this little insurance company. Six weeks later, Lake's secretary phoned Schick's office. Mr. Lake wanted to meet with Schick. "Oh, oh, the check bounced," he thought.
Schick met with Lake, whom he found to be very down to earth. "I was in awe of the way he treated people," he remembered.
Lake had wanted to meet with Schick to ask him to take on the insurance needs of his company.
"Remember, the more you give, the more you get back," Schick stated softly as he spoke to a little more than 200 well-wishers at the JFS Orlando brunch honoring him.
Schick then shared another incident in which he met David Pearlman, who owned Kane's furniture. As Schick was leaving his office, Pearlman asked him if he would mind taking a bag of groceries over to JFS, which at the time was located close to Schick's office.
It was his first visit to the JFS facility. "You could almost see pain and fear on the faces of the people in the waiting room," he recalled. He was told the groceries he just brought in would be gone by noon. People were there for help in many areas-electric bills, rent, counseling, food, and the list goes on.
That's what JFS Orlando does. It provides programs and emergency services to struggling people and families of all faiths throughout Central Florida.
Christine DeSouza
This year, celebrating 36 years in operation, the Friends of JFS honored Schick with the George Wolly Leadership Award. He joins the ranks of fellow recipients Bob Petree, Mimi Hull, Dick Wiener, Joe Hara, Gordon Arkin, Barbara Weinreich, Patti Ambinder, Patty DeYoung, Hope Kramer, Joe Lefkowitz, Harvey Massey, Stanley Shader, Sonia and Lester Mandell, Linda and Bruce Chapin, and Fern and Ivan Lefkowitz.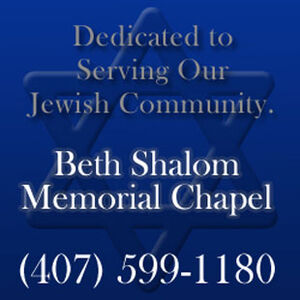 "We're incredibly grateful to Sol for his leadership, generosity and friendship to JFS," said Eric Geboff, JFS executive director. "Sol Schick is an exemplary member of our community, and set the bar high for future contributors."