Jewish Academy eighth grade on temporary hold for 2015-16
There will not be an eighth-grade class next year at the Jewish Academy of Orlando. However, it is not a permanent situation, and the eighth-grade class will be back the following year.
What happened to cause the school to make this decision? According to Alan Rusonik, head of school, there were four students enrolled for eighth grade for the coming year. "While disappointing, we have in the past had grades with just four students and we have navigated through successfully," he stated.
Through no fault of the school, they learned that two of these four would be leaving. This left only two students enrolled for eighth grade next school year. So, considering the financial responsibility, the school made the difficult decision not to have an eighth-grade class this coming school year.
"To be clear, we are not closing eighth grade," Rusonik said in a joint letter with Dr. Jordan Steinberg, Board president, to the Jewish Academy's families. "This is an isolated and unique set of circumstances that we are forced to address."
The parents of the upcoming seventh graders are committed to keeping their children at the Jewish Academy. There are currently 19 students enrolled for the sixth and seventh grade next year. Rusonik stated that they "are working diligently to ensure that next year is a positive experience for these students."
"The good news is that enrollment and retention in the lower school remains strong and we are focusing our growth of the school by building and securing the lower grades," Rusonik stated in the letter.
Another positive for the school is that fundraising has increased this year, both in terms of dollars and donors.
There are many very good private schools in Central Florida, but none of them offer what a good Jewish day school can offer the Jewish community. The Jewish Academy of Orlando continues to produce students who are confident, creative and know how to think critically.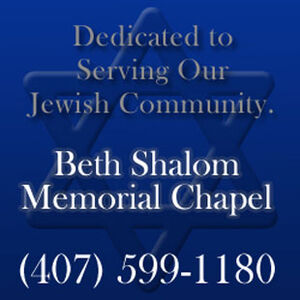 One of the unique experiences that Jewish Academy eighth graders look forward to is the trip to Israel. This past March, 11 students, accompanied by their teacher, Idit Lotringer, spent 12 days traveling all over Israel, with the highlight being Shabbat at the Kotel. They also had the opportunity to visit with Orlando's sister city, Kfar Motzkin, and spend time with students there. One student shared with The Heritage that he "felt connected to my Judaism because I could share my thoughts with the other students and I felt like I was a part of them."
In the past two years, 13 Jewish Academy eighth graders were inducted into the American Hebrew Academy's Honor Society. The society recognizes exceptional eighth and ninth graders who have demonstrated excellence in academics, athletics, arts, leadership and service to their communities.
"We have much to celebrate and be proud of; we remain a viable and sustainable school committed to excellence in academics and maintaining a strong Jewish heritage for our students, for our community and for the future," said Rusonik.