JFGO Annual Meeting promises to be out of this world
The 2015 Annual Meeting for the Jewish Federation of Greater Orlando (JFGO) "will boldly go where no Annual Meeting has gone before."
The Aug. 19 event will have a "Star Trek" theme, with Jeannie Leavitt and Yeosh Bendayan commanding the starship for the evening's festivities.
What, you may ask, does a campy 1960s TV show and its countless spinoffs have to do with Judaism? Quite a bit, it turns out. From Mr. Spock's famous "live long and prosper" Vulcan Salute (which actor Leonard Nimoy based on the Hebrew shin) to messages dealing with sacrifice of personal fulfillment for duty, "Star Trek" has no shortage of Jewish themes bubbling under its surface.
The Annual Meeting's guest speaker, Rabbi Daniel M. Wolpe, will explore some of those themes in his presentation, "The Final Frontier: What Modern Judaism Can Learn from Star Trek." Wolpe is currently based in Philadelphia but previously served at Congregation Ohalei Rivka (Southwest Orlando Jewish Congregation) and was president of the Greater Orlando Board of Rabbis. He is a longtime fan of "Star Trek" and has lent his expertise to a six-week course on Star Trek and Judaism.
Of course, the Annual Meeting won't be all Phasers and Klingons. JFGO will also tend to some serious business, such as electing and installing its 2015-17 Board of Directors, reporting on the past year's accomplishments, previewing the year ahead, and kicking off the 2016 Annual Campaign.
Federation also will honor several "enterprising" members of the Greater Orlando Jewish Community:
• Jerome J. Bornstein Senior Leadership Award: Burt Chasnov
• Byron B. Selber Young Leadership Award: Dr. Jordan Steinberg
• Creative Jewish Programming Award: Jewish Business Network (Bill Sholk, David Brenner, Nancy Hecht, Lawrence Kolin, Gale Milgrim)
• Jewish Communal Professional Award: Pam Kancher
• Community Relations Award: Dr. Terri Susan Fine
• Recognition of the 2015 Menschen of the Week, who will be inducted into the JFGO Mensch Hall of Fame.
Also included in the awards presentations, Jeff Gaeser, publisher of the Heritage Florida Jewish News, will present the paper's Human Service Award to Berny Raff.
The following individuals have been nominated by the JFGO Nominating Committee to serve on the Board of Directors for the 2015-17 term: Abbye Alexander, Sheila Arnold, Valerie Chestnut, Barry Cotton, Haley Forest, Lawrence Haber, Jessica Hoch, Brad Jacobs and Eric Sugarman.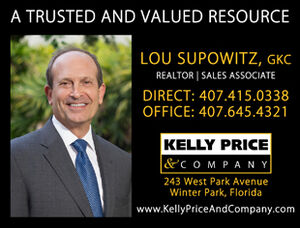 JFGO's Annual Meeting is Wednesday, Aug. 19, from 7 to 8:30 p.m. at The Roth Family JCC Auditorium, 851 North Maitland Ave., Maitland. RSVPs are accepted online at http://www.jfgo.org/meeting or by calling Marisa West at 407-645-5933.