Five cousins found in three months of research
By Renee Lempert
My great-grandparents and grandfather, Jacob Lass, came to New York from Amdur, Poland, in the late 1800s. Till this summer, I assumed my grandfather was an only child. My family breakthrough and connections with cousins began when I researched my grandfather and found him, his parents and six siblings listed in the 1905 N.Y. Population Census! through Ancestry.com, I was able to reach out to cousins who had created their own Lass Family Trees on Ancestry. Now, one of my five newly discovered cousins has created a closed Facebook Group called Lass Family Genealogy. I think the group is a great idea because we are creating and collaborating on a living memorial to our ancestors. The jackpot will be arriving soon-a newly discovered elderly cousin in Toronto is sending me a package of pictures and diaries so I can upload them for her-and all the Lass family.
I credit my having a good computer and research skills for much of my success. The upcoming "My Jewish Roots" workshops sponsored by the Jewish Genealogical Society of Greater Orlando (JGSGO) should be a great starting point for anyone wanting to research their family history.
About "My Jewish Roots" a JGSGO Workshop Roadshow
The "My Jewish Roots" series of 10 monthly hands on workshops hosted by the JGSGO is co-hosted by the Roth JCC, Rosen JCC, UCF Hillel, Congregation Ohev Shalom, and Temple Israel in rotation at their facilities and also joinable over the Internet. In addition to assisting attendees in discovering their family tree, these workshops will help the Orlando Jewish community get the most out of the upcoming 37th Annual International Association of Jewish Genealogical Societies (IAJGS) International Conference on Jewish Genealogy. This premiere international conference will be held for the first time in Florida July 23-28, 2017 at the Disney Swan Hotel with local host JGSGO. For more information, visit http://www.jgsgo.org/MyJewishRoots.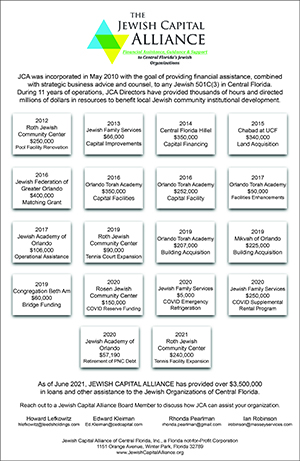 The first in the series of Workshops will be "Begin Building Your Family Tree" with Marlis Humphrey. It will be held: Tuesday, September 6, 2016, 7:00 p.m.-9:00 p.m. at the Roth Jewish Community Center, 851 N. Maitland Ave., Maitland, FL 32751. The Workshop is FREE and open to the public. Please bring your own laptop to participate in the lab portion. It is also possible to attend LIVE via the Internet.
Pre-registration is required to participate either in-person or online: http://www.jgsgo.org/MyJewishRoots.
The Jewish Genealogical Society of Greater Orlando is a non-profit organization dedicated to sharing genealogical information, techniques and research tools with anyone interested in Jewish genealogy and family history. For more information visit http://www.jgsgo.org and "like" us at http://www.facebook.com/jgsgreaterorlando. Questions? Email info@jgsgo.org.