Scene Around
France's Jewish community...
I read this in the World Jewish Congress Digest (WJC), and pass it along to you:
"France's Jewish community, the largest in Europe, has elected a Sephardic Jew as its new leader for the first time in half a century. Algerian-born FRANCIS KALIFAT was unanimously elected as the new president of the Jewish umbrella organization CRIF (Council Representative Jewish Institutions of France). He said his priority was to fight against anti-Semitism in all it's forms." The 63 year old will also serve as a vice president of the WJC.
Kalifat takes over at a highly sensitive time for French Jewry. More than 800 anti-Semitic acts and threats were recorded in France last year, and more than 40% of all hate crimes registered in France are against Jews, who only make up 1% of the French population.
WJC president, Ambassador Ronald S. Lauder welcomed the election of Kalifat, calling him an experienced Jewish leader. Ambassador Lauder also expressed appreciation for the outgoing CRIF president for showing great leadership in difficult times.
The CRIF, established in Lyon in 1944, is the French affiliate of the World Jewish Congress. (I was married for 55 years to Irv, a Sephardic Jew who's ancestry goes back to Barcelona, Spain).
Remembering Jewish history...
On Aug. 5, 1906, eleven American Ashkenazi Jews (born in eastern Europe) who immigrated to Cuba to work for US-owned plantations and businesses founded Cuba's first synagogue, the United Hebrew Congregation, a reform synagogue that conducted services in English. This is considered the official beginning of the Cuban Jewish community.
Jewish Pavilion Mensch...
I received this from the Jewish Pavilion and pass it along: Three cheers for PAUL STENZLER who was elected president of the Jewish Pavilion on Sept 8. Paul has been involved with the organization for years, providing entertainment for seniors, leading Shabbat and holiday services, providing band music for the gala, and much more.
Paul's mother was a resident of Health Center of Windermere. Paul so appreciates Shabbat and holiday programs organized by the Jewish Pavilion director and the volunteers who visited with his mother; especially Marion Bromberg, who never missed a week. His initial involvement with the organization began when he was asked to sing and play the guitar at the Health Center of Windermere.
"Paul is the true definition of a mensch," says Nancy Ludin, executive director. "He is compassionate and generous with his time, talent and treasure. Paul's dedication to the Jewish community and to our seniors is beyond compare."
His brilliant, talented and delightful wife, Terri, has been by his side for many years, and she joins him for all adventures with our elders. The two of them designed an excellent memorial program that has benefited seniors who have been unable to leave their buildings to attend funerals and shivas.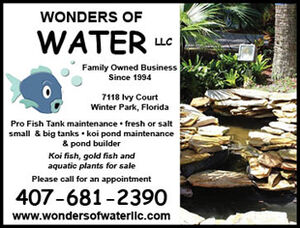 The Board of Directors is excited to work with Paul to envision a better future for our elders.
Spooky? Halloween? No way!...
On Sunday, Oct. 30, the talented KID DUTCH and his New Orleans music will be featured at the Altamonte Chapel, 825 E. SR436, Altamonte Springs. The music will be performed from 1230p-230p with our own ALAN ROCK as emcee. The donation is $10. For further information, phone 407-339-5208. (I will remind music lovers as we get closer).
Grief support...
The Jewish Pavilion is offering a grief support group to all those grieving the loss of a dear family member or friend. (Believe me, I know personally how important and supportive such groups are). The first session will be held on Wednesday, Oct. 19, from 10:30 a.m. to noon at Oakmonte Village. Phone the Jewish Pavilion at 407-678-9363 for further details and directions.
Shout out...
If go to the FedEx office at 2145 Aloma Ave in Winter Park, consider yourself lucky if you are served by ERIN DAVIS. Her degree of customer service is exemplary. (Thank goodness Erin was there for me, as she really knows her stuff).
One for the road...
I heard this on the Johnny Carson Show:
Answer: Minesweeper
Question: What is the title of Adolph Hitler's book about his housekeeper?
(I am still laughing!).