Scene Around
Pope visits Auschwitz...
I read this in the current issue of the World Jewish Congress (WJC) Digest and pass it along to you:
"WJC President Ambassador RONALD S. LAUDER hailed Pope FRANCIS' visit on July 29 to Auschwitz-Birkenau as 'a strong signal' against hatred and called the Catholic Church leader 'one of the closest allies Jews have today in the fight against anti-Semitism and bigotry.'
Pope Francis did not make a speech but rather walked the grounds of the former Nazi German death camp and prayed alone in tribute to the 1.1 million men, women and children murdered there. He then met with Holocaust survivors from around the world.
'Although there are no grave markers, Auschwitz is the world's largest Jewish graveyard,' declared the WJC president. 'It is one of the most horrific places on the planet. It is also an eternal reminder of what can happen when hatred is allowed to fester, when the world remains silent in the face of evil and looks the other way as unspeakable crimes are being committed nearby.'
(He continued) ' Pope Francis is a true friend of the Jewish people, a man who reaches out to others and embraces them. Never over the past 2,000 years have Catholic-Jewish relations been better. His visit to Auschwitz sends an important signal to the world that this dark chapter must never be forgotten and that the truth about what happened seven decades ago must not be obfuscated.'"
A Jewish Federation mensch...
I am proud and pleased to pass this honor from the Jewish Federation on to everyone:
"Federation is proud to honor a JFGO Board member, volunteer and longtime leader in the Greater Orlando Jewish community, BARBARA WEINREICH. 
This week she will be honored by the Atlantic Institute with its 2016 Peace and Dialogue Award. The Atlantic Institute holds the awards ceremony annually to recognize influential people who actively promote diversity and intercultural exchange in the workplace, the government or other vocational spheres in their communities.
A resident of Orlando since 1959, Barbara is a longtime committee member and former chair of the Federation's Jewish Community Relations Council, where she lends an important voice to issues and causes important to Jews in Central Florida. In addition to her work with Federation, Barbara is also deeply involved with the Holocaust Memorial Resource & Education Center, Temple Israel, the Jewish Pavilion, and UCF's Judaic Studies Department. Barbara also devotes time helping adults with special needs gain valuable employment skills as a volunteer job coach for Federation's RAISE program.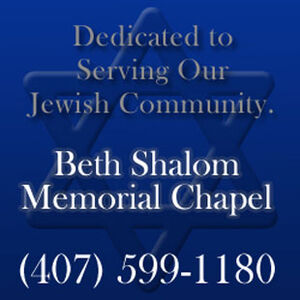 In all her good work, Barbara serves as a shining example of how to build relationships within and beyond the community. We deeply admire Barbara for her wise counsel, good cheer, unwavering commitment to the Central Florida Jewish community, and equally unwavering commitment to causes of social justice, tolerance and peace.
Congratulations, Barbara, on your deserved honor from the Atlantic Institute. We are very proud to call you our friend! "
(I know Barbara, a wonderful woman!)
A special reminder...
On Sunday, Nov. 6th at 2 p.m., the Congregation Ohev Shalom Seniors will hold their next meeting at the synagogue, 613 Concourse Parkway South in Maitland.
The entertainment will be provided by "Eastside." It is a trio of musicians that perform a very eclectic variety of music for your listening and dancing pleasure. They have been entertaining audiences for almost 15 years in Central Florida. The bandleader and keyboardist, JOE LUPIS, has been entertaining audiences for more than 25 years. Guitarist and lead vocalist, JIMMY VENTURA, has been playing music since he was a teenager. Female vocalist and percussionist, ROBIN VENTURA, is a very talented vocalist.
The group "Eastside" performs for many local venues and nightspots as well as appearances at local churches, temples and community clubhouses.
Of course the entertainment is always followed by refreshments and all for $5 members and $8 for all others.
For further information, phone President BERNY RAFF at 407-767-6763.
Another important reminder...
Jewish Pavilion's "Sunday in the Park," a wonderful fall festival at Cranes Roost Park in Altamonte Springs, takes place on Sunday, Oct. 23rd at 2 p.m.
There will be food and beverages, entertainment and prizes. Proceeds enhance the lives of seniors.
For more details, phone 407-678-9363.
One for the road...
Three men are discussing their previous night's lovemaking. Alberto the Italian says, "My wife, I rubbed her all over with fine olive oil, then we make wonderful love. She screamed for five minutes."
Marcel the Frenchman says, "I smoothed sweet butter on my wife's body, then we made passionate love. She screamed for half an hour."
Maurice Cohen says, "I covered my wife's body with schmaltz. We made love and she screamed for six hours. "The others say, "Six hours? How did you make her scream for six hours?" Maurice shrugs. "I wiped my hands on the drapes."