The Roth Family JCC promotes Robby Etzkin to executive director
The Roth Family Jewish Community Center of Greater Orlando is pleased to announce that Robby Etzkin has been promoted to executive director and agreed to a new contract to fulfill that role.
Etzkin's promotion comes on the heels of the hiring of Keith Dvorchik, who began on Oct. 5 as The Roth Family JCC's chief executive officer, a new position for the organization. For eight months, Etzkin oversaw the 43-year-old community center while a search committee sought and hired Dvorchik as CEO.
"I am so excited about Robby's promotion and his renewed commitment to the JCC," Dvorchik said. "He brings enormous value to The Roth Family JCC and our entire community. I am lucky to have him as my thought partner."
Prior to February, Etzkin served as the JCC's assistant executive director since October 2012, a position in which he supervised the leadership of the JCC's sports, fitness, aquatics, youth, camp, teen, membership, cultural arts, facility maintenance, and marketing programs. With his promotion, he will also be responsible for supervising early childhood programs, the JCC's largest program, with more than 300 children enrolled in its Richard S. Adler Early Childhood Learning Center.
"With Keith Dvorchik heading the organization as its CEO and Robby overseeing programming and operations as the center's executive director, we have a dynamic duo that will lead us with an unmatched bundle of experience, vision, and energy," said Ronnie Bitman, the JCC's board president.
For four years, Etzkin has brought new processes and programs to the JCC that have strengthened and grown the center.  He has a hands-on style of leadership, meeting on a weekly basis with every program department director, leading by example with a simultaneous eye on the big-picture and an emphasis on the minute details of operation that contribute to an environment of excellence.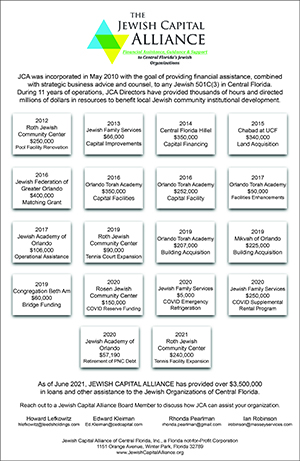 "He's made a huge impact across the board and changed this organization's culture," said Tara Harris, who has worked closely with Etzkin for four years, as the lead volunteer and board member overseeing children's and family programs. "He is the definition of empathy and community, making everyone feel a part of the process. I can't think of one employee who doesn't respect him, from department directors to teenage camp counselors. Even the kids love him. In the coming years, he's only going to make this place bigger, better and greater."
His resume in four years is long. He's been a driving force, working with his staff to bring a number of improvements to the JCC-heating the pool and bringing on a professional swim team in Fast Lane Aquatics; (re)establishing Theater at the J; creating successful young adult events in Party of 8 and Twelve24; bringing the Jewish community together though the annual Hanukarnival and a relocated (back at the JCC) Israel Independence Day Festival; and establishing new programming partnerships with other Jewish organizations, such as Jewish education with JOIN, the Mega Challah Bake with Chabad, and with a plethora of synagogues and youth groups through J-Serve for teenagers.
"He's built win-win partnerships with staff and volunteers to get everything done," Harris said.
His greatest passion and commitment has been in growing and strengthening the quality and Jewish focus of Camp J, deepening and expanding the staff training program; bringing on two "shlichim," or emissaries, every summer from Israel; establishing a daily end-of-day song session featuring Jewish music; and introducing a Jewish values education program, which features a different Hebrew value each summer, such as 2016's focus on hachlala, or inclusion. This focus on Jewish content and overall staff training led to an increased success of the program, with Camp J averaging 37 percent more campers per week in 2016 than it did in 2013.
As he embarks on the next five years as executive director, he has an abundance of ideas he's yet to accomplish, such as a robust youth dance program, a kosher chili cookout, and increased cultural arts programming, like a Jewish Book Festival.
His ultimate goal is for the JCC to play a significant role in the lives of as many families as possible, like it did for him, growing up at this JCC. Prior to his hiring as assistant executive director, he oversaw the youth, teen, cultural arts and camp programs for the JCC in Austin, Texas, and before that, the youth and camp program for the JCC in Richmond, Va. He's also led two JCC Birthright Israel trips, with another one coming up in December. So his tenure at The Roth Family JCC was a sort of homecoming, after graduating from its early childhood, after school, and summer camp programs, before returning during college as a teen travel camp counselor.
"Wth Keith and Robby at the helm, we are ecstatic to discover what the JCC's future will bring," Bitman said.