Scene Around
Jews and cancer...
I received this information from the Jewish Telegraphic Agency (JTA) and pass it along to you in part:
"This is about the three cancers Jews need to worry about most, and how to reduce the risks." (As if Jews don't have enough to worry about.)
"Specifically, Jews are at elevated risk for three types of the disease: melanoma, breast cancer and ovarian cancer. The perils are particularly acute for Jewish women. The higher prevalence of these illnesses isn't spread evenly among all Jews. The genetic mutations that result in higher incidence of cancer are concentrated among Ashkenazim, Jews of European descent.
'Ashkenazim are a more homogenous population from a genetic point of view, whereas the Sephardim are much more diverse,' said Dr. EPHRAT LEVY-LAHAD, director of Medical Genetics Institute at Shaare Zedek Medical Center in Jerusalem. But there is some hope. Susceptible populations can take certain precautions to reduce their risks, Recent medical advance have made early detection easier, significantly lowering the fatality rates from some cancers. And scientist are working on new approaches to fight these pernicious diseases, especially in Israel, where Ashkenazi Jews make up a larger proportion of the population than in any other country. Understanding risk factors and learning about preventative measures are key to improving cancer survival rates. Here's what you need to know:
Melanoma is the deadliest type of skin cancer. (What makes Jews more likely to get skin cancer than others?)
It's a combination of genetics and behavior, according to Dr. HARRIET KLUGER, a cancer researcher at Yale University. On the genetics side, Ashkenazi Jews are significantly more likely to have the BRCA-2 genetic mutation that some studies have linked to higher rates of melanoma. The other factor, Israel's abundant sunshine, (and Florida) exacerbates the problems of sun-sensitive Jews of European origin. That's why Arabs and Israeli Orthodox Jews, whose more conservative dress leaves less skin exposed than does typical secular attire, have a lower incidence of the cancer.
(Stay out of the sun, cover up more and have your skin tested once per year!)
Breast cancer is already more common in developed, Western countries than elsewhere, likely because women who delay childbirth until later in life and have fewer children do not enjoy as much of the positive, cancer risk-reducing effects of the hormonal changes associated with childbirth. Ashkenazi Jews in particular have a significantly higher risk for breast cancer. They are about three times as likely as non-Ashkenazim to carry mutations in the BRCA-1 and BRCA-2 genes that lead to a very high chance of developing cancer. Based on family history, including on the father's side, the chances could be even higher.
(Get a mammogram at least once per year!)
Of the three 'Jewish' cancers, ovarian cancer is the deadliest. Linked to the two BRCA mutations common among Jews, ovarian cancer is both stubbornly difficult to detect early and has a very high late-stage mortality rates.
(Women should be screened for the mutations by age 30, so they know their risks.)"
I suggest you show this article to your doctor and see what he has to say. I honestly don't have any particular knowledge on the subject of cancer and I plan to show this article to my doctor as well. It couldn't hurt!
Remembering Jewish history...
Sept. 30 was the birthday of Eliezer "Elie" Wiesel, noted Holocaust Survivor, award-winning novelist, journalist, human rights activist, and Nobel laureate. He died at his home in Manhattan on July 2, 2016. He was active in many causes, Jewish and non-Jewish.
"The whole world knew what was happening in the concentration camps but did nothing," he explained. "That is why I swore never to be silent whenever and wherever human beings endure suffering and humiliation."
Learn and laugh...
There will be a Central Florida Jewish Book Festival on Sunday, Oct. 29, from 11 a.m. until 5 p.m. at the JCC.
Learn and Laugh with Jewish authors at the literary event of the year, co-presented by the Writer's Block Bookstore and The Roth Family JCC. There will be complimentary babysitting at the JCC for children 2-12; advanced registration is required and is done at the time tickets are purchased. General Admission (open seating) is $10 per talk; VIP Reserved Seat in First 2 Rows, $50 for all three talks, plus a meet-and-greet from 2:45 p.m. – 3:45 p.m. with the authors.
For more information, contact ROBBY ETZKIN, executive director, by phone at 407-621-4031 or by email at robbye@orlandojcc.org
Movies at the JCC...
On Sunday, Oct. 22, known as "Cinema Sundays," the JCC 39ers will be showing the film "The Boy in Blue," featuring Nicholas Cage and Christopher Plummer. The movie starts at 2 p.m. in the Senior Lounge of the JCC. Refreshments will be available.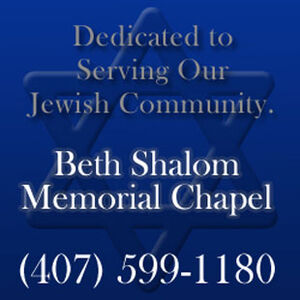 More JCC 39ers...
On Monday, Oct. 23, at 1 p.m., there will be a program titled "Match The Faces." Those attending are asked to bring a photo of themselves (18 years or younger). There will be prizes for correct guesses.
(Although I was always a great beauty, I refuse to bring a photo... NO WAY! NO HOW!)
50 Plus FYI EXPO...
The 50 Plus FYI Network, Orange County Commission on Aging, Seminole County Triad and Senior Resource Alliance present the "50 PLUS FYI EXPO," hosted by the City of Winter Park, on Saturday, Oct. 21, (tomorrow) from 9:30 a.m. to 2:30 p.m. at the Winter Park Community Center, 721 W. New England Ave, Winter Park. Folks attending will have the chance to speak with experts about services and products for seniors.
The Company Players will perform, as will jazz legend JACQUELINE JONES and guitarist FRED P. HODES. There will be food trucks and door prizes. Admission is free and parking is free. Health screenings are free and there will be free seminars! (Wow, seniors! This sounds fantastic!)
Shout-Out...
DANIELLE CHASTEN, a shift manager at Panera Bread on Aloma Avenue, Winter Park, is simply the best! She makes every customer feel special... so special that I plan to return to Panera Bread again and again and again and...
One for the road...
Izzy is sitting in shul one Shabbes morning when he falls asleep and starts to snore. The shammes quickly comes over to him, taps him softly on his shoulder and says, "Please stop your snoring, Izzy, you're disturbing the others in the shul."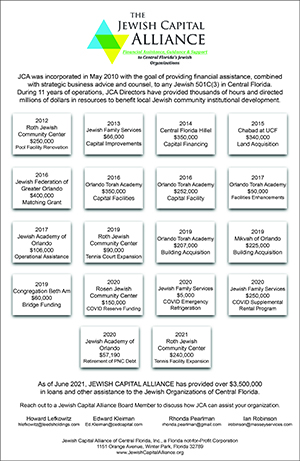 "Now look here," says Izzy, "I always pay my shul subscription in full so I feel I have a right to do whatever I want." 
"Yes, I agree," replies the shammes, "but your snoring is keeping everybody else awake."