Scene Around
Israel does it again...
When it comes to science and technology, Israel is leading the field! I read this recently in the World Jewish Congress digest and pass it along:
"As highlighted in NoCamels, (the leading news website covering the startup nation, with a focus on Israel innovation in technology, science, design, medicine and cyber) more than 23 million people worldwide suffer from diastolic heart failure, a condition in which the heart fails to pump sufficient oxygenated blood to meet the body's needs. Scientists have long been looking for an effective treatment for this condition.
A unique device developed by Israeli company CorAssist offers new hope. CORolla, an elastic device that is implanted inside the left ventricle of the heart by a minimally invasive procedure on a beating heart, can improve cardiac diastolic function by applying direct expansion force on the ventricle wall to help the heart fill with blood.
Heart failure symptoms include shortness of breath, tiredness, swollen legs and limited ability to exercise or perform simple physical tasks. The prognosis of heart failure is poor; more than 40 percent of heart failure patients die within five years of diagnosis. Approximately half of heart failure patients suffer from diastolic heart failure. The incidence of diastolic heart failure increases with age, and is common among women with hypertension, obesity and diabetes.
(Oy vay! I have diabetes!!)
We lost a fabulous musician...
We also lost a fabulous, kind human being. I'm referring to Syl LaFata, the very best clarinet player I have ever worked with. He was on a par with the great Benny Goodman. (Some even said that Syl resembled Benny.)
The last time Syl performed with me was on Oct. 4, 2015, along with MICHAEL and BEN KRAMER and EDDIE VAZZ at Congregation Ohev Shalom.
He will be sorely missed.
On the subject of fabulous musicians...
I just came from a C.O.S. Seniors meeting at the synagogue. The entertainment was supplied by SCOTT BERRY on keyboard and vocals.
He performed the music of George Gershwin and others. (Gershwin... it just doesn't get better than that!)
Everyone who attended loved Scott's performance. I could hear them kvelling as they were leaving. Hopefully Scott will return soon.
(I especially love my cookies that are part of the refreshments at Ohev after the show. Thanks to DAVID MOLDAU, I always get my favorites! David gets to them before they are gone and what's more, THEY DON'T HAVE ANY CALORIES!)
39'ers Cinema Sundays...
On Sunday, Dec. 17th, the movie in the senior lounge will be "The Accountant" starring BEN AFFLECK. Refreshments are available.
And more 39'ers...
On "Meet & Mingle Monday, Dec. 18th, a Chanukah party will take place at the Maitland JCC.
Come! Smile! Rejoice!
Shout Out...
Have you ever shopped at Aldi? I have many times, especially because the prices are right. But most of all, because of an absolute sweetheart who works there. Her name is JAHLIL BEYMUHAMMED. She is kind, patient and truly a doll! And she is a great worker!!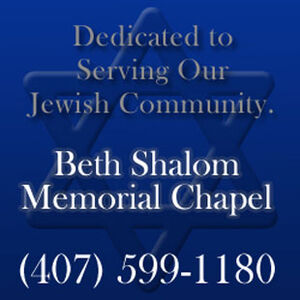 One for the road...
Moishe was sitting at the breakfast table one Sunday morning reading the News of the World. He had just read an article about a beautiful film star who had announced that she was going to marry a football player who was famous not only for his aggression on and off the field, but also for his lack of IQ and common sense. In fact he was 'thick as two planks'. 
Like many men, Moishe loved hearing his own voice and liked to report aloud stories he read from the paper. So he turned to his wife Sadie and said, "I'll never understand why the biggest schmucks get the most attractive wives." 
Sadie replied, "Why thank you, darling!"