A light in the face of darkness
It only takes one person to strive to make a difference. Sami Kuperberg is such a person. She had endured anti-Semitism since her freshman year at Oviedo High School. Students would tease her because she is Jewish. One student wouldn't let her raise her hand in class to answer questions and grabbed her arm and drew a swastika on it. She was even punched and kicked just because she is Jewish.
Kuperberg heard of a program called Jewish Student Union, and reached out to Rabbi Gabi Gittleson of JOIN Orlando to start the club at her school.
JSU is an after-school club that provides any high school student a Jewish experience through programs that strengthen their Jewish identity.
Kuperberg planned a program titled "One Day Starts Today" with the support of JOIN Orlando and StandWithUs, a non-profit pro-Israel education and advocacy organization that believes that education is the road to peace.
"I have been fighting every single day for this event and finally in less than a week it will all come together," Kuperberg stated on her Facebook page before the event. "My goal is to fill 600/600 seats there and show that hate really will not win and that this is something the people want to hear."
Her hard work and determination paid off. More than 600 people filled the Oviedo auditorium and heard two Holocaust survivors, Genia Kutner and Gerald Biegel, speak about their experiences.
Rayna Rose Exelbierd, Southeast high school coordinator with StandWithUs and a third generation survivor who also spoke, told the Heritage that the majority of those who attended the event are not Jewish. She asked for a raise of hands of those who had never heard a Holocaust survivor speak and 90 percent raised their hands.
Exelbierd is a motivational speaker for teenagers and mentor to teens who want to organize a program like this one. She has helped organize 105 programs in the Southeast, reaching more than 8,000 people who may never have heard a Holocaust survivor's story.
The Oviedo audience was silent as Biegel shared about his ordeal in five concentration camps. Then, Kutner provided details about who Hitler and the Nazis were, and what a swastika really stands for before sharing her own harrowing story. Kutner concluded that "we must accept each other and understand what hatred leads to." 
Also speaking to the group that evening was Daniel Nabatian, director of JSU Orlando.
"This was more than I could have dreamed of," he told the Heritage. "So many lives were impacted for the better. It was a powerful event."
The program was enlightening to many people, not just Jewish students who had experienced anti-Semitism. After hearing Exelbierd share that her grandparents, who were survivors, fought for the rights of black people after seeing segregation in the South when they came to the States, several African-American students said they didn't know that Jews helped blacks during the civil rights era.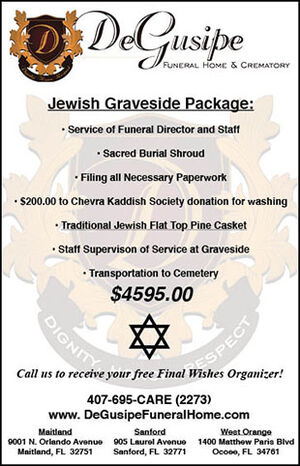 "The response was so amazing," Exelbierd said. "The message was for everyone."
At the conclusion of the program, students lined up to have photos taken with the Holocaust survivors, and shared their own stories of being bullied.
"One year fighting for this night all to spread the word to stop the hate," Kuperberg shared in her Facebook post. "I cannot describe how thankful I am for all the people who fought with me-Gabi Gittleson, Rayna Rose Exelbierd, Daniel Nabatian, Nicole Feldman Kuperberg, Justin Kuperberg, and so many more. I am also so thankful for all of you who supported me, even when I was losing the battles. You guys showed me that in the end hate will lose and love will win."
"This is what JSU is here for-to education others, be there for them," stated Nabatian.
To learn more about JSU or to request having the club open at a high school, visit http://www.jsu.org or contact Daniel Nabatian at dnabatian@joinorlando.org.