Orlando Hadassah presents 'Un après-midi à Paris'
The Orlando Chapter of Hadassah presents "An afternoon in Paris," the annual Bunny Rosen Women's Heart Health Luncheon and Fashion Show, on Sunday, March 4, 2018.
The Bunny Rosen Women's Heart Health Endowment was established to honor the memory of Bunny Rosen for her tireless efforts on behalf of Orlando Hadassah. This annual charity event is a permanent memorial to Rosen and her endeavors in support of Hadassah's good works for Jews in Israel and worldwide and in particular all women at home and abroad.
The Luncheon and Fashion Show will be held at The Alfond Inn with apparel provided by Evelyn and Arthur Boutique of Palm Beach and Winter Park.
Everything about this venue would have delighted Rosen, who gave this event her highest priority and worked tirelessly to make it the happening of the year.
Every Beat Counts TM is Hadassah's Women's Heart Health program and was founded to educate women about the risks, detection and prevention of heart disease, the No.1 cause of death among women in the U.S. and worldwide. One in three women over the age of 20 has some form of cardiovascular disease. Here's an alarming reality: 500,000 women in the US die of heart disease every year. Heart disease kills more women than stroke, lung cancer, chronic obstructive pulmonary disease, and breast cancer combined. Although women share many of the same risk factors as men, at-risk women are less likely to be tested or treated in a timely manner. And when presenting with the same symptoms or risk factors, women are less likely to be referred for diagnostic testing that would be standard for men.
Hadassah promotes Every Beat Counts TM to get the word out to women that cardiac screenings are a key factor in heart disease prevention. The program pioneers in teaching women how to prevent heart disease through heart health programs, educational materials, a walking program and an awareness campaign about this No.1 killer of women.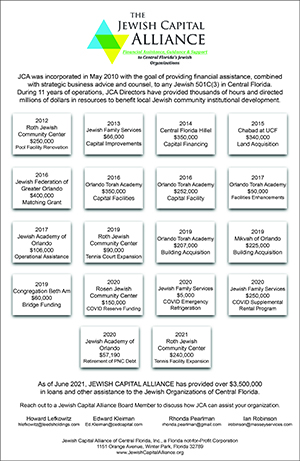 Orlando Hadassah is committed to promoting heart disease awareness through Every Beat Counts in coordination with the chapter's "Saving Heartbeats" program which prepares women to perform CPR until the Paramedics arrive" The Bunny Rosen Luncheon and Fashion show contributes charitable funds to promote women's heart health in the greater Orlando Area.
The luncheon and fashion show is open to the public. The menu offers a choice of Pan Seared Snapper or Wild Mushroom Ravioli. The couvert is $45 per person and tables of 10 are available. Make Checks payable to Hadassah. Send checks, meal selections and table reservations to:
Orlando Hadassah, 1253 Eggleston Drive, DeLand, FL 32724
For more information, call 407-415-6892.