JNF Tree of Life Gala honors four
The Jewish National Fund will host the annual Tree of Life™ Award Gala at Congregation Ohev Shalom on Tuesday, March 20, to honor Deborah Dorsky Meitin, Marc Reicher, James Riola, and Rabbi Aaron Rubinger with Tree of Life™ Awards for their dedication to the Orlando community, JNF, and Israel.
The Tree of Life™ Award is a humanitarian award given in recognition of outstanding community involvement, dedication to the cause of American-Israeli friendship, and devotion to the peace and security of human life.
Honoree James J. Riola is currently president and CEO of CITSS, a technology consulting company specializing in strategic business relationships with international technology companies. Prior to founding CITSS, Riola held several executive positions in a number of Silicon Valley companies, including Apple Computer, where he met his wife of 24 years, Jill. He has been involved with several philanthropic and charitable Jewish organizations and is currently co-chairman of Jewish National Fund's National Community Campaign. He and his wife are also members of JNF's World Chairman's Counsel and President's Society.
"I am humbled to be chosen to receive the Tree of Life award," said honoree Deborah Dorsky Meitin. "I know that many outstanding men and women have been honored with this award and I am proud to be included among them."
Meitin worked in health administration for 20 years before becoming cantor at Temple Israel in Orlando. She previously served as president of JNF Orlando for three years. After the JNF Queen of Sheba Mission to Israel in 2008, Meitin started Orlando's Women for Israel group, which has been running successful programs and has grown to be one of JNF's largest affinity groups. She also leads the Orlando Israeli dance group and volunteers with the Jewish Pavilion. She is married to Larry Gutter and has three daughters and six grandchildren.
"Through my work with Jewish National Fund, seeing the amazing results of our work in Israel, meeting the many staff and volunteers who devote so much time, energy and resources to helping the land of Israel blossom, I have become an avid supporter of the organization," said Meitin. "We must continue to support the land and people of Israel. The fact that Jewish National Fund is apolitical is very important to me-this allows us to focus of the needs of people, unrelated to their political or religious views."
Honoree Marc Reicher has been involved in the Commercial Real Estate Industry for over 30 years and currently serves as senior vice president for RIDA Associates, L.P. Prior to joining RIDA/ChampionsGate, Reicher worked with Trammel Crow Company for 10 years, as a retail broker and developer. Reicher is involved in various community organizations including Experience Kissimmee, the Winter Park Transportation Advisory Board, ETC, Osceola Chamber of Commerce, and more.
"Israel is one of the most important things in my life, that's why I support JNF," says honoree Rabbi Aaron D. Rubinger. "If you care about Israel, if you want to personally participate in rebuilding the land of Israel, if you're a proud Zionist, naturally, you would be drawn to the Jewish National Fund."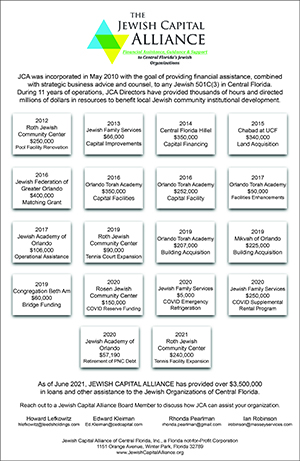 Since 1990, Rubinger has been rabbi and, then, senior rabbi of Congregation Ohev Shalom. In October 2017, he was named rabbi emeritus. He has been a long-time supporter of the State of Israel, an activist on behalf of Soviet Jewry and a witness to contemporary anti-Semitism in Europe. He is the father of three daughters-Ariella Valente, Becky Rosenthal, and Dr. Adina Paulk. He has six grandchildren and is the husband of Marisa D. Rubinger.
"Those of us who have long been involved in communal activities understand what it really means to be honored-any accomplishments of the honoree are of secondary importance," said Rubinger. "Allowing oneself to be honored is the act of signaling others just how much you yourself honor and value the work undertaken by the Jewish National Fund."
The JNF Tree of Life™ Award Gala will take place on Tuesday, March 20, at 6 p.m. at Congregation Ohev Shalom, located at 613 Concourse Parkway South in Maitland.
Sponsorship information and tickets are available online at jnf.org/orlandotol. For more information on this event or ways to get involved with JNF in Orlando, please contact Laura Abramson at labramson@jnf.org or 407-804-5568.