Scene Around
"Where have all the values gone?"...
This is the title of a work written by a lovely lady, AUNITA PADGETT, a friend and fellow member of my Grief Support Group. It really hit home with me, especially all the young folks I see (even when they are driving) who constantly stare at their cell phones. I pass it along in part to you:
"We have new gadgets, fancy automobiles and name brand clothing, but do we appreciate a new car, for instance, the way our grandparents and the whole family oohed and ahhed over a new Model T?
It was a real treat then to get an ice cream cone or even a new pair of shoes, but who would dream of refusing to wear them because they weren't 'name brand.' When anyone received something in those days, they were proud and knew the value of the item because they usually worked hard and earned it. Sadly, today too many feel they are owed not the simple things, but the name brands.
Somewhere we have failed as a nation to teach our children the values that were instilled in us and we need to help them understand that feeling of pride and accomplishment that comes with hard work and responsibility.
We should be thankful for the blessings we receive and consider what we can do for others who are less fortunate than we are. There is where the real satisfaction (in life) is and if we busy ourselves with those things, we will soon spread the idea to others and there lays true happiness.
Remembering Jewish history...
On June 25, 2006, Hamas terrorists kidnapped IDF soldier GILAD SHALIT near the Gaza-Israel border. Held hostage for nearly five years in Gaza, Israel negotiated through Egypt with Hamas for Shalit's release. He was returned to Israel on Oct. 18, 2011, in exchange for 1,027 Palestinian prisoners, including some convicted of multiple murders and carrying out attacks against Israeli civilians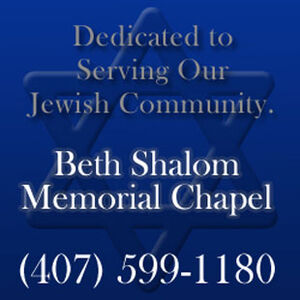 Shout-Out...
I met the nicest guy recently at the 7-11 Gas Station on Aloma Avenue (corner of Forsythe Road). His name is JOSE CRUZ. He is an employee there and went out of his way to help me fill up my car. I would have been confused without his help as I am no longer a kid. (Oh quiet!)
And speaking of no longer being young...
I really can't perform the songs of today, especially not the Rap Crap. But if you feel as I do, here is something you should know: Powerhouse musical theatre performer, TAY ANDERSON, will take the cabaret stage at The Winter Park Playhouse to premiere her latest solo cabaret,"I Was Here," in the theatre's Spotlight Cabaret Series on July 18th and 19th. Playhouse Musical Director CHRISTOPHER LEAVY will accompany on the piano.
Tay will perform the songs written by "The Greats," (Kander & Ebb, Rodgers & Hammerstein, Cole Porter, to name a few.) I consider their music "the good stuff!"
The show starts at 7:30 p.m. The theater is located at 711 Orange Avenue, Winter Park. For further information, phone the box office at 407-645-0145 or go online to http://www.winterparkplayhouse.org.
All that jazz...
Our own ALAN ROCK keeps us informed about the great music in this town. (Thank Goodness!)
And he told us about a new venue called the Blue Bamboo Center for the Arts, 1905 Kentucky Avenue in Winter Park.
On July 7th, Vivacity: Vivacity is a highly- polished and unique ensemble featuring brilliant musicians and incredible arrangements of music from the 1920s to the timeless classics of today, including The Great American Songbook, Glenn Miller and more. Featuring Heather Thorn on xylophone, along with vocalist Krissy Vavrek, Claude Kashnig- tuba, Jeff Phillips-piano and friends!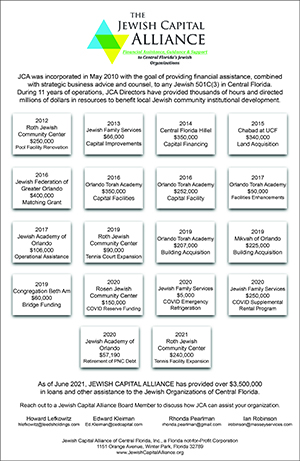 And on July 10th, Tuesday Night Sessions: Chris Cortez Trio: Joining Chris are, the always joyful Chuck Archard who is an accomplished bassist, composer and educator and Drummer extraordinaire and Marc Clermont, is also a vocalist, solo performer, guitarist, percussionist and CEO of Airtight Music.
For further details, go online to http://www.bluebambooartcenter.com.
JCC Summer Sundays...
The Roth Family JCC in Maitland will hold a Summer Sunday from 11 am until 1:30 pm on July 8th. A pool party is planned!
(I want to attend, Robby. I'm NOT too old!)
To RSVP for this great time, contact MARNI CHEPENIK at 407-621-4056.
JCC 39ers Terrific Thursdays...
On July 112th, beginning at 1:30 p.m. there will be a game of Yiddish Bingo in the senior lounge.
Come play this version of the popular game. There is no charge and there are prizes!
(Oy Gevalt! Yiddish Bingo?)
One for the road...
Esther meets Rebecca at the mall. They haven't seen each other for years and immediately start talking about their favorite subject-their children. 
"So how's your lovely little boy Lawrence?" asks Esther. "Is he still giving you much naches?" 
"He's not so little anymore-he's nearly 20 years old," replies Rebecca, "and to tell you the truth, we were upset with him last year." 
"Why, what did he do?" asks Esther. 
"He hadn't been at Oxford University more than a fortnight when he rang to tell us he'd 'come out,' he's gay," replies Rebecca. 
"Oy gevalt!" says Esther, "I bet you were both farmisht." 
"Well, we were at first," says Rebecca, "but then we found out he's going out with a nice Jewish doctor."