IAC is bridging two communities, bringing more Israeli culture to Orlando
By Christine DeSouza
Many people in the Central Florida Jewish community know Idit Lotringer very well. She is the type of person who is liked immediately because of her energy, openness, friendliness and kindness. She is also a real go-getter and is the Orlando regional manager of the Israeli American Council, which opened a chapter here last August.
"There are 20 offices in the United States and we are the 18th office to open!" Lotringer proclaimed with a big smile.
She wasn't always involved with the Council, which was founded in 2007 in Los Angeles. Lotringer, who has a passion for teaching, was part of a program in Israel that sent her here 10 years ago to be a Hebrew-Judaic Studies teacher at the Jewish Academy of Orlando. The job was to be for only three years. She and her family were to return to Israel. But that didn't happen.
"There are truly quality people here. It is a welcoming community," she said, and she didn't want to leave. The Jewish Academy said they still needed her here, so arrangements were made for the Lotringers to get their green cards and stay. In fact, three months ago, the family became American citizens and hold dual citizenship.
Lotringer no longer teaches Hebrew and Judaic Studies, but she still holds the position of Hebrew and Judaic Studies coordinator for the school. Now she has opened the door to a larger dream.
"I have a dream to bring this community to a different level, combining Israeli-Americans with Jewish-Americans."
In the words of Israeli-American Council CEO Shoham Nicolet and the chairman of the board, Adam Milstein, "[IAC is] bringing bold ideas and game-changing solutions to engage Israeli-Americans as a living bridge between the Jewish American community and the Israeli people."
It's the perfect niche for Lotringer, who continues to follow her passion through the several programs already initiated to teach entire families Israeli culture. "We are the only new chapter with all the programs," Lotringer stated.
The programs for young people include Keshet (ages 0-12); Eitanim (teens ages 13-18); and Mishelanu (college age 18-24). In Keshet, children connect through Hebrew, Israeli culture, and Jewish heritage. The group meets once a month. Eitanim provides challenges through innovative, project-based learning experiences-all within the framework of building their connection to Israel. The program promotes a mindset of entrepreneurship, critical thinking and problem solving. This class meets twice a month. Lotringer has 17 children in this program and it meets on Monday evenings from 5:30 p.m.-8 p.m. at the Jewish Academy. The children enjoy a pizza dinner, then spend two hours working on their project. With Lotringer are two mentors who teach the class-Lora Parahovnik and Ronen Shor.
The cost for these classes is $180 for the year, and both will begin new sessions this month.
The Mishelanu program is active on the UCF campus. The program provides a feeling of home for Israeli-American students, allowing them to express their "Israeliness."
In addition to these classes, IAC offers Tzofim-Israeli Scouts. IAC provided more than $500,000 in grants for the Tzofim to increase the number of local chapters. Here in Central Florida, there are almost 40 scouts from third grade up.
Recently, IAC hosted-with the support of JNF, Chabad and the Roth Family JCC-a Tu B'Shevat festival. More than 150 people attended the event. There was dancing, Israeli food, lots of green (for the trees) and laughter.
Lotringer questioned why America doesn't have an Israeli celebration like other cultures do-the Irish brought St. Patrick's Day, the Germans gave us Octoberfest, the Mexicans share Cinco de Mayo, just to mention a few. She hopes to bring many more Israeli celebrations like Tu B'Shevat to the community. And there are already several celebrations planned: On Feb. 20, IAC, the Alexander Muss High School in Israel, JNF and Tzofim have joined together to bring the community Yom Israel-Israel Day at the Roth Family JCC from 2 p.m.-4 p.m. There will be outdoor family activities, Israeli food and Ben Gurion Café and Convo with JNF emissary, Zohar Vloski (from 3 p.m.-3:45 p.m.).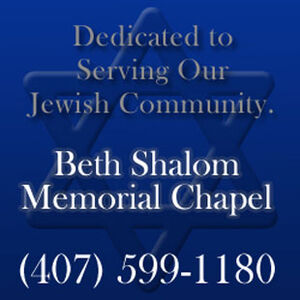 In March, Lotringer has plans for a Purim Carnival; in April she will introduce Mimouna, a Morrocan Jewish celebration, held the day after Passover; and in May there is Yom Ha'atzmaut-Israel Independence day.
On the wall in her office, Lotringer has a saying that says, "Be the change you want to see in the world." This is her motto and she is dynamically living it.
For more information about IAC, or if you'd like to make a donation or support in any way, contact Idit Lotringer at ilotringer@israeliamerican.org or visit the website at israeliamerican.org.