Scene Around
Tunnel Anyone?...
When I was a kid growing up in Brooklyn, New York, if a gate (or a wall) was around a school playground, locked on weekends and too high to climb over, we dug under... not quite a tunnel but enough to get through.
(Just saying)
According to the Federal Bureau of Investigation ...
"A Jewish Telegraph Agency article highlighting data recently released by the FBI noted that hate crimes against Jews in America rose by more than a third in 2017 and accounted for 58 percent of all religion-based hate crimes.
The FBI report covered jurisdictions in 49 states and the District of Columbia. The data showed that overall, hate crimes increased by 17 percent in 2017, with a total of 7,175 hate crimes reported, up from 6,121 in 2016. It noted that some of the increase over the previous year may be attributed to the fact that there was a 6 percent increase in police departments reporting their hate crimes data to the FBI.
The number of hate crimes based on religion is the second highest ever, behind only 2001 in the wake of the 9/11 attacks. The report noted a 23 percent increase in religion-based hate crime in 2017 to 1,564, representing about 20 percent of all hate crimes.
There was a total of 938 hate crimes committed against Jews in 2017, up from 684 in 2016.
In addition, some 58 percent of all hate crimes in 2017 were based on race, including 28 percent against African-Americans. There was also a 5 percent rise in crimes directed against LGBT individuals.
More that 4,000 crimes in 2017 were against people, including threats, intimidation, assault and murder. More than 3,000 were crimes against property, such as vandalism, robbery, and arson."
(I am heartsick to learn this.)
Remembering Jewish history...
On Feb. 11, 1986, NATAN SHARANSKY arrived in Israel. The former Soviet Refusnik, Israeli politician, author and human rights activist was arrested in 1977 and convicted of treason and spying for the United States. He was sentenced to thirteen years imprisonment in a Siberian forced labor camp.
A campaign for his release waged by his wife, AVITAL, and intense diplomatic efforts and public outcries were unsuccessful until 1986, when Sharansky was released as part of an East-West prisoner exchange. Sharansky became the first political prisoner ever released by Mikhail Gorbachev.
A reminder...
On Sunday, March 3, the COS Seniors will hold their next special meeting in the Congregation Ohev Shalom Synagogue, 613 Concourse Parkway South, Maitland, beginning at 2 p.m.
There will be a complimentary nosh for all who attend. Admission is $5, COS Seniors; $8, nonmembers. Everyone is welcome.
Following the nosh, there will be a special entertainment program featuring PETER CHARLES.
Peter is a talented singer, guitarist and one-man band. He plays the "good" music... none of that Rap (spelled with a silent C), and also does vocal impressions. He's not to be missed!
A Jewish Pavilion Mensch...
Kudos to BARRY RUBENSTEIN, also known as Uncle Barry.
As a Jewish Pavilion volunteer, Barry visits several elder care communities. He is especially friendly with BILL FRIGIN at Brookdale Lake Orienta. When Barry goes to Brookdale for their monthly Shabbat service, he visit's Bill's room and takes his dog, Sphinxee, for a walk. Recently, Barry received a thank you note in the mail from his favorite canine.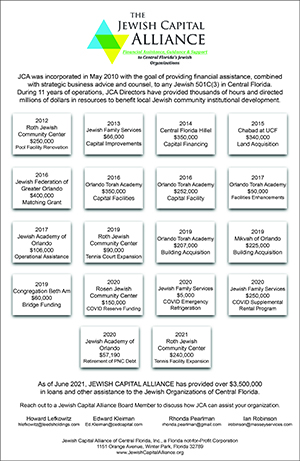 "To Uncle Barry
I appreciate letting me take you for a walk."
Love, Sphinxee
(Dogs are soooo smart...and funny!)
A Shout-Out...
Speaking of dogs, my dog CHLOE has a fabulous doctor, Dr. CHANTAL JONES, of the McAbee Veterinary Hospital in Winter Park.
Dr. Jones is loving, caring and on the ball when it comes to diagnosing and treating the precious animals in her care.
She's so good in fact, I WANT HER TO BE MY DOCTOR!
(Woof!)
Another reminder...
The Roth Family JCC, Maitland, is holding a "Party of 8" dinner experience for young adults on Saturday, March 2, from 7:30-11 p.m.
It's a way to meet other young adults with The Tribe's Party of 8, and experience some of Orlando's best restaurants. You will be matched with 7 other young adults (or 3 other couples). Just send your details on your dinner reservation. Then show up!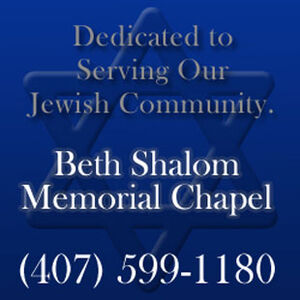 (Att: Robby: Can I be considered a "young adult"?)
One for the road...
My cousin Moishe owned one of the biggest and fastest-growing businesses in Miami, a furniture store. 
I convinced him that he needed to take a trip to Italy to check out the merchandise himself and because he was still single, he could check out all the hot Italian women, and maybe get lucky. 
As Moishe was checking into a hotel, he struck up an acquaintance with a beautiful young lady. She only spoke Italian and he only spoke English, so neither understood a word the other spoke. 
He took out a pencil and a notebook and drew a picture of a taxi. She smiled, nodded her head and they went for a ride in the park. Later, he drew a picture of a table in a restaurant with a question mark and she nodded, so they went to dinner. After dinner he sketched two dancers and she was delighted. They went to several nightclubs, drank champagne, danced and had a glorious evening. It had gotten quite late when she motioned for the pencil and drew a picture of a four-poster bed. 
Moishe was dumbfounded, and to this day remarks to me that he's never been able to understand how she knew he was in the furniture business.
(He must have been clueless.)