Pursuing our community's dreams in the year to come
Shalom,
I wish you a sweet New Year 5780 on behalf of the JFed Alliance, a collaborative partnership between The Roth Family Jewish Community Center of Greater Orlando and the Jewish Federation of Greater Orlando.
A new year brings with it a new sense of possibility and a renewed commitment to pursuing and fulfilling our dreams, both as individuals and as a community. That pursuit of our dreams as a community is what will fuel the JFed Alliance in the year ahead.
When we entered into this partnership in February 2019, our stated goal was to maximize the positive impact we could have on the Central Florida Jewish Community. It gives me great pleasure to announce that we have taken the leadership in creating new opportunities for you in the coming year, all meant to provide meaningful Jewish experiences and all born out of a spirit of collaboration.
We are currently hard at work organizing the first Greater Orlando Jewish Community trip to Israel in more than 25 years, scheduled for April 2020. We've designed this trip so that it will be a unique, inspiring and life-changing experience for everyone who participates, whether it's your first trip to Israel or your 100th. We are working closely with synagogues and agencies to help make this trip a success and to spur what we hope will become a new community tradition. We hope you join us on this special journey.
Education has always been an important part of our mission. The Richard S. Adler Early Childhood Learning Center is often the start of the Jewish journey for local children, a journey that continues with PJ Library, Enrichment Academy programs, Andrew Hansen Mandell Summer Camp, the Jewish Teen Education Network (JTEN) and Ronald Colman Israel Travel Scholarships.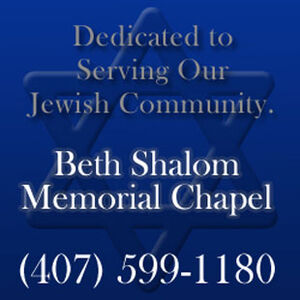 Now we've added an adult education component to our programming: This November, the JFed Alliance is bringing the Florence Melton School of Adult Jewish Learning to Central Florida. We're kicking off the program with a 20-lesson course, "Beyond Borders: The History of the Arab-Israeli Conflict." That will be followed in summer 2020 with "A Taste of Melton," which will allow you to select other course offerings. In the fall, we plan to have the full Melton core curriculum in place.
You will be hearing much in the weeks ahead about the Melton School and the community Israel trip. And we have much more in the works. From Cultural Arts to the Women's Division and Sports leagues, there are so many ways to engage. I encourage you to visit our websites (orlandojcc.org and jfgo.org) to keep up with all of our collaborative initiatives.
We are honored to be a part of your lives, and in this New Year we are committed, both as institutions and as individuals, to adding new meaning to your personal Jewish journey. May this New Year be filled with health and happiness, and sweet moments for you and your family.
Shana Tova!
Keith Dvorchik
Executive Director, Jewish Federation of Greater Orlando
CEO, The Roth Family JCC of Greater Orlando