Scene Around
I'm shocked (and delighted!)...
I learned this recently and share it with you:
"The Dutch National Railway, Nederlandse Spoorwegen has announced its intention to offer financial compensation to the survivors and relatives of Holocaust victims who were transported via Dutch rail to Nazi concentration camps during World War II.
'Over 70 percent of Dutch Jewry was deported and murdered in the Holocaust, most of them carted to their deaths by the national railway that collaborated and cooperated with the German Nazis in the brutal attempt to exterminate European Jewry' according to World Jewish Congress President Ambassador RONALD S. LAUDER. 'The Dutch national railway's decision to offer financial
compensation to the survivors and relatives of the victims is deeply welcomed, and long overdue.'
Across Europe over the last decade, the national railways of several European countries, including Hungary, France and Germany, publicly admit their part in transporting their citizens of Jewish, Roma, and Sinti descent at the behest of their governments, and offer reparation.
It is critical, and should be non-negotiable, for every single European government to acknowledge and take responsibility for their role in the mass murder of so many Jews and other minorities. Indeed, without the willing involvement of these national companies, millions of innocent lives might have been spared from the tentacles of the Nazis Final Solution.
We should all praise the NS railway for this important step in ensuring that Holocaust memory and its legacy always remain on the side of the victims."
About hate speech...
I read this recently and pass it along:
"In announcing its new policy, Twitter wrote: 'Our primary focus is on addressing the risks of offline harm, and research shows that dehumanizing language increases that risk. As a result, after months of conversations and feedback from the public, external experts and our own teams, we're expanding our rules against hateful conduct to include language that dehumanizes others on the basis of religion.'"
(Dehumanizing others on any basis is wrong. I wonder if the White House got this memo?)
A Jewish Pavilion Mensch...
Gloria Gardner Newberger is indeed a mensch. She was a Jewish Pavilion volunteer for more than a decade and always a delight to be around! Here is a little of her very impressive background:
Gloria grew up in East Liverpool, Ohio, a small town 30 miles west of Pittsburgh. At that time, there were more than 50 Jewish families in town. The men owned the major business in town or were doctors, lawyers or dentists. Their lives revolved around their reform synagogue. Every Friday night, the family had a beautiful Shabbat dinner then went to temple. Gloria's earliest memories were of holding her grandfather's hand and singing "Ein Keloheino." (I have similar memories of singing that too!)
At the age of 12, Gloria moved to Philadelphia and attended Philadelphia High School for Girls, where she was president of her class. After Girl's High School, she attended Syracuse University where she was chief justice of the Student Council.
After college, Gloria went to New York to attend graduate school, but did not finish because she met and fell in love with a young lawyer named Edward L. Newberger and they married and moved to Chicago.
Their next move was to Philadelphia, where Ed became a judge.
The couple had three children... MARK, who also became a judge, CRAIG, who became a science and environmental educator, and our own NANCY LUDIN, CEO of the Jewish Pavilion.
Gloria moved to Orlando in 2004 and became active in the Jewish Pavilion (serving on the Friends of the Jewish Pavilion board), Hadassah (served several terms in different vice-presidential positions) and enjoyed the gym and activities at the Jewish Community Center.
Three years ago, Gloria moved to Oakmonte Village where she is involved in many activities, especially exercise classes and she often walks along the Wekiva Trail.
Gloria is grateful to the Jewish Pavilion for their Shabbat Services and all Jewish Holiday celebrations!
(And the Jewish Pavilion, and all of us) are grateful to Gloria.)
JCC39ers Meet & Mingle Mondays...
On Monday, Nov. 18th in the Senior Lounge, there will be a sing-a-long with Bethanne Weiss, the Asset Queen.
Refreshments will be available at no cost after the program.
A reminder...
On Friday, Nov. 15th (today) thru Dec. 15th, Charles Schulz' beloved comic strip comes to life in this joyful, classic Broadway musical, "You're A Good Man, Charlie Brown."
It takes place at the Winter Park Playhouse. For all ticket and other information, phone 407-645-0145.
Who you calling "sassy"?...
Just recently, two lovely members of the Red Hatter's Sassy group, our own LEA EISENBERG, and SYLVIA CAVANAUGH, hosted a Red Hat Sassy luncheon at the beautiful Celebration Tea Room in Celebration, Florida. It was a glorious affair, one of the best ever, until the general manager had to deal with the luncheon bills. His computer broke down a few times making the wait almost unbearable... but because it was such a lovely event, the Red Hatters in attendance, stayed in a good mood, making the day quite memorable!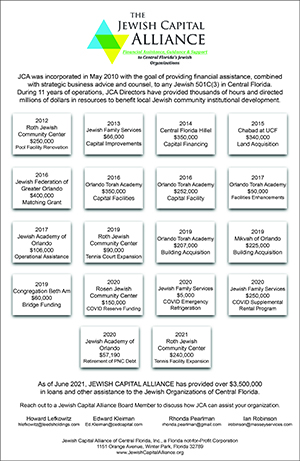 (And my lunch had NO calories!)
Shout-Out...
I know what you're gonna think... she (meaning me) ate out again! Not so! I just enjoy sitting in restaurants watching other folks eat! (Oh shut up!)
On a recent visit to the Olive Garden Restaurant in Winter Park, a very pretty (too pretty) server attended to our table (oops. I didn't eat!) She was wonderful, attentive and pleasant.
Her name is ANNA HOFER. And she's wonderful on her job!
One for the road...
It was Victor's birthday in a few days time and his bubbeh goes out to buy him a present. She finds a menswear shop that was having a half-price sale and buys a luxurious roll neck pullover for him. Unfortunately, the pullover was for a size 14 neck and Victor was a size 18. 
When Victor received his present, he immediately tried it on. He then wrote a thank you note to his bubbeh. This is what he wrote: -
"Dear Bubbeh, Thanks a lot for the beautiful pullover. I'd write more but I'm all choked up."