Jews In the Land of Disney: A Puerto Rican converso discovers her Jewish roots
By Ed Borowsky
This is the first article in a four-part series about the Puerto Rican Jews living in Central Florida and their history.
Since Hurricane Maria in 2017 an exodus of Puerto Ricans, have relocated to the mainland United States. The overall population in Florida now exceeds one million, surpassing the Cuban population as the largest Hispanic group in the state.
Jewish history in Puerto Rico
Puerto Rico has the largest Jewish population of all the islands in the Caribbean. Today the Jewish population is around 3,000 in comparison to an overall population of 3.3 million. They're a vibrant community who contribute to business, commerce, entertainment and education on the island.
The first Jews arrived with Christopher Columbus in 1493, on his second trip to the New World. Fleeing persecution from the Inquisition, the conversos found once they arrived on the island that Spanish influence precluded them from practicing openly. For hundreds of years anyone other than Catholics were discouraged from immigrating as the Catholic church had tremendous influence over the crown.
During the 15th and 16th centuries, the majority of Jews settled in the remote mountainous regions of the island, now present-day San Juan. Although they openly practiced Christianity, conversos secretly kept their Jewish worship. This practice is known as Crypto-Judaism. Over time, the next generations intermarried until they eventually lost their identity.
There has been an increase in conversions to Judaism due to the ability to now research genealogy online, the easy and affordable access to DNA testing and the ability to travel affordably around the world. Once discovering their Jewish roots, the modern-day descendants of those that fled Spain during the inquisition, are now seeking out their lost heritage.
Michelle Gill, now a member of Temple Israel in Longwood, discovered her heritage in a unique way. She was born in the Bronx, New York, into a Pentecostal Christian home. Because of their mixed marriage, her parents suffered discrimination, and eventually divorced. Gill and her mother moved to Puerto Rico when Michelle was two years old. She was raised by her mother and her grandparents in Utuado, a small town in a mountainous region located in the central part of the island.
"We had about 10 acres of land and my grandfather raised coffee, bananas as well as sweet potatoes and other vegetables. My grandfather always shared all his produce with everyone in the neighborhood. He supported us and everyone that had a need. I remember the beauty of the hills and the rivers. When I went to Israel six years ago, it was as if I was back in my small town. The beauty, the people, all reminded me of home because I was home."
Searching for her roots
Eight years ago Gil began her search for her roots.
"I had a dream one night," Gil said. "A dream that was so vivid, so real, that I believe to this day that it was meant to steer me in a direction toward Judaism.
I was above, looking down on the Island of Puerto Rico. I descended, my view coming closer, hovering just above the island, until I saw my hometown Utuado. A path pointed to where I ended up going next, to the northern coastline of Puerto Rico to a town called Arecibo. This town is one of several where Jew's fleeing the Inquisition disembarked after coming from Spain. I followed the path, which then sent me toward a southern part of Spain. I hovered above Spain for a moment, and then the path took me to Israel. When I finally reached Israel, I viewed it from high above, and then I came down to the ground. I can't explain it to this day, but I felt I was lying at the feet of Abraham. A person in the dream appeared to me, telling me that I was Jewish and the blessing came from my grandmother on my mother's side of my family. I awoke, and that's when I realized I had Jewish roots. It was so clear to me. Up to that point in my life, I had no idea that I had any Jewish identity at all."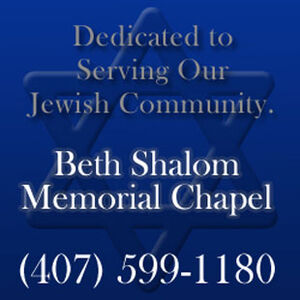 She told her mother, Lydia Arocho, about her dream. "She thought I was crazy," Gil said.
A year or so later, Arocho realized they did have a Jewish past.
"My mother had a dream," Gil shared. "In her dream, she was standing in a crowd of people and a man asked which one of them were Jewish. My mother was compelled to raise her hand because I told her that she had a lost Jewish heritage. The man moved all the Jews out of the group and they were taken to the most beautiful place she had ever seen. She couldn't explain how beautiful it was. It was at that point that my mother accepted we had a Jewish past," Gil said.
Michelle attended University of South Florida in Tampa where she received a bachelor's degree in communications. After school she moved to Orlando and mainly worked in the field of business development and marketing. Her specialty is being a consultant to consultants.
Four years ago Gil began the conversion process.
"I met with Rabbi Neely who opened the pathway to Judaism for my life and I completed the process in 2015. I have a feeling that I've come home. Rabbi Neely is a unique rabbi that has been a wonderful leader in my process to become a Jew and my fellow congregants have been very welcoming, in fact we have quite a few Puerto Rican Jews that now belong to our synagogue. So much so that we have 'Latino Shabbat' services frequently."
Gil is currently evaluating various sources to complete the search and change her conversion status to 'Shuva,' a returning Jew."
Synagogues around Central Florida have seen an increase of Jewish Puerto Ricans becoming active members. Gil's story is just one of many.