Mover and shaker Hank Katzen recipient of Heritage Human Service Award
The interview for this year's Heritage Human Service Award winner was unprecedented. Since an "in person" interview was not possible, Heritage requested a bio and this chosen recipient obliged with an excellent introduction:
"The designee for this year's Heritage Human Service Award, Hank Katzen, first visited Israel at age 18 on a UJA Family Mission. It was on a very hot day that Hank and his father [Marc Katzen] climbed to the top of Masada. On the way to the top, Hank experienced a peace and a connection to Israel that has influenced and guided his life ever since."
With that said, Heritage Florida Jewish News is pleased to announce that Hank Katzen is this year's recipient of the Heritage Human Service Award.
Since 2015, Heritage has received numerous nominations for Katzen from prominent members of the community. He was contending with some of the best and it was always a challenge for the committee to choose just one person from the many who contribute so much to the Central Florida Jewish community.
As Katzen wrote, his connection to Israel began when he was 18. That love for Israel and the Jewish world was fed and supported by his parents, Marc and Henrietta Katzen - both of whom have always been active members of the Jewish community. When Katzen married his wife, Marcie, in August 1990, he shared that it was her love of Judaism and family that flamed his passion for tradition, parenthood, and "a sense of obligation to be G-d's partner." Together, they raised three sons: Malcolm Alexander, Max David and Mason Ross, all of whom attended the Jewish Community Center's pre-school program and the Hebrew Day School (now the Jewish Academy of Orlando). All three graduated from college in four years and are now working in their chosen fields.
Katzen was born in Pennsylvania. He graduated from the University of New York at Binghamton, then worked in the family business and also owned and operated Taco Bell restaurants. With few Jewish activities in rural Pennsylvania, Katzen turned his attention to a cause introduced to him by his mother - the physically less fortunate. He served as president of both United Cerebral Palsy of Western Pennsylvania and Advancement for the Developmentally Disabled.
After he and Marcie wed, they moved to Altoona, Pa., which had a larger Jewish community, and he dived right into serving his community as a board member of Agudath Achim Synagogue, a board member of the Jewish Community Center, a Campaign co-chairman for the Altoona Jewish Federation, and co-chaired the UJC's General Campaign twice in Altoona and twice in Orlando.
Hank and Marcie were both members of the United Jewish Community's National Young Leadership Cabinet.
While a member of the YLC, Katzen served as the Washington 12 Southeast Region Programming co-chairman, Washington 10 Capital-to-Capital Mission Committee, and as a member of the Chair Delegate Selection Committee. He also sat on the UJC's National Marketing and Public Relations Committee.
Hank and Marcie got involved in the Greater Orlando Jewish Community upon arrival in 1993, making quality gifts, volunteering for leadership positions, and emphasizing overseas needs.
"During his tenure as co-chairman of the [Orlando] Federation's General Campaign, Hank's soliciting expertise increased the number of Pacesetters significantly," said his proud mom, Henrietta.
Not one to take the credit, Katzen was quick to say "the campaign grew with the help of professional superstars like Eric Geboff, Nancy Ludin, and Pat Bornstein."
He and Marcie also became "second generation" Pacesetters. "Their example resulted in other peer couples 'stepping up' as well to join their Pacesetter parents. This made a lasting impact on campaign, our community and in the way 30-somethings and 40-somethings view their own capacity to give," Henrietta added.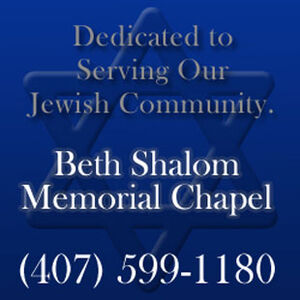 In addition to serving on many committees at the Jewish Federation of Greater Orlando - including the Executive Committee, Major Gifts, Super Sunday Solicitor trainer, Religious Pluralism, Finance, Executive Search Committee, Strategic Planning and Allocations - he was awarded the Byron Selber Young Leadership Award.
Katzen also was on the Jewish Community Center of Greater Orlando Board of Directors and joined the JCC's Executive Committee as the Orlando Delegation to the JCC's Biennial Convention in Boston.
Not only was Katzen involved in the organizational aspects of the community, he was a tremendous help in the construction and sale of Temple Israel and the development of Congregation Ohev Shalom's new building.
"We have had personal experiences with Hank in the construction of Temple Israel on Markham Woods Road and in the amazing sale of the same," said Sheryl and Julian Meitin in correspondence to the Heritage. "His character and leadership helped Temple Israel remain in the black and continue in its new home serving many families in the same congregation as they have been for decades."
Like his father, Marc, Katzen helped in the planning of the future of the Hebrew Day School (now the Jewish Academy of Orlando) and supported it by sending his sons to the school.
"Hank's passion for the Jewish Academy of Orlando, his work as the Campaign chair for the Jewish Federation of Orlando as well as his yeoman's work in securing the highest price possible for the sale of Temple Israel have made him a stalwart leaders of our community for decades," said Aaron Weil, executive director and CEO of Central Florida Hillel.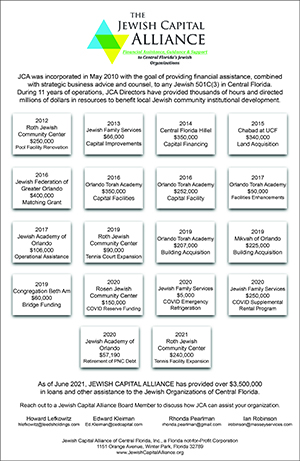 Katzen never started any venture without preparation. When he opened the offices of MarKay Management as an HQ for family business and new ventures, he immediately took all the professional courses necessary and getting all the designations as a member of the International Council of Shopping Centers and the National Association of Industrial and Office Parks. He also listened to all those who were "seasoned" in whatever endeavor he undertook. For example, Katzen said he has leveraged his experiences with those of his campaign co-chairs like Mark Abramson and Barbara Chasnov to bring additional funding to many agencies and programs.
It was during the time Katzen spent on the Allocations Committee that he had the greatest impact on this Jewish community. Under his leadership, the Central Florida Hillel was firmly established at the University of Central Florida, complete with Northview - a building that houses 600 Jewish students, the Catholic Campus Ministry and the home of the Jeffrey and Diane Ginsburg Center for Jewish Student Life at Central Florida Hillel.
As Katzen explained the process, a few Allocation Committee members recognized that with funding granted only one year at a time, it would make it impossible to attract and retain the staff necessary to build a high-functioning Hillel.
"Hank spent years investigating and fine-tuning his father's vision for an 'evergreen funding source' to transform agency stability and trajectory," said Henrietta. "Student housing was envisioned by Hank and his dad as the engine to drive the vision, and Alan Ginsburg was inspired with the concept. It didn't hurt that Mr. Ginsburg knew a few things about apartment development."
"Some local visionaries, including Dr. Edward Zissman, Bill Sholk and Jeffrey Ginsburg (of blessed memory), concluded that we could better serve Hillel's mission, and the Greater Orlando Jewish community, by forming a new sister agency under the Federation's umbrella. Central Florida Hillel, Inc. was formed in 2002 with Nina Oppenheim as the inaugural president, Susan Bierman soon to follow, Burt Brown was treasurer and Marc Katzen as the development chairman. Vital support also came from Rikki Hanin, Craig Ludin, and Stuart Farb. The board of directors first rented a four-bedroom apartment to support fundraising and governance and to improve programming for Jewish students," Katzen stated.
Rental space was seen as temporary; CFH needed a permanent facility to handle growth in enrollment. With the passing of his son, Jeffrey, Ginsburg committed to providing such a home, which would come to be known as Northview.
"The original concept of Northview was derived by Hank and his father, who quickly passed the 'baton' to Hank for his follow-through. Without Hank's daily effort, the facility would not have materialized and his daily and constant input was absolutely invaluable," Ginsburg said.
"Hank was involved from day one in the conceptual planning, the real estate acquisition, the architectural process, the construction process, the equipping and furnishing processes, the permitting and legal processes that took three years, and he was the all-around 'go-to-guy' during the entire arduous process. Hank's dedication and single-purpose focus is the primary reason that the project has been successfully completed and serves as a beacon of Jewish life on campus for the 6,500+ Jewish students attending UCF, Rollins College and Stetson," Ginsburg stated.
With the land purchased and the completion of the building, Katzen could see that CFH now needed professional leadership on a par with the facility. Over a two-year period, he ran a search for the best of the best; he approached Hillel International for assistance, and found Aaron Weil,  who had served 10 years as the executive director at Hillel Jewish University Center of Pittsburg (in Katzen's home state of all places). In the course of designing the job description and qualifying candidates, Katzen was asked to join the Hillel International Board. For six years Katzen would travel, meet, and learn from some of the most talented leaders in North America. He then informed, updated, and partnered with the national staff and lay leaders to create a network of support for CFH.
"These contacts and the increased awareness of our project outside greater Orlando resulted in substantial funding for CFH. It also brought several Hillel International events to NorthView and International Drive," Katzen said.
"Hank left his work for over a year to dedicate himself to the construction of Northview. He joined the Board of Hillel International in order to be an advocate at the international level for the Orlando Jewish community as well as to bring a national spotlight on Orlando's Jewish community. His efforts have contributed to the fact that Hillel has brought in more money to the Orlando Jewish community from outside Central Florida than all the Jewish organizations in Orlando," stated Weil.
Ginsburg summed it all up: "Through all of this, Hank maintained his 'cool' and guided the various committees, individuals and interest groups through the process, displaying great leadership and sensitivity. ... Although Hank is perhaps young in years as compared to other recipients, his experience and time invested in the community certainly qualifies him as the right person at the right time."
Jeff Gaeser, owner and publisher of the Heritage, will present the award to Katzen at the annual JFGO meeting to be held virtually on Zoom Wednesday, Aug 19, from 6:30 - 8:30 p.m. Register at jfgo.org/2020meeting.