StandWithUs launches Rabbis United
(LOS ANGELES) - StandWithUs announces the launch of its new division, Rabbis United. Rabbis United will enable StandWithUs to connect more closely with rabbis and other Jewish community leaders and their congregations from a variety of denominations and backgrounds in cities around the world.
The newest division of StandWithUs will ensure that rabbis and Jewish community leaders have access to community-building tools, including:
• A multimedia library of educational materials, programs, speakers, and virtual tours to strengthen their communities' connection to Israel
• Access to free legal assistance related to incidents of antisemitism or anti-Israel bullying
• Safety and security information and resources  
• Innovative Israel-related project ideas for b'nai mitzvah students
• Fundraising and sermon ideas
To learn more and register, go to RabbisUnited.com.
Rabbi Cantor Alison Wissot, who has been involved with StandWithUs since its inception 19 years ago, stated, "I am so grateful that StandWithUs continues to find new ways to inspire and teach communities around the world about Israel and to fight rising antisemitism. The dream of greater unity is always such a worthy goal."
Rabbi Yonah Bookstein, long-time partner of StandWithUs, said, "Rabbis United brings together Jewish community leaders to share ideas about how to approach sensitive subjects that are, unfortunately, dividing communities. Greater unity is vital for Israel, for confronting rising antisemitism, helping those impacted by the pandemic, and building bridges with allies."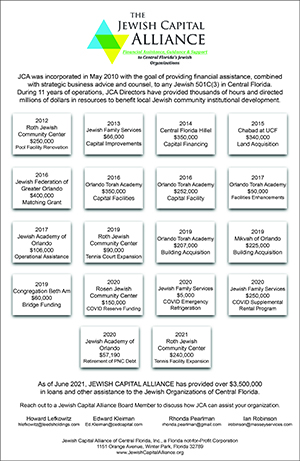 Jerry Rothstein, COO and co-founder of StandWithUs, stated, "We developed Rabbis United to offer resources to Jewish communities around the world that will help to unify us as a diverse people. The response from rabbis from the full variety of denominations has been extremely exciting."
Evey Rosenbloom, director of StandWithUs community outreach and Rabbis United, stated, "As part of the launch, we created a video to express the importance of unity, despite our differences. It features rabbis from all denominations and spiritual community leaders from Africa, Asia, Europe, and North and South America celebrating their connection to Judaism."
The video was made in cooperation with Kulanu, an organization that supports isolated, emerging, and returning Jewish communities globally. The video can be found on the new website at RabbisUnited.com.
"We look forward to working together with rabbis and Jewish community leaders around the world in creative ways to build bridges to a brighter future," stated Rosenbloom.
StandWithUs (SWU) is an international, non-profit and non-partisan Israel education organization that works to inspire and educate people of all ages about Israel, as well as challenge misinformation and fight against antisemitism. Through university fellowships, high school internships, middle school curricula, conferences, materials, social media, educational films and missions to Israel, StandWithUs supports people around the world who want to educate their schools and communities about Israel. Founded in 2001 and headquartered in Los Angeles, the organization has chapters and programs on 5 continents, including the U.S., Israel, UK, Canada, South Africa and Brazil. For the last 7 years, SWU has consistently received the highest possible ratings from Charity Navigator (4 stars) and Guidestar (Platinum). http://www.standwithus.com and http://www.facebook.com/standwithus and www.twittercom/standwithus