Scene Around
Iran's ban on Israel ...
I read this in the World Jewish Congress digest, said to myself "oy vay," and pass it along to you:
Iranian President HASSAN ROUHANI issued an implementation order of a law banning any cooperation with the State of Israel, specifically bans on technological products, including computer hardware and software.
Following the order, the Iranian interior, intelligence, foreign, and defense ministries, the Supreme National Security Council, and the Judiciary are now required to implement the law ... under the banner "confronting the hostile acts of security" ... which is approved by the parliament and the Guardian Council. The Guardian Council is an Iranian oversight body that ensures legislation is compatible with the "criteria of Islam and the Constitution."
The implementation comes after several similar statements by leaders in Iran, including comments from Iranian parliamentary spokesman, SEYED HOSSEIN NAQAVI HOSSEINI, who told the Fars News Agency following approval of the bill that "all Iranian bodies are required to use the country's regional and international capacities to confront the Zionist regime's measures, specially its warmongering and terrorist moves, siege (of Gaza) settlement construction, displacing the Palestinian people, and occupation of countries' lands, including Golan."
Concurrently, Iranian leader AYATOLLAH ALI KHAMENEI has posted several anti-Semitic and genocidal posts on Twitter, including a post calling for the "elimination" of the "Zionist entity."
Khamenei also compared Israel to the novel coronavirus, writing "the Zionist regime is a reality that the region must come to terms with. Today the COVID-19 is a reality; should it be accepted or fought? ... Zionism will be uprooted."
The rash of anti-Semitic posts led Israel's newly appointed Minister of Strategic Affairs, ORIT FARKASH-HACOHEN, to send a letter to Twitter's CEO, JACK DORSEY, calling for Khamenei's Twitter account to be suspended. In her letter, she wrote that "calls for violence, anti-Semitism, or hate speech against a nation or its people" have no place on Twitter's platform.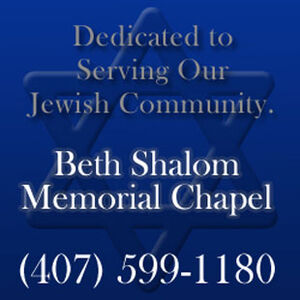 At the United Nations Human Rights Council back in February, a WJC representative condemned Iran's human rights abuses and its support of terrorism, saying that "Iran is playing a destabilizing role in the Middle East and beyond, as a state sponsor of international terrorism, in its quest to become a nuclear power and in its bid to gain hegemony over the region."
Some lighter news??? ...
Also, from the World Jewish Congress and passed along to you:
"Rosh Hashanah is here and one thing is abundantly clear. We must be even more steadfast and resolute in our defense of global Jewry than ever before.
The entire world continues to struggle in the wake of COVID-19 but the Jewish community must face the additional burden of fighting back against the shocking spread of anti-Semitic hatred that has only been exacerbated by the pandemic.
It is WJC's solemn pledge to protect Jews everywhere from anti-Semitism, and they must also use their unparalleled voice to fight back against all forms of hatred, bigotry, and extremism.
That is why, in the recent edition of World Jewry Digest, they spoke out against continued anti-Israel bias at the United Nations Human Rights Council while at the same time urging decisive action in the broader fight against racism, discrimination, and hate speech.
Beyond the United Nations, their vital efforts on behalf of the Jewish People continue and they are deeply gratified that the Austrian Parliament is now seeking to ban historical revisionism and the glorification of fascist pro-Nazi war criminals, an issue on which WJC has taken the lead. They are also pleased to add Argentina to the list of nations that has adopted the IHRA definition of anti-Semitism, and in Germany, we applaud the passage of a new law that will toughen the response to hate speech online. At the same time, these points of progress are paired with grave threats against Jews and the state of Israel, including Iran's continued call for the elimination of the only Jewish state in the world.
Another surprise ...
I saw one of the actors from "Friends," DAVID SCHWIMMER, appear as a guest on the Tonight Show TV the other night and he appeared again as a guest on the KELLY CLARKSON TV show the same week, so I looked him up. Yup! He's Jewish! Such talented people we are!
The Jewish Federation of Greater Orlando ...
Are you ready for the "Sound The Shofar" community celebration?
If you missed or were unable to attend a class in shofar blowing, you can watch the class in its entirety on You Tube.
More volunteers are welcome to spread the shofar's joyful sound on Sunday, Sept. 20, at 2 p.m.
Make your desire known and a Federation representative will be in touch with you.
This let's me out, darn it! ...
The Federation is looking to bring together single Jews in their 40s, 50s, and 60s. (Why stop there? I can pass for 60. OH SHUT UP!)
They want to bring these eligible folks together for programs and events in a safe and relaxed environment. They can meet, mingle and have fun.
Right now, the Federation is gathering names for a zoom-Get-Together. To learn more, contact the Federation's CAROL FEUERMAN.
Sure, life's a puzzle ...
This is another Jewish Federation event. It is titled "Parenting Puzzle, Piecing it together."
It takes place on Sept. 23-25, 2020, and features speakers, Dr. TAL BEN-SHAHAR, EINAT NATHAN, DAN ARIELY, Dr.MARIA SIROIS, EYAL DORON,PhD and ADI YOFFE.
For further information, contact: http://www.PARENTINGPUZZLE.ORG.
The Roth Family Jewish Community Center, Maitland ...
School is back in session, and The J is ready to meet all your after-school needs! When you enroll your child in After School @ The J, the final bell at school signals the start of an afternoon full of fun and games - and even more learning!
Your children will get a delicious snack and will have access to a quiet Homework Room before taking a well-deserved break with some laugh-out-loud fun at The J! They'll unwind in our game room and on the playground. They'll keep their spirits up (and their neurons pumping) with a variety of counselor-led activities, including science, art, sports, and more!
Our program is set up to meet CDC guidelines, and we will be practicing social distancing by group. All children and staff will be required to wash hands or use hand sanitizer every hour. Masks will continue to be required while at the JCC for both children and staff.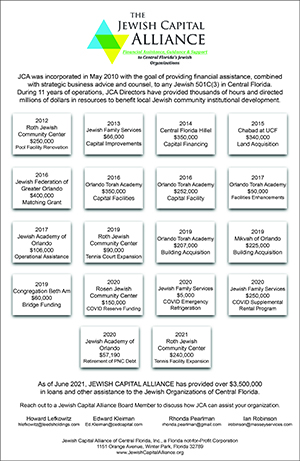 Transportation from off-campus schools will not be provided unless enough families express interest. We will pick up students from the south (former Jewish Academy) parking lot and bring them into the JCC. AfterSchool@The J. Available now! Hours: 3-6 pm Monday-Friday Cost: $320/month (members) $400/month (guests) How to Register: In person: with Robin at the Registrar's Desk. 407-621-4036 or register@orlandojcc.org
Questions? Kacie DeMartin, Youth & Camp Director, 407-621-4038
Jewish Pavilion mensches ...
Special thanks to MANNY ADMAN and SAMMY GOLDSTEIN from Beth Shalom Memorial Chapel. They supply Jewish calendars to the entire Jewish community every year. The Jewish Pavilion has put the calendar in gift bags to give to hundreds of Jewish residents of elder care communities in Great Orlando along with cards, holiday foods, services and coloring pages. "The seniors are so thrilled each year when they receive their calendars," said Nancy Ludin, Jewish Pavilion CEO.
One for the road ...
Since all the seats at the posh synagogue were filled for the Yom Kippur service, the stranger was stopped at the door.
"I just want to see Adam Rosenberg," the stranger pleaded. "I have an important message for him."
"OK, I'll let you talk to Rosenberg," said the usher suspiciously, "But I'll be watching so don't let me catch you praying!"