Scene Around
How lucky I am! ...
The music, the performers of my time ... thank goodness I grew up in the 40s, 50s and 60s. The great American songbook is the BEST! The performers were the BEST! (If you are willing to admit to being that old, you would agree!)
Anyway, I just heard MICHAEL FEINSTEIN singing Gershwin on the radio! (Yup, Jewish.) And I just learned that billionaire MARK CUBAN of "Shark Tank" the TV show, with his great looks and personality is also Jewish! (And he is super rich!)
Difficult times ...
I recently heard from Rabbi ABRAHAM COOPER, associate dean, director of Global Social Action at the Simon Wiesenthal Center, and I pass it along to you:
"We are living in extraordinarily difficult times. Our nation is faced with an unprecedented pandemic. Our economy has been shut down and millions of people have been thrown out of work. And now we face clarion calls to address racism in America, riots in major cities, etc. All of this comes at a time when antisemitism is rampant on social media and in our neighborhoods. Even our synagogues, closed because of COVID-19, are under attack.
Also, in the first half of 2020, approximately 50 percent of all hate crimes were aimed at Jews.
America's Jews are at this moment facing unprecedented challenges on multiple fronts. For instance:
A new Fox network was scheduled to broadcast a July 4th address by America's leading antisemite, LOUIS FARRAKHAN. SWC protests forced Fox to cancel but other platforms happily stepped up, with hundreds of thousands tuning in to hear a demagogue who has called Jews 'termites' and falsely accused Jews of being behind the slave trade; stated that Jews are 'responsible for this filth and degenerate behavior that Hollywood is putting out, turning men into women and women into men.' He even questioned whether the Holocaust occurred and stated that Jewish people are 'Satan.'
A few days later, Philadelphia Eagles wide receiver, DESEAN JACKSON, posted on Instagram his admiration for Farrakkan.
Recent Palestinian protests across North America have included ugly and dangerous antisemitism. In Toronto, Canada, protestors shouted 'Jews are our dogs.' And in San Diego, protesters distributed a flyer with instructions to target local Jewish institutions on a 'Day of rage' against Israel.
Jews, today, have every reason to worry. We are witnessing echoes of antisemitic hate expressed during an earlier pandemic ... the deadly Spanish Flu that swept across the world during and after WWI. Adolf Hitler accused Jews of being responsible for spreading the Spanish Flu. His evil idea took many years to take hold, finally during WWII. (The Holocaust). But today, Louis Farrakhan and other bigots can accuse Jews of being responsible for the coronavirus, and their hateful lies travel across the globe in seconds thanks to social media.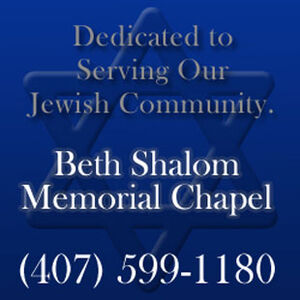 It is clear that we must do more to help fight discrimination, expand economic opportunity for the disadvantaged, and challenge hate wherever it rears its ugly head. That commitment is embedded in our Jewish values and in our American democracy.
For further information on the workings of the Simon Wiesenthal Center, http://www.wiesenthal.com."
A Jewish Pavilion Mensch ...
ADAM PORTNOY and his family are all mensches, according to Jewish Pavilion CEO NANCY LUDIN. She sent me the following:
Kudos to Adam, DONNA, and LIAM PORTNOY, who understand the loneliness and isolation our elders in senior communities encounter.
Together the family made 300 gift bags for the residents and staff at Life Care, Lake Orienta.
The bags include best wishes for the Jewish holidays, along with a family photo, a warm Rosh Hashanah message and little gifts.
The Jewish Pavilion is very pleased to welcome its newest volunteer family!"
(What a great gesture! I am so impressed and glad there are such wonderful people in this world!)
My favorite show ...
Yup! You guessed it! I refer to "The Dazzling Divas."
The Divas will return to the stage with a new show on Saturday, Oct. 10, at the VFW Longwood, 1520 N. Ronald Regan Blvd. for two shows. One will be at 3 p.m. and one at 6 p.m.
The cost is only $12 per person. Snacks will be available. RSVP to 407-670-4418.
The show will feature (my love) KENNY LEE and many other beauties! I will name them next week!
(Although I really don't want to point them out because they are all prettier than me! And probably younger!)
The Winter Park Playhouse ...
There will be a wonderful virtual cabaret on Sept. 25-28, 2020, called "Impossible Dream: The Best of Broadway's Leading Men" featuring the incredibly talented Shawn Kilgore along with musical director Christopher Leavy on piano! 
This one-hour cabaret will be filmed at The Winter Park Playhouse in September and will feature an assortment of well-loved songs sung by leading men in popular Broadway musicals including "Fiddler on the Roof," "South Pacific," "Les Miserables," "Man of La Mancha" and many more! 
A minimum donation of $20 per person is required to receive a private video link and password via email to enjoy the show over a three-day period -11 a.m. Friday, Sept. 25, through 11 a.m. Monday, Sept. 28. The link and password will be sent at 11 a.m. on Sept. 25.
For further information, phone 407-645-0145.
The Roth Family JCC of Greater Orlando ...
Fall 2020 Enrichment Classes will run through Dec. 18.
The Roth Family JCC in Maitland has built a tradition of providing safe, educational and fun after-school experience for children in grades K-12. Customize your children's after school experience.
Phone the JCC at 407- 645-5933 for further information and to register.
One for the road ...
Ninety-year-old Sam Bialostock explained his problem to his psychiatrist. "Three months ago, I met a beautiful 26 year old woman. I took her home and she moved in with me. Every day she makes love to me in the morning, after lunch, and then again at night."
"For a 90-year-old man, that's great," said the analyst. "What's your problem?"
Sam sighed, "I cannot remember where I live."
(Getting old is not for sissies!)