Scene Around
Am I Proud! ...
The song "Of Thee I Sing" written by my 2nd cousins (on my fathers side), George and Ira Gershwin, became the first musical to win a Pulitzer Prize on Oct. 10, 1935 (way before I was born!). Also, the wonderful musical opera "Porgy and Bess" opened on Broadway before I was born. It was written by them as well and with Dubois Heywood. (I'm NOT so old!)
On my very first CD, I recorded five of the Gershwin's great songs. I titled the CD "Dreamer on the 18th Floor" in honor of the Orlando Citrus Club where I was performing.
(Unfortunately, I never met the Gershwins. George and Ira moved to Hollywood around 1930, way, way, way before I was born and, of course, George died very young and unexpectedly, also before I was born. (Oh shut up!).
It touched my heart ...
I received an email from a wonderful gal I've known for more than half a century, SONJA MARCHESANO, who was married to a very talented musician, Armand Marchesano, until his death some years ago.
She sent me this heartfelt saying:
"Songs will finish, Gigs will end, Bands will break up, but people will never forget the music and musicians that touched their heart and soul."
(I don't know who wrote this but it is so very true. I forget many things lately, but not the lyrics of the songs I love!)
Finally...
Facebook took the step we had been urging them toward for more than a decade, spurred in part by the Anti Defamation League "Stop Hate for Profit" campaign.
Facebook announced plans to call Holocaust denial and distortion what it is - hate speech - and remove it from their platform.
Since at least 2011, ADL had been calling publicly and privately for Facebook to change its policies to classify Holocaust denial as a form of hate speech. But it stubbornly held onto this outrageous policy, even in the face of the undeniable threat of growing anti-Semitism and anti-Semitic violence in the United States and around the world.
What is stopping a Palestinian State? ...
Palestinian society is splintered with dissension, preventing a state.
I read this and the following in a "Flame" note I received in the mail:
"Israel faces increased threats to its national security.
Since Israel's last offer of land for peace to the Palestinians in 2008.the world has changed frighteningly. Iran has risen as a belligerent power. Lebanon's Hezbollah terrorists now point tens of thousands of guided missiles at Israel, Syria has disintegrated, Iraq grows increasingly unstable, and Turkey continues its quest for an Islamist empire.
These developments severely threaten Israel, a tiny country the size of New Jersey. Military experts agree that to protect itself against regional enemies, Israel must control the Jordan Valley in Judea-Samaria, which borders Jordan, where very few Palestinians live.
For urgent security reasons, Israel has long designated the Jordan Valley for future application of sovereignty."
(Again, I ask: How much longer must the world wait for the Palestinians?)
Winter Park Playhouse ...
From today (Jan. 22 thru Feb. 20, the show, "A Grand Night For Singing" will be performed at the Winter Park Playhouse in Winter Park.
You can enjoy this show live or virtually! For further information, phone 407-645-0145.
The Jewish Federation of Greater Orlando ...
About the Colman Israel Scholarship: Are you looking to participate in an educational experience in Israel? The Colman Israel Scholarship is open to all Jewish teens in 9th-12th grades who are permanent residents of Central Florida. To find out more about this, phone the Federation at 407-645-5933.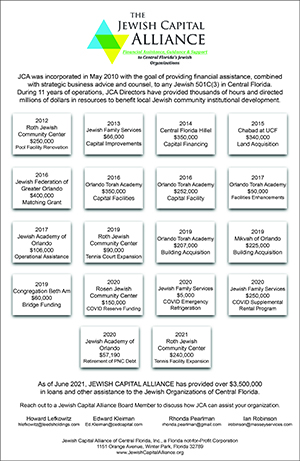 The Roth Family JCC, Maitland ...
Registration is now open for after-school classes for the next semester, which started Jan. 4 and runs through May 18.
Enrich children with the best that Greater Orlando has to offer. Classes range from athletic activities to the magic of science. For information and to register, phone 407-645-5933.
One for the road ...
When Bernie's wife died after a long illness, he decided that he would take a new lease on life.
He went to a spa, lost 30 pounds, had plastic surgery and bought himself a toupee. As he was leaving an exclusive men's store in his new Armani suit, he was hit by a truck and killed on the spot.
In heaven, Bernie asked his maker, "God, why me? I was a good religious Jew!"
The Lord replied, "To tell you the truth, Bernie, I just didn't recognize you."