Scene Around
Staying away from politics ...
But, I can't help telling my readers that we should be proud about the Jewish Space Lazers! Brilliant! Simply brilliant!
Anti-Semitic conspiracy myths ...
(Sounds like it belongs with the first story ... but no.)
I read this in the World Jewish Congress and pass it along:
"Two new reports released by the WJC have found that harmful conspiracy myths targeting Jews have become increasingly widespread online, and that the once United States-centric QAnon movement has begun to take hold across Europe since the start of the COVID-19 pandemic.
The reports, "Anti-Semitic Conspiracy Myths" and "QAnon: A Conspiracy Myth," explain how misinformation campaigns regarding the coronavirus have flourished on social media, with tech companies struggling to address the issues.
"COVID-19 is not the only disease that has spread widely across the globe this year" according to the WJC head. "Conspiracies surrounding false child abuse scandals or assumptions that Jews are to blame for the creation and spread of COVID-19 are not only spreading hatred and contempt, but putting far more lives in danger. Although there is a vaccine for the coronavirus, there is no vaccine for hatred. We must continue to educate others on the dangers of conspiracy myths so that truth can prevail."
(Again ... this seems to belong with my first story.)
Since March, 2020, anti-Semitism derived from conspiracy myths has risen around the world, with a number of notable instances recorded in Germany and Austria. The QAnon movement has rapidly spread across the United States and has steadily emerged in the Balkans, France, Germany and elsewhere. Along with it, phrases such as "Jewish virus" have seen greater use across social media platforms as well as an increased renewal in the use of epithets such as "kike," "dirty Jew" and other derogatory terms, in comparison to the previous year, according to Google Analytics data examining the search of these keywords.
The QAnon conspiracy myth claims that a secret cabal of political and Hollywood elites are running a child sex-trafficking and torture ring with the ultimate goal of controlling the masses. This conspiracy myth, which is inherently anti-Semitic in nature, accuses prominent Jewish figures, in addition to others whom proponents of the myth mistakenly believe to be Jewish, of being the orchestrators of the movement. Holocaust denial, distortion and trivialization are also present.
A huge level of overlap can be found between the audiences of QAnon and pandemic conspiracists, with influencers sharing content related to both myths. The WJC reports provide an overview of anti-Semitic conspiracies, their historical background, and their current relevance on social media, in political institutions and in acts of violence. They also aim to highlight the growing threat emerging from the increasingly mainstream belief in such conspiracy myths as well as their role in encouraging and motivating terrorists.
Conspiracists are not limited to one political view and can be found on various sides of the political spectrum, the reports demonstrate, moreover, their popularity among the mainstream is often attributed to efforts to make sense of difficult situations that cannot be fully grasped or explained, such as a pandemic.
Unfortunately, much of this conspiracy theory leads to deep mistrust of the state, government, police, doctors and others in positions of power.
Since the initial spread of the coronavirus in March 2020, the reports find that there has been an acute rise in online anti-Semitic activity, often but not exclusively linked to the pandemic, as social practices moved into the digital sphere.
Holocaust remembrance ...
Every Jan. 27 (recently passed) the world honors and remembers the many million Jewish (and other) victims of the Holocaust.
Our own beautiful EVA RITT of Winter Park, lost her aunts and uncles in the Holocaust and almost lost her own life and her immediate family's and would have been sent to Auschwitz Birkenau for sure.
Born in Hamburg, Germany, she was only five years old during Kristallnacht. She and her family were able to board a train from Germany to Italy in 1940 but the Border German Police tried to send them back because, according to them, Eva's father's papers weren't in order.
Fortunately, the Italian Military interfered and said they would handle the problem instead.
According to Eva, "They saved our lives!"
Shortly after arriving in Italy, the family sailed to America and freedom!
(And now we can say "Thank Goodness for this wonderful, caring human being who lives among us, Eva Ritt!")
We need a little laughter ...
(I need a lot of laughter. I stay home day after day, month after month, watching the television news and Dr. Phil, Hoarders, Cheaters, Oy Vay!
I NEED SOME FUNNY STUFF! Also many of my favorite comedians are and were Jewish. I am so very proud.)
For instance ... BILLY CRYSTAL. A native New Yorker, Billy's father owned a music story and had many good connections in show business.
Then there was Carl Reiner, a brilliant comedian, actor, writer, producer, director (you name it!) Also a native New Yorker (of course.) He was superb at everything he did!
He even formed a comedy duo with my all-time favorite funny man, MELVIN KAMINSKY, (you know him as MEL BROOKS.)
Mel was born in Brooklyn, New York, (like me). I guess we all had to see the funny side of life to survive growing up in Brooklyn. He attended Brooklyn College (like me) and didn't graduate (like me.)
Mel is an accomplished director, actor, comedian, producer, composer ... and on and on! (He is my favorite all-time everything!)
Chabad of Greater Orlando ...
"Physically Apart-Emotionally Together," a zoom lecture series.
On Sunday, March 14, at 10 a.m., EFRAIM ZUROFF, Nazi hunter, is an American born Israeli historian and Nazi hunter who has played a key role in bringing indicted Nazi and fascist war criminals to trial. He is the lecturer.
The cost per lecture is $10. For further information, phone 407-644-2500x0 or email http://www.ChabadOrlando/Zoom.
Winter Park Playhouse ...
On March 19 thru April 24, with previews on March 18 and 19, the production "Respect," A Musical Journey Of Women, will be performed at the Winter Park Playhouse, 711 North Orange Ave, Winter Park. You can enjoy this show live or virtually! For further information, phone 407-645-0145 or email .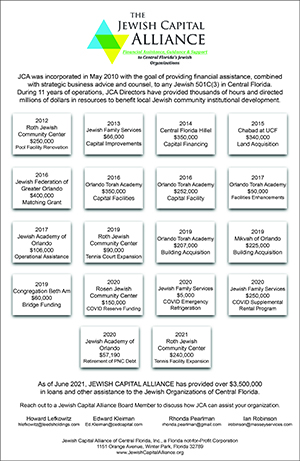 The Roth Family JCC ...
The 2021 Annual Golf Classic will take place on Sunday, Feb. 28. An exceptional morning is being planned for all, including breakfast, playing time and awards. Register now. For further information, phone 645-5933 or email orlandojcc.org/golfclassic.
One for the road ...
Sol and Herbie were finishing their lunch in a New York City restaurant when the waiter asked, "Tea or coffee, gentlemen?"
"I'll have tea," said Sol.
"Me too," said Herbie. "And make sure the glass is clean."
The waiter returned in a few minutes and announced, "Two teas! And which one gets the clean glass?"