Jews in the Land of Disney: Hidden treasure - the Jewish Capital Alliance
By Ed Borowsky
"As my forefathers planted for me, so I, too, plant for my children," Talmud, Ta'anit 23bm.
There is an independent advisory group/501(c)(3) organization called the Jewish Capital Alliance that has been operating for a little over 10 years in the greater Orlando area. JCA is dedicated to ensuring the long-term growth and success of mission-driven Jewish nonprofits. They've been providing low-interest loans and lines of credit to agencies, synagogues and other Jewish organizations in a manner that is very different than traditional lending through banks and other institutions of the kind.
"Our Jewish community's strength is a direct result of the hard work and vision of those who've come before us." said Rhonda Pearlman, JCA secretary. "They recognized the importance of developing a network of nonprofit organizations to serve the needs of our Jewish community by supporting the efforts of those nonprofits that focus on spiritual, cultural, social and educational programming within our community. We're dedicated to keeping those programs vibrant, alive and well. We've also helped new nonprofit startups get off the ground."
In addition, JCA has the ability to move quickly and its interest rates are below what you can find elsewhere, and they do not charge for consulting work.
"We have the flexibility of setting up repayment plans that fit the needs of the nonprofit and we are creative in more ways than one," explained Pearlman. "Because we're invested in our Jewish community, we want everyone to succeed. We go beyond a lender and we offer to consult with those organizations who request our help. After all, the group at JCA brings a unique set of expertise that can be helpful to our clients."
JCA came about when the Kinneret Council on Aging sponsored the Jewish Senior Housing Council to research the needs of the Orlando Jewish Community. The Jewish Federation provided a grant in the amount of $300,000 to fund the project.
"We worked three years on it," said Pearlman. "During this time, the Council on Aging, took the preliminary steps in developing a facility by drawing up architectural plans, and they even purchased a tract of land for development of an independent senior living facility. At one point, when it was time to get the mezzanine financing for the project, a buyer came in and purchased our plan, the architectural drawings and the land we purchased for a little over $400 million. A tremendous amount of work went into those three years, but still, we returned the grant monies with interest to the Federation, and we made a hefty profit. With those money's the idea to use them to help fund Jewish nonprofits came to fruition, hence the Jewish Capital Alliance was born," Pearlman said.
Bringing their experience in various fields are the JCA Board of Directors: Rhonda Pearlman, Ed Klineman, Howard Lefkowitz and Ian Robinson.
Pearlman grew up in the Bronx. Her parents ventured into the summer camp business. "Their first camp opened in a public park, north of Tarrytown, New York. At some point they opened a second camp and that's the way my parents made a living. As I grew, I used to work at the camps where I received a tremendous education. I had a lot of fun working there."
After graduating high school, Pearlman (nee Kleinberg) attended Tulane University in New Orleans where she met her husband, Craig Pearlman, who was a senior at that time. Craig graduated and then attended law school at the University of Miami. She followed Craig there.
During this time, Pearlman received her undergraduate degree in childhood education at the University of Miami. "I thought I would do something related to the summer camp business, which never happened."
The couple married, and after Craig graduated law school, he took a job in Charleston, West Virginia. Living in Charleston for a little over two years, they connected with the Jewish community. "It opened our eyes to what it was like living as a Jew in small-town rural America."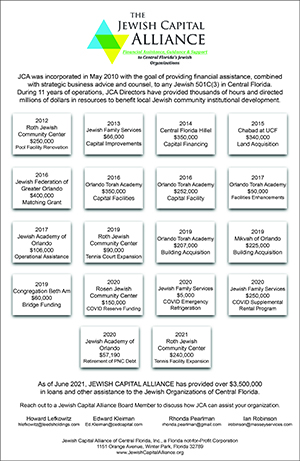 Craig was then drawn to his family's business. He made the decision to work for Kane's Furniture on the Florida west coast. After a short while, they ended up moving to Orlando where Craig ultimately took the helm of Kane's Furniture.
Pearlman had an interest in interior design and took classes at the local community college, eventually opening a design studio in one of the Kane's store. This lasted a little over 10 years.
"We worked primarily with builders and developers in decorating their model homes. 'Lifestyle marketing' was the buzzword back then. Our designs were many times based on the psychographic profile of their potential customers. If their psychographics determined they were from the mid-west, solid middle class, graduated high school in 1959, we may have chosen red, white and blue in their color selection, based pricing on what we feel was affordable to their income demographic, and we'd even place high school graduation pictures for the year they graduated on the model's walls."
In 1988, the Pearlman's first child, Samantha, was born and two years later their son, Ross, was born. "It's amazing how time flies. Samantha is now 33 years old, living in Boston and Ross is close to us, living in Orlando," said Pearlman.
"I've always have been passionate about my faith. However, being married into the Pearlman family, my in-laws, David and Audrey, opened me up to giving of myself to our community. After all, they've been intrinsically involved in things like the Pearlman Panty, Second Harvest. "
Pearlman has served on the boards of the Jewish Community Center and the Jewish Federation of Greater Orlando.
"I have gotten great joy from my volunteer work. I love the people and it's gratifying to see how our efforts have brought about and maintained a healthy and active Jewish community in Orlando. Many of us who have served are getting nachas in seeing our children getting involved, as several of us have kids on the boards on which we served."
Pearlman emphasized that JCA turns around loan request expediently, which many times depend on the complexity of the project being funded. If funds are needed quickly, JCA does its best to move expeditiously. Currently the maximum loan amount for one borrower is up to $250,000. However, under certain circumstances, JCA can increase it to up to $350,000. Their goal is to keep the process simple. JCA generally offers under-market, fixed-rate loans with repayment plans that are designed to be functional and affordable.
"We want to assist the applicant in the achievement of the organizations goals without imposing undue financial stress and unmanageable obligations. And again, one great benefit we offer is our board's extensive business and financial experience. We are happy to share our expertise and help our clients develop a strategy that will ensure the success of their project and sustainability of their nonprofit organization," said Pearlman.
JCA's mission statement reads: "To invest in projects, programs and ideas that will enrich our lives and ensure an active, responsive and vibrant Jewish Community for generations to come."
For more information about JCA, please contact Rhonda Pearlman at rhondapearlman@jewishcapitalalliance.org.