Scene Around
Who knew?...
In all my 48 years did I ever know that Emma Lazarus, the lady who wrote the verse on the Statue Of Liberty, was Jewish? (Okay... shut up about my age!)
Emma Lazarus was an American author of poetry, prose, and translations, as well as an activist for Jewish causes. She was born in New York City and is buried in Brooklyn at Beth Olam cemetery.
Of course we all heard of her. She wrote "The New Colossus," the lines inscribed on the pedestal of the Statue of Liberty. Like my departed spouse, she was a Sephardic Jew, whose family came originally from Portugal. They were among the 23 Portuguese Jews who arrived in New Amsterdam fleeing the Inquisition from their settlement of Recife, Brazil.
The last of the verses she wrote: "Give me your tired, your poor; Your huddled masses yearning to breathe free, The wretched refuse of your teeming shore. Send these, the homeless, tempest-tost to me, I set my lamp beside the golden door!"
(The words still move me to tears.)
I love this show ...
I recently watched the latest version of "Curb Your Enthusiasm" on television. It featured actor ALBERT BROOKS in a primary role together with one of my favorites, LARRY DAVID, who is the star of the series.
Yes, Albert's real last name is Einstein. He was born in California and he is Jewish! He was born into a show-business family and is loaded with talent!
Also featured on Larry David's show ...
Stand-up comic SUSIE ESSMAN (always angry but always funny), is another Jewish entertainer to be proud of ... and I am!
Hungarian Synagogue reopens ...
I read this in the World Jewish Congress digest and pass it along to you:
"Hungarian synagogue reopens as Jewish cultural center decades after Holocaust destruction.
Nestled in what used to be the Jewish ghetto in Budapest, the Rumbach street synagogue will reopen for public education and use, many decades after the historic building was destroyed by the Nazis during their occupation of Hungary in the 1940s. WJC President Ambassador RONALD S. LAUDER joined MAZSIHISZ, the Federation of Hungarian Jewish Communities and the Hungarian affiliate of the WJC, to celebrate the reopening of the synagogue, originally built in 1872 to serve Hungarian Jews in the eastern part of Budapest.
The celebration came immediately before a meeting between Amb. Lauder and Hungarian Prime Minister VIKTOR ORBAN, during which the WJC President thanked Orban for the Hungarian government's financial support of the restoration of the synagogue building. The building is also the new home of the WJC's Hungary office.
"Without the synagogue I would not be here," Amb.Lauder said. "My grandparents moved to Budapest to get married and had their wedding in the very space we are currently celebrating. They eventually moved to Vienna, and then to New York as anti-Semitism grew throughout Hungary. And if they did not make that move, I wouldn't be here today, let alone part of this historic celebration commemorating a very positive step forward for Hungary's Jewish community."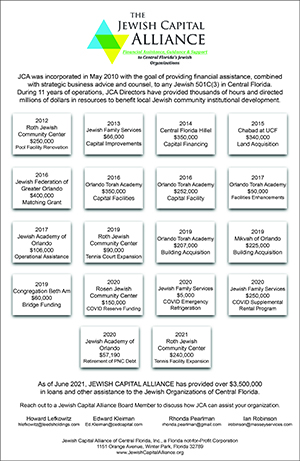 As he spoke, Amb. Lauder displayed a stone that was part of the original Rumbach Synagogue, which he has carried throughout his travels as WJC President. It was passed down by his grandparents to his mother, and then to him.
The synagogue building's renovation was made possible through a grant from the Hungarian government, recognizing the fact that more than half of the Hungarian Jewish community, representing nearly 450.000 people, were murdered in the Holocaust. Due to the decimation of Hungary's Jewish population, the congregation and its physical space were never fully restored after World War II. Now complete, the modern era renovation will help support and revitalize the largest Jewish population in East Central Europe.
During the meeting with Prime Minister Orban, the WJC president hailed the government's support for the Jewish community, particularly during the COVID-19 pandemic, as well as its support for health, social, and cultural institutions that improve the quality of life for Hungarian Jewry. Prime Minister Orban was also praised for his recent visit to Israel and his ongoing support for the Jewish state on the international floor.
The synagogue building will now serve as an open synagogue, welcoming all branches of Judaism. The space will also host concerts and other events, serving as a space to educate visitors about Jewish life.
(Some news to smile about finally!)
Something more to smile about ...
Ben-Gurion University of the Negev is an institution of higher education and research with a mission like no other.
BGU was inspired by the vision of Israel's first prime minister, David Ben Gurion, who believed that the future of Israel lay in the Negev region, a desert area comprising more than 60 percent of the country.
Today, BGU is more than a world-renowned institution of research and higher learning. The University has succeeded in transcending the boundaries of academia to create a new model of education and research that impacts people's lives in the Negev region, throughout Israel and around the world.
With campuses in Beer-Sheva, Sde Boker and Eilat, BGU is truly an oasis of innovation, leading projects and fields such as alternative energy, desert and water research, medical research, homeland and cyber security, Israel studies, culture and Jewish thought and high-tech and robotics.
The Roth Family JCC ...
They are back and have established many enrichment classes for your child. They are as follows: Happy Feet Soccer, Basketball, Ocean Exploration, Karate, Piano Lessons, Sharks Swim, Cheer, Mindful Play, JAO Chorus, and JAO Choir Chimes
For information on these events and how to register, phone the JCC at 407-645-5933.
Another Reminder ...
The Winter Park Playhouse 2021 Series of Professional Musicals is still going strong! On November 12th, this show began and performs through December 18th. It is "Christmas My Way: The Sinatra Holiday Bash."
(I don't celebrate Christmas but I do celebrate the memory of Frank Sinatra. I knew Frank when we worked in Las Vegas at the same time. He was a devoted supporter of Israel!)
For further information, phone the theater at 407-645-0145.
One for the road ...
This one really hit home:
Question: What does a Jewish wife make for dinner?
Answer: Reservations.
(Even though widowed for 6 years, I still eat most of my dinners out! I'm spoiled... or maybe its because I can't cook!)