Scene Around
A super favorite of mine ...
I'm referring to Mel Torme', of course, who I also had the pleasure of meeting. (Remember, I'm a native New Yorker and had the opportunity to meet many celebs!)
Melvin Howard Torme', nicknamed "The Velvet Fog," was a wonderful singer, musician, composer, arranger, drummer, actor and even author. He composed and co-wrote lyrics to my favorite of all time Christmas songs, "The Christmas Song" (Chestnuts roasting on an open fire...) Yes, I'm Jewish and so was Mel!
Unfortunately, Mel died in 1999 at age 73. But he left so many fans (like me) who will never forget him!
Mel's dad was a Polish Jewish immigrant and his mom was a native of New York City (like me.)
(What a fabulous voice... so mellow and smooth. I can still hear him in my dreams.)
Another true talent ...
DAVID DUCHOVNY, a wonderful singer, actor, writer, producer and director, is known for his many movie and TV acting roles. He is a native New Yorker, like me.
He is the son of Amran Ducovny, a writer and publicist who worked for the American Jewish Committee. His mom, Meg, was a school administrator and teacher, She was not Jewish.
David's paternal grandmother was a Jewish emigrant from Congress Poland (now in Poland.)
David was a classmate of beloved President John F. Kennedy at the Collegiate School For Boys in Manhattan and then went on to attend Princeton University where he graduated Phi Beta Kappa and Summa Cum Laude.
A letter from BETTY EHRENBERG, executive director, World Jewish Congress, U.S. ...
"Anti-Semitic attacks on European Jewry show no signs of letting up. In fact, they are growing bolder and more reckless with each passing day.
Take for example the blatant anti-Semitic and patently false accusations against Dr. ALEXANDER OSCAR, the head of the Bulgarian Jewish Community.
Dr. Oscar is a widely respected physician who has spearheaded welfare programs that benefit all members of Bulgarian society, fought against all forms of hate speech and discrimination, and worked to protect democracy. If only European democracy would protect him.
In an appalling anti-Semitic campaign, Dr. Oscar has been unjustly accused of criminal wrongdoing, and the Jewish community of Bulgaria, which he represents, has been implicated in conspiracy theories. Dr. Oscar and the hospital that employs him have unambiguously reputed the false and pernicious accusations. But the lies have been perpetuated by certain media outlets in Bulgaria and then spread on the internet by ordinary citizens as well as nationalist groups.
Unfortunately, Bulgaria is not the only country in Europe where Jews and Jewish communities find themselves increasingly under threat. That is why the World Jewish Congress, American Section, is reaching out to you and others whose generous support and heartfelt commitment have helped us fight anti-Semitism throughout the world with a plea to stand with the Jewish community of Bulgaria and all European Jewry at this perilous time.
Please phone 212-894-4770 and say you read this message and would like to help."
(I've included this "Guide to anti-Semitism in Europe: "Revealing the hate." All these attacks and more occurred in 2021.)
Germany - An 18 year old in Cologne, Germany, was attacked in a park by a group of 10 people because he was wearing a kippah.
United Kingdom- Professor DAVID MILLER is under investigation for alleging that Jewish students were "pawns of a racist regime engaged in ethnic cleansing." This occurred at Bristol University.
France - 22 COVID vaccine centers and testing sites were vandalized with swastikas and yellow stars, comparing vaccine drives to the Holocaust.
Poland - A grave-shaped monument in Poland honoring 1,500 people who were burned to death in Rudzica in 1941 was defaced with praises for Adolf Hitler.
Greece - A tomb in a Jewish cemetery in the northwestern city of Ioannina was desecrated, its covering slab removed, and smashed marble strewn around it.
Norway - Antisemitic posts from Imam NOOR saying Jews "put the world in danger" and arguing that it is "necessary to kill them" have reappeared on the social media site.
Russia - VLADIMIR TSELIN, an 82-year-old prominent scientist, was assaulted on a bus in Moscow by a young assailant who shouted that "Hitler should have finished the job."
Slovenia - URBAN PURGAR, the editor of a far-right "news agency" in Slovenia, called Nazi leader Adolf Hitler a "hero."
Bulgaria-The Central Synagogue in Sofia was vandalized with anti-Semitic graffiti, including swastika and the number "1488" in reference to a neo-Nazi slogan.
Ukraine - (Yes,Ukraine. SURPRISE!) The grave of a daughter of Rabbi NACHMAN, the founder of the Breslover movement, was razed and desecrated with pig heads. The incident was the 5th such act since 2013, including an incident in which the grave was set on fire and defaced with swastikas.
Around the world shocking examples of antisemitism are making headlines:
The Washington Post: "British Jews come under physical and verbal attack."
The Sun Sentinel: European Jews worry war against anti-Semitism has been lost."
Politico: "Germany records highest level of right-wing extremist crime in 20 years."
Euro News: "EU unveils new strategy to tackle rising anti-Semitism in Europe."
(Oy Vay. What else can I say? Will it ever end?)
The Jewish Federation of Greater Orlando ...
Executive Director of the Federation KEITH DVORCHIK shares an update on how your generosity is directly helping Ukrainians on the ground. In a time of such evil and injustice, he asks us: "what is our Jewish responsibility? How can we be a force for good in the world, even amidst war? From all of us at Federation to you: Shabbat Shalom."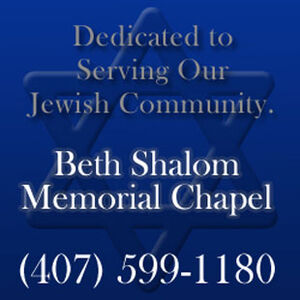 JCC Seniors on the Go ...
We heard from BARBARA GOLDBERG. Here is a list of upcoming events:
April 4th – Maitland performance arts will bring a music duo by Robert and Jon, first Monday of the month.
April 11 – GENTLE BEMOVED CLASS
April 18th – GENTLE BEMOVED CLASS
April 25th – Chris Bouille singer. 
Winter Park Playhouse ...
If you just missed the Spotlight Cabaret Series "Jazzy Skies with Broadway Showers," you can still see it virtually from April 8-11.
Tickets are $20. Phone the Playhouse at 407-645-0145 for further information.
Fresh off of The Winter Park Playhouse Critic's Choice production run of Trav'lin: A 1930's Harlem Musical Romance, PATRECE BLOOMFIELD will stir the audience with a mix of Jazz and Broadway as she sings the songs of the great Billie Holiday, Natalie Cole and more! 
Patrons will be treated to favorites like "Unforgettable," "Strange Fruit" and "Daddy's Son" (Ragtime) along with other chart-topping recorded hits and show-stopping Broadway numbers. 
(You will enjoy this show, especially if you appreciate good music!)
One for the road ...
Definition of a bar mitzvah...
A bar mitzvah is defined as the day when a Jewish boy becomes a man and also comes to the realization that he is more likely to own a professional sports team than he is to play for one.