Scene Around
What a total surprise ...
Just from hearing the names, I would have never guessed these talented performers were Jewish. For instance, would you think that someone with the last name of Abdul would be Jewish? Does she even look Jewish? (However that look is deemed to be.)
Well, PAULA JULIE ABDUL was born in California, but her dark features throw people off. Many assume she is a Black woman. But, her parents, father Harry Abdul is of Syrian Jewish heritage. He was born in Syria, raised in Brazil and emigrated to the U.S. Her mother, Lorraine, grew up with Canadian families and her ancestors were from Ukraine. (My mom, too, was born in Montreal, Canada and her parents, siblings and ancestors were from Ukraine.)
And this is a true coincidence ... Paula was a dancer who was inspired by Gene Kelly in his "Singin' in the Rain" performance.
(Oh no! Here come my tears again!)
Another surprise ...
LISA VALERIE KUDROW, was also born in California. She is a well-known actress, comedian and writer and the daughter of a travel agent mom and a dad who was a physician. Both were Jewish, of course.
Lisa's Jewish ancestry is Belarus, Germany, Hungary and Poland and also Minsk. (And, she was a bat mitzvah.) Her paternal great-grandmother was murdered during the Holocaust. Her paternal grandmother emigrated to Brooklyn where her dad grew up.
And still another surprise ...
DAVID LAWRENCE SCHWIMMER, (I first knew him from the television show "Friends") was also a very talented actor. He was born in Flushing, Queens (another New Yorker) to attorneys Arthur and Arlene Schwimmer. They were a Jewish family, of course. (What else is new?)
And shock of them all ...
JACOB BENJAMIN GYLLENHAAL, would you believe? Jake Gyllenhaal, a magnificent actor, was also born in California. His mother is Jewish and was born in New York City. Jake considers himself Jewish and was even a bar mitzvah. He made his movie-acting debut as BILLY CRYSTAL's son in the 1991 comedy "City Slickers."
(I learn so much as I research and write this column!)
I received this booklet from "Stand With Us," about antisemitism ...
"We have reached a critical moment" it begins and continues "Antisemitism, which was forced into the fringes after the Holocaust, is surging back into the mainstream." Its sources are not only neo-Nazis or the KKK. Now, bigotry against Jews is even heard in the halls of Congress, from leaders of social movements, and through a global campaign of hate called Boycott, Divestment, and Sanctions that seeks to destroy Israel, the world's only Jewish state.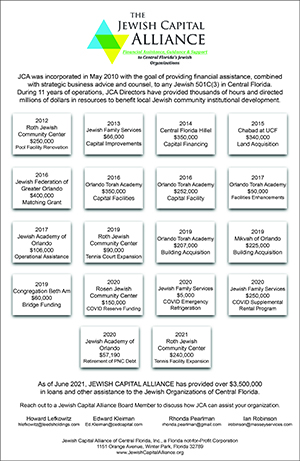 It continues ... "The 2018 massacre of the Tree of Life synagogue in Pittsburgh stunned the world and raised awareness that antisemitism is a clear and present danger. Assaults against Jews on the streets of U.S. cities in May of 2021 and the January 2022 hostage crisis at a synagogue in Texas showed how this violent hate is intensifying across the political spectrum. Though Jews make up just 2 percent of all Americans, the FBI reported that in 2020, they were subjected to nearly 60 percent of all hate crimes based on religion. The situation in Europe is even more dire. Antisemitism incidents in the UK, are at record highs. In Germany, the number of crimes motivated by antisemitism has nearly doubled since 2010.
A majority of European Jews believe that antisemitism hate speech and harassment is the new normal, to the point where many fear being identified as Jewish.
(I know for a fact that this is happening in the U.S. as well!)
The article continues, "Twenty-first-century antisemitism comes from three main sources: the far right, the far left, and radical Islamist groups. It combines updated versions of traditional antisemitic slurs with anti-Zionist discourse around the Arab-Israeli conflict.
Combating this resurgent antisemitism in all its forms will take courage, tenacity, and resources. It also requires all of us to understand modern antisemitic slurs so we may identify them and teach our friends, family and colleagues-Jewish or non-Jewish-about what a renowned historian once called 'the longest hatred."
And I thought I would add this reminder from October 2018. "On the Jewish Sabbath, a white supremacist burst into Pittsburgh's Tree of Life Synagogue yelling, "All Jews must die."
(He murdered 11 worshippers and wounded 4 police officers in the deadly attack against Jews.)
A reminder from The Jewish Federation of Greater Orlando - WHAT IS BOLD CHOICES?...
Each year, Women Together is proud to honor Jewish women in Orlando who truly making a difference in their community. In 2021, our word of the year was BRAVE, and we honored women who exemplified courage and resilience.
This year, the word is BOLD - but what does it mean to be bold?
An evening of story & song with Michelle Azar explains it. The event takes place at Harriett's Orlando Ballet Centre, Thursday, April 28, from 5:30-8:30 p.m.
For more information, phone the JCC at 407-645-5933.
One for the road ...
This is a Bob Hope joke... NOT MINE!
"I think it's wonderful that you could all be here for the 43rd anniversary of my 39th birthday.
We decided not to light the candles this year. We were afraid Pan Am would mistake it for a runway!"