Having that 'aha' moment in genealogy research
Gene Starn was the founder of the Heritage and also of the Jewish Genealogical Society of Greater Orlando. He wrote this article in 2005.
I am about to have zenith moment! Many of us who are tracing our family history often hit a brickwall. When we have a breakthrough we can experience such elation—it's a feeling so unique, so satisfying, so completely engulfing that it stirs the senses beyond belief.
It came about when I had a phone call two weeks ago from Paris, France. I could barely understand the woman, who spoke with a very heavy accent. I could hear a male voice in the background, interrupting and correcting her. I finally made out that her name was Marlene, "like in Dietrich," she said, and I took down her email address as best I could.
She told me that she got my name from "JewishGen" on the Internet. For years I have been registered there looking for other genealogists who are seeking the name "Lehrman from the shtetl Kurov in Poland." My father's mother, my grandmother, was a Lehrman—Frand'l Lehrman.
Marlene told me that she, too, was searching for "ehrman from Kurov." There weren't very many by that name who lived there according to my records, which included a Yizkor Buch, a memorial book, written by the survivors of the town.
According to my caller, her grandmother was named Malke Lehrman who had seven sisters and a brother. My Grandmother Frand'l could have been one of Malke's sisters. I know nothing about my grandmother's family other than she helped arrange for my father to marry my mother.
This was not my first genealogical apogee. I've had a few genealogical thrills that are beyond comparison. It is things like that phone call from Paris that has made genealogy, especially Jewish genealogy, one of the fastest growing hobbies in the world. Fishing is first, but holds none of the excitement like finding a family connection hidden in the midst of birth, marriage and death records or a ship's passenger list.
I became interested in family history many decades ago when I kept meeting new cousins at family gatherings. There were so many that it became imperative that I write down their names and those of their brothers and sisters and parents in order to keep them straight in my mind. It finally developed into an organized hobby called "genealogy."
After World War II, I made my very first important discovery. Trying to piece together my mother's family, it suddenly dawned on me that one of my mother's first cousins from Krakow, Poland, who had supposedly met her death during the Holocaust, was alive and well, and now living in Boston, Mass. She had a son who was now head of Jewish studies at Columbia University. When I first contacted him in New York to tell him he had 300 other relatives living in the U.S. and Canada, he replied, "and I thought that my parents and my family were the only survivors left. What a surprise!"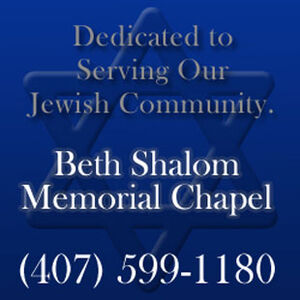 Surprise, indeed! It was the first time I experienced the thrills and chills of making a surprise discovery.
Marlene and I have had a number of conversations since. I learned that her mother, her grandmother, and three of her sisters escaped to Paris before the Germans entered Poland, but were sent back to the death camps when the Germans took Paris. 
She and her husband, Bernard, who sells Barbie dolls for Mattel in Paris, are on their way to Florida to meet us. We are almost certain that my grandmother Frand'l is one of Marlene's grandmother's sisters.
My heart is already pounding with anticipation. Yes, I am about to have another "aha moment," meeting my new French cousins, face to face, for the first time.
Starns' story is an inspiration to anyone digging into genealogy. If you have any curiosity about your family's history, you can learn more by attending the "My Jewish Roots" workshops sponsored by the Jewish Genealogical Society of Greater Orlando (JGSGO). These monthly workshops began in Sept. 6 and continue till June. The next in the series of Workshops will be "Connect to the Experts and Key Resources" with Marlis Humphrey, IAJGS president. It will be held Wednesday, Oct. 5, from 7 p.m.—9 p.m. at The Roth Jewish Community Center, 851 N. Maitland Ave., Maitland, FL 32751. The Workshop is FREE and open to the public. Please bring your own laptop to participate in the lab portion. It is also possible to attend LIVE via the Internet.
These workshops will help the Orlando Jewish community get the most out of the upcoming 37th Annual International Association of Jewish Genealogical Societies (IAJGS) International Conference on Jewish Genealogy. This premiere international conference will be held for the first time in Florida July 23-28, 2017, at the Disney Swan Hotel with local host JGSGO. For more information, visit http://www.iajgs2017.org.
Pre-registration is required to participate either in-person or online: http://www.jgsgo.org/MyJewishRoots.
The Jewish Genealogical Society of Greater Orlando (JGSGO) is a non-profit organization dedicated to sharing genealogical information, techniques and research tools with anyone interested in Jewish genealogy and family history. For more information visit http://www.jgsgo.org and "like" us at http://www.facebook.com/jgsgreaterorlando. Questions? Email info@jgsgo.org or call us at 407-347-7727.