Weekly roundup of world briefs from JTA
Palestinian firebombing suspect shot by Israeli soldiers dies of his wounds
(JTA)—A Palestinian teenager who was shot last month by Israeli troops while riding in a vehicle where passengers allegedly threw firebombs at Israelis has died of his injuries.
Jassem Muhammad Nakhla, 17, died Monday in a Tel Aviv hospital after being shot in the head and foot on March 23 near the al-Jalazun refugee camp in the central West Bank, the Maan news agency reported Tuesday based on information it received from the Palestinian Ministry of Health.
Nakhla was in the vehicle with three other Palestinian teenagers near the West Bank settlement of Beit El, where an Israeli military spokesperson said the three passengers threw firebombs at Israelis.
One passenger, Muhammad Mahmoud Ibrahim al-Hattab, 17, died that day. The others, Muhammad Hattab and Muhammad Moussa Nakhla, both 18, were also seriously wounded.
According to Maan, Nakhla is the 18th Palestinian confirmed killed by Israeli forces this year.
The number of recorded terrorist attacks by Palestinians on Israelis increased last month by 15 percent from the previous month to 119, Israel's security agency, the Shin Bet, said in its monthly report published earlier this week.
The incidents resulted in no fatalities among victims but did end with six people wounded.
The 20 attacks recorded in Jerusalem in March constitute a 30 percent increase over the 14 incidents documented there in February.
Of the 119 attacks recorded in March, 93 involved the hurling of firebombs.
British woman in her 20s killed in Jerusalem stabbing attack; Palestinian man held
(JTA)—A British woman in her 20s studying in Israel was stabbed to death in Jerusalem allegedly by a Palestinian.
The woman, named by Israel's envoy to the United Kingdom as Hannah Bladon, died following the Friday attack. She had been taken to the hospital in critical condition after suffering multiple stab wounds aboard the city's light rail, Israel Radio reported. Police said she was attacked by a 57-year-old man from eastern Jerusalem's Ras al Amud neighborhood.
Yoram Halevi, commander of the Jerusalem District of the Israel Police, told the radio station that the suspect is mentally ill and has a criminal record for domestic violence. He was apprehended at the scene.
"We know he recently tried to commit suicide," Halevi said.
Israel's envoy to the U.K, Mark Regev, condemned the attack on Twitter.
"My thoughts are with the family and friends of UK student Hannah Bladon, who was murdered in a senseless act of terror in Jerusalem today," he wrote.
Following the attack, police increased security in and around the light rail, police spokesman Micky Rosenfeld wrote on Twitter.
The victim is a citizen of the United Kingdom studying in Israel, according to The Jerusalem Post.
The number of recorded terrorist attacks by Palestinians on Israelis increased last month by 15 percent from the previous month to 119 incidents, the Israel Security Agency, or Shin Bet, said in its monthly report published earlier this week. No one was killed; six were injured.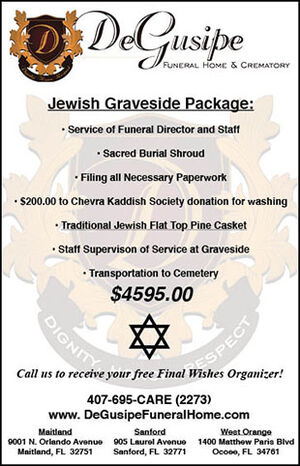 The 20 attacks recorded in Jerusalem in March constitute a 30 percent increase over the 14 there in February.
Trump's inauguration rabbi to be first non-citizen honored on Israel's Independence Day
(JTA)—Rabbi Marvin Hier, founder of the Simon Wiesenthal Center, is slated to become the first non-Israeli to light a torch during Israel's main Independence Day ceremony in Jerusalem.
Hier, who in January delivered a prayer during the inauguration of President Donald Trump in Washington, D.C., is one of three individuals selected for the honor by the Ministry of Culture and Sport, the Calcalist financial supplement of the Yediot Acharonot daily reported Friday.
Culture Minister Miri Regev decided last year to include non-Israeli Jews in the Independence Day torch lighting, saying their participation would symbolize the stake that Jewish people all over the world have in the Jewish state.
This year's theme for the ceremony is "Jerusalem: the Eternal Capital of the State of Israel and the Jewish People."
During his 2-minute prayer at the inauguration, Hier recited the Psalm 137 passage reading "If I forget thee, O Jerusalem, may my right hand forget its skill. The doer of all these shall never falter."
Hier founded the Simon Wiesenthal Center in 1977 as an organization devoted to fighting anti-Semitism, bringing Nazis to justice and promoting tolerance through the Los Angeles-based Museum of Tolerance. Longstanding plans to build another museum in Jerusalem have foundered, in part over objections that is to be located on land that includes part of a historic Muslim cemetery.
Another honoree this year at the ceremony is said to be Amnon Shashua, a computer science professor at the Hebrew University in Jerusalem and co-founder of the Mobileye and OrCam startups.
Yehoram Gaon, a Jerusalem-born singer and actor, reportedly is the third honoree.
The official list of torch lighters is scheduled to be published next week following its final approval by the selection committee, Calcalist reported.
5 House Democrats: Revoke Jared Kushner's security clearance over alleged Russia ties
(JTA)—Five House Democrats called for Jared Kushner's security clearance to be revoked over his alleged ties to Russia.
In a letter to FBI Director James Comey and Charles Phalen, director of the National Background Investigations Bureau, the lawmakers expressed concerns over the alleged failure of the president's son-in-law and senior adviser to disclose that he had had contacts with foreign officials on a  questionnaire used for national security positions.
Passages from the letter were published in an article Thursday on the news site The Hill.
The lawmakers who signed the letter are Reps. Don Beyer of Virginia, Ted Lieu of California, Jamie Raskin of Maryland, Jerrold Nadler of New York and Peter Welch of Vermont.
The New York Times reported last week that Kushner omitted having communicated with Russia's ambassador to the U.S., Sergey Kislyak, and Sergey Gorkov, the head of the government-owned Vnesheconombank.
Ex-national security adviser Michael Flynn resigned following reports that he failed to disclose to senior White House officials, including Vice President Mike Pence, information about his contacts with Kislyak before the president's inauguration.
Attorney General Jeff Sessions recused himself last month from the Russia investigation after disclosures that he concealed his meetings with the ambassador during his Senate confirmation hearings.
"We are concerned that Jared Kushner may have engaged in similar deception," the lawmakers wrote in their letter.
"Given the severity of the allegations and still unanswered questions about this administration's recently uncovered covert dealing with Russian government and intelligence officials, we are requesting that Mr. Kushner's interim top-secret security clearance be suspended pending a review of Mr. Kushner's compliance with the laws and regulation governing security clearances."
Kushner's lawyer, Jamie Gorelick, told the Times that Kushner would be happy to provide further information about his foreign contacts to the FBI.
The Senate Intelligence Committee also plans to interview Kushner as part of its investigation into ties between the Trump administration and Russia, according to the Times.
Vilnius University to honor Jewish Holocaust victims—unless they fought Nazis
(JTA)—Vilnius University in Lithuania said it would award academic degrees posthumously to Jewish students who were murdered in the Holocaust—unless they were partisans.
In a statement published Wednesday on its website announcing the initiative titled Recovering Memory, the university encouraged relatives of Holocaust victims to apply for recognition through a special procedure set up this year.
But in a twist connected to the Lithuanian state's complicated attitude to its wartime history, the procedure excludes any Jewish student who fought with communist or pro-Soviet partisans against the Nazis. Diplomas will not be issued "if evidence of collaboration with political and police structures of totalitarian regimes is determined," the procedure states.
Virtually all resistance movements in Lithuania during World War II were supported or otherwise linked to the Soviet Union.
In Lithuania, both the Soviet Union and Nazi Germany are defined as totalitarian regimes by state historians. Prosecutors in 2008 launched a controversial probe against three Jewish partisans who were suspected of war crimes. The investigation was dropped following an international uproar.
Lithuania is among several Eastern European nations promoting what some historians call the "double genocide" narrative, or the "red brown equivalence," which is seen as designed to establish a moral equivalence between Nazi Germany and the Soviet Union.
Lithuania is the only country in the world that defines its domination by the Soviets as a form of genocide.
Efraim Zuroff, a Nazi hunter and head of the Israel office of the Simon Wiesenthal Center, has accused Lithuanian officials of pursuing this equivalence to obfuscate the Lithuanian population's widespread collaboration with Nazi occupation forces, including in the murder of 95 percent of Lithuania's prewar Jewish population of 230,000.
"It is an effort by the Lithuanian state to paint Lithuania as a victim without coming to terms to the roles of many Lithuanians as perpetrators in the service of the Nazis," he said.
Academic degrees will be denied also to Holocaust victims if they were dismissed or ended their studies "after Vilnius University was closed by Nazi occupying authorities" on March 17, 1943, the university said, or if they left "voluntarily."
Students expelled for poor scholastic performance will also not be recognized, nor will those with "certain facts in their biography" that are "incompatible with the content and the concept of the Memory Diploma."
The decision to offer recognition to students who meet the criteria followed a request last year by an Israeli medical professor, Moshe Lapidot, for recognition of his late uncle, who studied chemistry at the institution before he was murdered in the Holocaust.
Lapidot accepted the diploma for his late uncle, whom he had never met, during a ceremony earlier this month at the Israeli Embassy in Vilnius.
Lapidot's uncle, Chlaun Meištovskis, became the first student to posthumously receive a degree—in the uncle's case, a bachelor of sciences—under the initiative. Archival gaps complicate attempts to identify all the Jewish students on the list of students during the Holocaust years, the statement said.
EU adopts anti-boycott stance in official commercial policy
(JTA)—In a reaction to attempts in Europe to boycott Israel, the European Union's report on commercial competition for the first time included a rejection of such initiatives.
The reference to boycotts, which does not name Israel specifically, was introduced earlier this year into the draft of the Report on Competition Policy for 2016 by a pro-Israel European Parliament lawmaker from Italy Fulvio Martusciello, JTA learned Wednesday.
The clause on boycotts states that the European Commission "Underlines the need to fight against unfair collective boycotts, defined as a situation in which a group of competitors agree to exclude an actual or potential competitor, as restrictions of competition by object."
A spokesman for Martusciello, the chair of the European Parliament's Delegation for Relations with Israel, confirmed that he introduced the clause to "translate for the first time into EU commercial policy the stated objections of EU leaders to BDS," an acronym for the Boycott, Divestment and Sanctions movement against Israel.
Martusciello introduced the clause not in his capacity at the delegation—a body responsible for maintaining and developing parliamentarian ties between Jerusalem and Brussels—but as rapporteur for the Competition Policy Report in the Economic Committee. The clause was introduced with the support of Martusciello's political group—the EPP center-right bloc, which is the Parliament's largest.
Martin Schulz, the former president of the European Parliament, has in the past said the European Union will not support attempts to boycott Israel. Several EU politicians have expressed their objections to such initiatives in speeches. However, the stance has not been carried over to official European Parliament documents reflecting a consensus within its increasingly influential legislature.
Separately, Martusciello is also fighting against against a plan to remove Israel in 2017 from a list of countries eligible for credit benefits from the European Investment Bank. The Budget Committee of the European Parliament is also considering removing Brunei, Iceland, Singapore, Chile and South Korea in addition to Israel, to exclude high-income countries with high credit rating. It is also considering adding Iran to the list, a member of the committee told JTA.
But Martusciello is arguing for keeping Israel on the list, "as this will benefit to Palestine, Jordan and other counterparts in such an unstable region," he wrote in the justification for the amendment he is seeking to the draft of the list for 2018.
Jesse Lurie, longtime Hadassah Magazine editor, dies at 103
(JTA)—Jesse Lurie, the longtime executive editor of Hadassah Magazine and a peace activist, has died at 103.
Lurie, an Israeli American, was the magazine's founding executive editor in 1947 and held the post for 33 years. He professionalized a publication that had been run by volunteers since its launch in 1914.
Lurie also served as a correspondent for The Jerusalem Post covering the United States, according to a Post article about his passing published Thursday. One of his six brothers, Ted, was among the founding journalists of The Palestine Post, which would become The Jerusalem Post and he would serve as editor-in-chief.
Lurie traveled extensively in the Jewish world, including Soviet Russia, writing about people he met, the political situations in those countries and how they affected the Jewish population. He was an ardent campaigner for peaceful coexistence between Jews and Arabs in Israel, and was among those who supported the founding of Neve Shalom, the cooperative village cohabitated by Jews and Arabs.
As one who also supported and encouraged media diversity in Israel among Jews and Arabs, he created the Eliav-Sartawi Award for journalism in Israel through Common Ground, an organization with which he was closely associated in his efforts to encourage conflict resolution in the country.
Lurie was keen for Israel to establish more integrated schools in which Arabs and Jews study together.
As for Israel's future, Lurie said in a 2014 interview while visiting the country that he was sure it would remain secure, but was not overly hopeful of great progress on the peace front.
"Israel has been living in a bubble for 20 years or more, and will continue to live in a bubble for some time," he said.
Lawmakers, Samantha Power call on Trump to fill anti-Semitism envoy post
NEW YORK (JTA)—Two Democratic congressmen and Samantha Power, the former U.S. ambassador to the United Nations, have called on President Donald Trump to fill a State Department position tasked with fighting anti-Semitism worldwide.
On Thursday, JTA reported that the office of the U.S. Special Envoy to Monitor and Combat Anti-Semitism could be left empty indefinitely. Trump has yet to fill the envoy post, and the office's staff is set to be eliminated later this month due to a wider State Department directive. The envoy is traditionally responsible for keeping tabs on global anti-Semitism and advising other countries in fighting it.
In response to the report, Reps. Nita Lowey of New York and Ted Deutch of Florida called on Trump to fill the post immediately.
"It is deeply concerning that President Trump reportedly has no plans to name a special envoy to monitor and combat anti-Semitism, particularly during a time of increasing anti-Semitic incidents at home and abroad," Lowey said in a statement Friday. "The president must show he takes the rise of anti-Semitism seriously by immediately appointing a special envoy to monitor and combat anti-Semitism and fully staffing the Special Envoy's office."
Power, who served as U.N. ambassador during President Barack Obama's second term, also demanded Trump appoint an envoy.
"If this office is gutted, terrible," Power tweeted Thursday. "Anti-semitism is surging in world. Entire Trump admin needs to focus on it & envoy position must be kept."
Lowey linked the news to White House press secretary Sean Spicer's gaffe this week in which he falsely claimed that Adolf Hitler didn't use chemical weapons against civilians. She said Trump has sent "mixed messages" regarding anti-Semitism.
"From his reluctance to disavow David Duke during the early days of his presidential campaign through his chief spokesman's recent attempt to minimize the horrors of the Holocaust, President Trump has sent mixed messages regarding his commitment to combatting anti-Semitism," Lowey's statement said.
The last person to fill the post was Ira Forman, who was appointed by Obama in 2013 and served until Trump's inauguration. Forman and his predecessors contributed to State Department reports on human rights and religious discrimination. They also worked through other government bodies to ensure that Jewish communities globally were protected from violence and helped Jewish refugees escape danger.