Obituary - FREDERICK COHEN
Written by his daughter, Marion Cohen Schwartz
Frederick (Freddy) Cohen passed away on May 18, 2017, at 90 years of age, in Altamonte Springs, Florida. He was born on Jan. 11, 1927, in the Bronx, New York, to David and Sophie (Brand) Cohen. In 1948, he moved to Orlando where he met and married Shirley (Rand) Cohen (deceased, 1986). Together they had two children, Marion Cohen Schwartz and Jerry Alan Cohen (deceased, 1998) and working together for many years, they opened Great South Supply Company, a wholesale plumbing and heating supply business. In the late 1980s, after selling their business, he began his second professional career as a Licensed Real Estate Broker, developing and managing real estate properties in central Florida, until just prior to his passing.
Rabbi Joshua Neely officiated and he was laid to rest on May 19, 2017, at Temple Israel Cemetery. Honored pallbearers were: David Strober, Zachary Schwartz, Marissa Crasnow, Kevin Cohen, Steven Cohen, and Mark Wright. Eulogies were offered by Dr. Malcolm Schwartz and Hope Cohen Barnett.
Frederick is survived by his daughter, Marion Cohen Schwartz, and her husband, Dr. Malcolm Schwartz, and he was the doting grandfather to three grandchildren whom he loved and cherished dearly: David Lawrence Strober (Dr. Lauren Foran), Zachary Adam Schwartz, and Dr. Sari Rachel Schwartz.
Frederick is also survived by his wife, Fayge Siskind Crasnow Cohen and her children: Neil Crasnow (Dr. Susan Druckman), Robyn Pringle (Hale), Abbie Katz (Frank Crasnow, deceased). He enjoyed their 10 grandchildren, who affectionately called him Pop-Pop. He was predeceased by his brother, Leonard Cohen, and is survived by his sister, Phyllis Mendelwager, many nieces, nephews, cousins, and an abundance of close friends. He is also survived by his special daughters-of-the-heart Barbara Greenfield and Katie Hollerman.
Frederick was in World War II (United States Army Air Force), where he was assigned as an assistant to the rabbi/chaplain. He was the rabbi's driver and administrative assistant. One of his most rewarding experiences was up righting tombstones desecrated during the war. Recently he enjoyed his trip to Washington, D.C., where he participated in the Honor Flight from Central Florida. He attended the City College of New York prior to joining the Army. He was an inventor, with many technical patents to his name. He enjoyed the distinction of being a thirty-second-degree Mason and Shriner. He was also proud and delighted to become a bar mitzvah at the age of 56.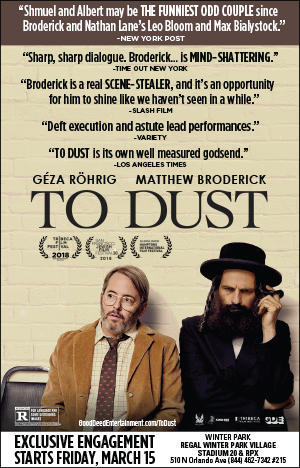 Frederick was a technological whiz, a voracious reader and enjoyed history. Some of his hobbies, which he shared with his grandchildren, included fishing, traveling, telling jokes and playing cards. One of his special passions was his love and respect for nature and horticulture. He propagated and raised roses, bromeliads, orchids and violets. Fred provided specimen violets for the clubhouse in his community, and also revived failing plants of friends. The specimen plants he shared were enjoyed by all. Fred was a wonderful teacher and readily shared his vast knowledge and expertise.
Frederick deeply cared about people and never had an unkind word to say. He was respectful and exhibited a special kindness to all who knew him. This past January, he reveled at his 90th birthday party, surrounded by his family and dear friends from near and far. He will forever be remembered as a loving husband, father, grandfather, brother, uncle, nephew, cousin and dear friend. Freddy is missed by all and will always be remembered as a gentleman and a gentle man.
Donations in Frederick Cohen's memory may be sent to The Frederick Cohen Large Print Siddur Fund at Temple Israel, 50 South Moss Road, Winter Springs, Florida 32708.
Arrangements entrusted to Beth Shalom Memorial Chapel, 640 Lee Road, Orlando 32810. 407-599-1180.