Jews in the Land of Disney: From 'Fingers Zambeeze' to cantor, Allan Robuck brings the beauty of music to the community
At eight years of age, Allan Robuck, cantor of Congregation Ohev Shalom, "didn't have an option" about playing music. "I grew up in a musical family and my two brothers and younger sister had to play piano, no exceptions!" he said.
Robuck's parents loved music. After World War II, his father entered a talent show put on by the Les Elgart Big Band. Elgart was a trumpet player, often times playing with his brother Larry Elgart who recorded albums on the Columbia label. One of their most recognizable tunes was "Bandstand Boogie," which was used by Dick Clark as his theme song for America Bandstand. His father won the talent show and was ready to go on the road until his wife threatened that if he left for fortune and fame, she would leave him. According to Robuck, his mother put her foot down, ending his fathers' musical career.
His mother "played between the cracks," and was an English teacher, teaching at Wiley Junior High located in Robuck's hometown of Cleveland Heights, Ohio. "My mother was the least musical of our family, but she did love music, encouraged all the kids to practice."
As an adult, his sister ended up being a cantor, and one brother pursued a career as a rabbi with a congregation in Australia. Robuck's other brother played the piano but wasn't really interested in continuing on in some sort of musical career.
Robuck went to a high school that was recognized nationally for their fine music program. "It was cool to participate in the music program. I became the student director of the choir, which was akin to being the high school quarterback," he said.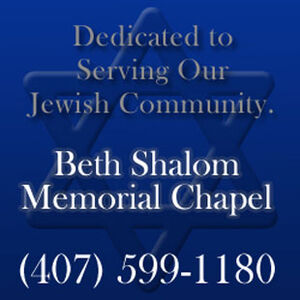 Robuck attended Cincinnati College — Conservatory of Music. He studied classical piano performance with a teacher outside of high school to prepare for his audition to be accepted into the music school. It required a tremendous amount of commitment and time. For the first couple of years he studied classical piano, until he realized that the dedication and commitment was too much for a college student who wanted to participate in typical college life. He changed his major to jazz piano and received his degree in musical education.
"My wife Robin and I met in college. She played the clarinet and when she went on to her career, she worked teaching music in public schools."
Robuck came to Orlando in 1983. He had a few odd jobs before he landed a gig at Disney. He came across an "agent," who asked him if he had the music for the song, "Jerusalem of Gold." He told them that he didn't have the music, but he could play it, resulting in him being hired to play the song at a Jewish wedding. In appreciation, the agent got him his first job on the Disney complex performing as the piano player for Arthur's 27, an upscale restaurant in the Hotel Buena Vista Palace. "I had that gig for four years. I played nothing but ballads every night. I remember one night I actually fell asleep when I was playing. Not good to have customers make musical request when my eyes were closed and my head was leaning against the wall."
Robuck worked at Disney venues and truly enjoyed earning a living there for a little over 12 years. He had gigs at Mickey's Birthdayland, The Diamond Horeshoe Jamboree, and the Kids of the Kingdom band, where he played live shows in front of the castle. He also spent one summer playing a keyboard that looks like, and is held like a guitar during the three o'clock parade.
He was known as "Fingers Zambeeze" while working for The Adventurer's Club in Pleasure Island at Walt Disney World Resort. "They advertised, 'Fingers takes requests,' which was a lot of fun. I was Fingers," Robuck said.
He played across the street from the Adventurer's Club at the Comedy Warehouse, and played one holiday season in Epcot in front of the American Adventure playing the nightly Christmas spectacular.
Robuck has been a member of the musician's union since 1980. One year, Robuck was the Disney musician's union shop steward in the magic kingdom. He even had a special pass that allowed him to park right behind Main Street USA. He believes that the union people were impressed because he once went on strike when he was a teacher in Ohio.
Robuck also played at a dinner theatre on Route 192 in Kissimmee called Fort Liberty. "It was a wild-west show. It was a good way to sell a $5 dinner for $30. I did this for a little over a year and even wore a cowboy hat," Robuck said.
Robuck said he was in the choir at Ohev Shalom, when he heard that the congregation was looking for a new cantor. Several of the choir members suggested and encouraged him to apply for the job. "At that point I only knew four pieces of liturgy. I thought the cantor job would be a good gig at the time, that's when I really began studying. I worked with Cantor Moishe Friedler, whose congregation was Rodeph Shalom in Tampa. I remember finishing work at Disney on a Thursday, and rushing to get dressed and head to Tampa to spend time over the weekend with the cantor. I would practice between shows at the Diamond Horeshoe.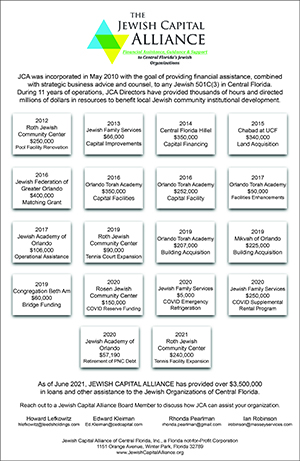 Robuck has been cantor of Ohev Shalom, the largest Jewish congregation in the Orlando area, for over 29 years. During this time, he's led services, directed the choir, taught a myriad of bar and bat mitzvah students, taught adult education classes and has been integrally involved in the lives of our Jewish community for close to three decades.
He's raised his three boys here and, like his parents, he brought music into his children's lives. His youngest son, Yoni, plays the trumpet; his middle child, Ben, and his eldest, Michael, were in the University of Florida's marching band's drumline.
Robuck speaks fondly of the Jewish group he had put together called "Visions." Three b'not mitzvah students with lovely voices came through within 18 months of each other. They met with great success. They've produced four albums and traveled extensively performing. Many of the songs or adaptations of songs we're either written by Cantor Robuck and/or arranged by him. They had a special concert where they performed in Brazil. The revenue generated from their music was partly a donation to COS. It ended up being tens of thousands of dollars.
"One quirky thing about being a cantor is if I change the melodies, many in the congregation won't like it, or if I don't change the melodies many in the congregation won't like it," he shared.
He's coming on 65 years old and has faced several chronic health issues, but he works very hard and hasn't slowed down a bit. Cantor Robuck brings beauty through music into the lives of the Jewish community and the congregation. For this, he is well loved in the community.