Weekly roundup of world briefs
Haim sisters to soundtrack 'The Witch Boy,' an animated Netflix film
By Curt Schleier
(JTA) — The Jewish sister rock band Haim have gone from being paid in matzah ball soup to scoring a feature film.
The trio will soundtrack the Netflix animated feature "The Witch Boy," based on a three-book graphic novel series of the same name by Molly Knox Ostertag.
The fantasy musical is set in a magical community where all the girls become witches and the boys grow into shapeshifters. It centers on a boy, Aster, who discovers he has witch powers and needs to use those powers when a mysterious danger emerges. It will be directed by Minkyu Lee, Academy Award nominated for the animated short film "Adam and Dog."
It's a story "celebrating queerness," Lee has said.
Non-Jewish faculty at Antwerp haredi Orthodox school strike over parents' failure to test kids for COVID
By Cnaan Liphshiz
(JTA) — Non-Jewish faculty members at a haredi Orthodox school in Antwerp, Belgium, have gone on strike, citing the failure of some parents to test their children for the coronavirus to the teachers' satisfaction.
Most of the non-Jewish teachers at the girls' department of the Jesode Hatora Beth Jacob school stopped working on Wednesday, the Gazet van Antwerpen reported Friday. They are responsible for teaching material required by the Belgian state. Jewish teachers teach Jewish studies.
The strike was over the failure of some parents to comply with the Education Ministry's requirement that any student attending school be tested twice for the virus. The threshold of two negative results was the basis for a compromise that facilitated the reopening on Jan. 4 of primary schools in Belgium's Flemish Region, where Antwerp is located.
Dozens of Jesode Hatora students have tested positive for the virus in recent weeks, as have some teachers.
Nico Horemans, the director of the non-Jewish staff, said he regretted the strike but that he "understands" the reasons for it, the Gazet reported. He also said there are no legal grounds to deny students without two negative tests access to school grounds.
NY charity wants vaccines for pantry workers
By Andrew Silow-Carroll
(JTA) — The head of one of New York's largest Jewish charities wants food pantry workers to be prioritized for COVID-19 vaccines.
David Greenfield, the CEO of Met Council, said pantry workers should be treated like public-facing supermarket staff, who are eligible for the vaccine in New York state in the latest distribution phase.
"These pantry workers are people who interact with hundreds of people every day at their own risk and literally hand the food to the neediest New Yorkers," Greenfield said in a statement Thursday. "They deserve to be given immediate access to the vaccine."
Met Council's Kosher Food Network, with 40 pantries, is the largest kosher food network for the needy in the country. The latest pantry, opened earlier this month in the borough of Queens, serves the city's immigrant Bukharian Jewish community.
Pantries in Albany, the state capital, are also pushing Gov. Andrew Cuomo for their workers, who are mostly volunteers, to get vaccinated.
Paris City Council adopts IHRA definition of anti-Semitism
By Cnaan Liphshiz
(JTA) — The City Council of Paris endorsed the International Holocaust Remembrance Alliance definition of anti-Semitism on Friday, becoming the first capital city in the world outside Israel to do so officially, according to a statement by the Israeli Embassy in France.
Only a few of the 163 delegates objected in the vote by a show of hands to the resolution.
Hundreds of anti-Semitic incidents occur annually in Paris.
The definition has been a source of ongoing debate in the United States and beyond.
Its text lists as examples of anti-Semitism classic tropes alongside some forms of vitriol against Israel, including comparing its policies to Nazi Germany and "denying the Jewish people their right to self-determination, e.g., by claiming that the existence of a State of Israel is a racist endeavor."
The definition also states that "criticism of Israel similar to that leveled against any other country cannot be regarded as antisemitic."
Critics, including many pro-Palestinian activists, cite freedom of speech concerns.
In 2019, the French parliament's lower house passed a resolution endorsing the IHRA definition following acrimonious debates.
The United States, United Kingdom, Germany, Romania, Canada and Australia are among the dozens of governments that have adopted the IHRA definition.
Jewish inmate's COVID-19 death cited in effort to get vaccines to NY prisoners
By Andrew Silow-Carroll
(JTA) — Lawyers seeking to expand vaccine eligibility for prisoners in New York state are citing the case of an elderly Jewish inmate who died of COVID-19.
Ira Goldberg, 72, a Brooklyn native who was serving a seven-year minimum sentence for burglary at the upstate Woodbourne Correctional Facility, died on a ventilator on Jan. 4. He suffered from chronic obstructive pulmonary disease, emphysema, asthma, chronic renal failure and high blood pressure, according to his lawyers.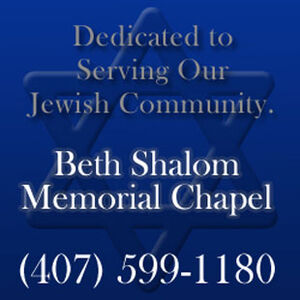 "He was legitimately very scared for his life and deeply concerned that the prison seemed to have no idea what they were doing as the virus spread," Alexandra Mitter, a lawyer for the Center of Appellate Litigation, told Gothamist, a New York City news website.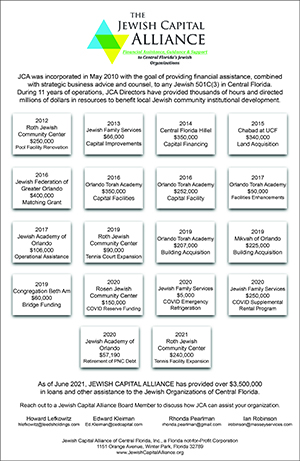 Mitter's group and others are suing and pressuring New York state to give people in its prisons and jails access to vaccines in accordance with guidance from the American Medical Association. A Manhattan synagogue, Congregation Beit Simchat Torah, sponsored a letter signed by 120 clergy pressing New York Gov. Andrew Cuomo to include inmates in the state's vaccine plan, as 27 other states have done.
New York City jails began vaccinating people age 65 and older on Jan. 6. In state prisons, the 1,100 prisoners 65 and over have not been offered doses, despite outbreaks.
Goldberg had been in and out of prison before being arrested for stealing expensive cameras and handbags from stores in the SoHo neighborhood of Manhattan in 2016. He was one of 12 incarcerated people to die from COVID and nearly 3,000 inmates who caught the virus across the state since the vaccine rollout began, Gothamist reported.
British teen who spoke about hanging gays and gassing Jews convicted of terrorism
By Cnaan Liphshiz
(JTA) — A London court has convicted of terrorism a 16-year-boy who researched producing weapons for what he described in online chats as actions to hang gays and gas Jews.
Separately, Britain's Conservative Party dropped a local politician who referenced a Jewish lawmaker in a tweet about Aryans.
The Central Criminal Court of England and Wales sentenced the teenager from Cornwall, a municipality located some 250 miles southwest of London, to 24 months at a youth rehabilitation program. He is the kingdom's youngest-ever person to be convicted of terrorism.
He pleaded guilty last week to 10 counts of possessing terrorist material and two counts of disseminating terror documents, Cornwall Live reported. His crimes began when he was 13.
The teen was not named in the media as he is a minor.
In the case of the Conservative politician, Sharon Thomason had been the party's choice for municipal elections in Warrington Borough, located about 180 miles northwest of London.
Thomason wrote last year on Twitter "Keep the Aryan race going …" to Charlotte Nichols, a Jewish lawmaker for Labour.
The tweet resurfaced this week ahead of the elections, prompting the Conservatives to "swiftly and immediately" drop Thomason, The Independent reported Monday.
Saudi foreign minister: Iranian nuclear program threatens entire region
By Dean Shmuel Elmas
(Israel Hayom via JNS) — A nuclear Iran is a threat to the entire Middle East, Saudi Foreign Minister Prince Faisal bin Farhan al Saud told an emergency meeting of the Arab League in Cairo on Monday.
"The development of the Iranian nuclear program and the ballistic-missile project endanger the entire region," he said in his address.
"One of the most dangerous threats facing our region is the Iranian regime's continuous violations of international laws, charters and norms by threatening the security and stability of our countries, interfering in their internal affairs and supporting armed militias that sow chaos, division and devastation in many Arab countries," he added.
The Saudi foreign minister also said that the nations most affected by Iranian threats should be among the main participants in any international negotiations with Iran over its nuclear program and other activities that threaten regional security.
"We call on the international community to put an end to Iran's violations and its threat to the region," concluded Prince Faisal.
Regarding the Israeli-Palestinian conflict, the Saudi foreign minister said that his country remains committed to the establishment of a Palestinian state and firmly supports all efforts to reach a just and comprehensive solution.
"We call on the international community to exert more efforts to revive the peace process to establish an independent Palestinian state based on the 1967 borders, with East Jerusalem as its capital," he said.
Yemen's Foreign Minister Mohammed Abdullah Al-Hadhrami echoed the criticism towards Iran.
The Iranians "are aiding the Houthi rebels in the aim of destroying Yemen," he said.
The emergency Arab League meeting was convened by Jordan and Egypt.
This article first appeared in Israel Hayom.
Germany charges former Nazi concentration-camp guard with complicity in 3,518 murders
(JNS) — Prosecutors in Germany charged a former 100-year-old Nazi concentration-camp guard for involvement in the murder of 3,518 people.
They told AFP on Monday that the man is accused of "knowingly and willingly" assisting in the murder of prisoners at Sachsenhausen in Oranienburg from 1942 to 1945.
It comes one week after German prosecutors charged a former secretary at a different Nazi concentration camp.
The 95-year-old woman worked at Stutthof, near what had been Danzig and what is now Gdansk, Poland. She is identified as Irmgard F. and would be tried in a juvenile court since she was under 21 at the time the alleged crimes were committed, reported The New York Times.
She has been charged with 10,000 counts of being an accessory to murder and complicity in attempted murders.
Pointing to COVID-related economy, UAE says it will not fund UNRWA in 2021
(JNS) — The United Arab Emirates says it does not plan to fund the U.N. Relief and Works Agency, the United Nations agency for Palestinian refugees, this year as part of a "wiser way of utilizing funds," according to Minister of State for International Cooperation Reem al-Hashimy, reported Reuters.
Hashimy said the decision, made for the second year in a row, was not connected to the UAE's establishing diplomatic relations with Israel as part of the Abraham Accords, but instead due to the global coronavirus pandemic.
"COVID was a revealing time and led us to push the reset button. We believe that we have a moral responsibility, but not under the same mechanism," said Hashimy. "We want to see how international organizations are revising their approach. We are looking for more efficacy and a wiser way of utilizing funds."
That efficacy might be found in other organizations, she added, such as the International Committee of the Red Cross.
The UAE's economy has taken a severe hit across all sectors of the Gulf state's economy due to the virus, with experts expecting the worst year for the UAE since the 2008 global financial crisis. The UAE's non-oil sector, which accounts for roughly 80 percent of the country's overall GDP, has been particularly affected by interruptions in international travel, globalized supply chains and just-in-time (JIT) manufacturing processes, which fails to thrive when international borders remain closed.
The UAE, which currently chairs UNRWA's advisory committee, contributed $50 million to the agency in 2019 and $20 in 2018. Although no donations have been made since 2019, Hashimy said that private charities in the UAE have contributed $1 million to the agency during that time.
The minister also noted that the UAE was talking with the agency's leadership "on how to enhance the effectiveness of aid."
Corruption scandals have plagued UNRWA, including those involving sexual misconduct, nepotism, business-class travel expenses and retaliation against whistleblowers, which have been detailed in a report by the BESA Center.
Additionally, textbooks provided for Palestinian children by UNRWA have been found to be rife with problematic content that contradicts stated U.N. values, as detailed in a survey published in January by the Institute for Monitoring Peace and Cultural Tolerance in School Education (IMPACT-se), an Israeli non-governmental organization.
Golan Heights 'will remain forever part of Israel'
(JNS) — Israeli Prime Minister Benjamin Netanyahu's office pushed back against U.S. Secretary of State Tony Blinken over his comments that stopped short of endorsing the Trump administration's recognition of the Golan Heights in 2019.
In an interview with CNN on Monday, Blinken said while he supports Israel controlling the Golan Heights for now, he cast doubt on whether or not Israel had the legal right to control the region in the long-term.
"As a practical matter, the control of the Golan in that situation I think remains of real importance to Israel's security," he told CNN news anchor Wolf Blitzer. "Legal questions are something else, and over time, if the situation were to change in Syria, that's something we look at, but we are nowhere near that."
Former President Donald Trump recognized Israeli sovereignty over the Golan Heights in 2019. Last November, Blinken's predecessor, Mike Pompeo, made a rare visit to the Golan Heights, where he said "this is a part of Israel and central part of Israel."
In a statement, Netanyahu's office said that "the Golan Heights will remain forever a part of the State of Israel."
"The Israeli position is clear. In any possible scenario, the Golan Heights will remain Israeli," added the statement.
Advisers to U.S. President Joe Biden have said America would not change its stance on the Golan, including during Biden's presidential campaign.
The U.S. State Department did not respond to a JNS request for clarification on the status of the Golan Heights.
1 in 73 haredi Orthodox Israelis over age 65 has died of COVID, Israeli report finds
By Shira Hanau
(JTA) — One in 73 haredi Orthodox Jews in Israel over the age of 65 has died of COVID in the past year — more than four times the number in the same cohort of the general population — according to a new report.
The report by Shomrim, an Israeli investigative journalism nonprofit organization, found that 1.3 percent of haredim over 65 had died of COVID, compared to 0.27 percent, or 1 in 373, in that group of the general population.
The numbers reported by the nonprofit are slightly higher than those of the Israeli Ministry of Health, which found that 1.2 percent of the haredi population over 65 had died of COVID. In December, the Israel Hayom newspaper reported that 1 in 132 haredim over 65 had died of COVID based on data from the Health Ministry.
Shomrim attributed the disparity to the ministry's decision not to count deaths in cities with mixed populations of haredim and nonharedim toward the haredi total, which Shomrim did.
Shomrim also cited a study by Eran Segal of the Weizmann Institute of Science finding that 1 in 100 haredi Orthodox Israelis over 65 died of COVID, compared to 1 in 350 in the general Jewish population.
Regardless of the disparity between the numbers used by Shomrim and the Health Ministry, the death rate among Israel's haredi Jews makes clear the degree to which the community has been impacted by the coronavirus, even as large parts of the community continue to go about their lives as usual and refuse to wear masks or socially distance.
The deaths of the community's elders has apparently not changed that behavior. After two major haredi leaders died of COVID within hours of each other in Jerusalem earlier this month, thousands still attended their crowded funerals, with few wearing masks.