Jews in the Land of Disney: Laurence Morrell - self-proclaimed 'last of the Jewish rednecks'
Part 1 of 2
Laurence Morrell is very proud that he considers himself, "the last of the Jewish rednecks." He's proud because he's worked hard outside in the elements, in the fields of orange groves that once dotted the landscape of central Florida. In the scheme of things, it wasn't that long ago.
At 78, he has been a part of the early migrations of Jews in the Orlando area. His grandfather, Abraham M. Bornstein, was in the textile industry in Lodz, Poland, before coming to Paterson, N.J., nicknamed "Silk City," where he worked in the silk textile industry with relatives. After suffering through labor strikes, he set up a textile business in Wilkes Barre, Pa. But with the depression, the threat of unionization, and then the advent of synthetic fabrics, he couldn't compete. He, and ultimately, his extended family picked up stakes and made the long, hot journey to try their luck at becoming citrus growers in the sunshine state. He and his wife, Ruth Bornstein, obtained passage on a boat to Jacksonville, Florida, then hopped a train to Orlando in 1932. Within days of arriving in Orlando, he purchased a 40-acre citrus grove along the shores of Lake Minnehaha in Clermont, Fla., 30 miles west of Orlando.
"My grandfather was the second migration of Jews, as earlier in 1912 the Shader, Meitin, Wittenstein and Levy families arrived here and got into the citrus industry," Morrell said proudly. "My grandfather wasn't totally alone once he arrived. Ultimately, my grandfather had help from the other Jews in the citrus business, who became the founding members of our Jewish community in Orlando."
Once the business was off the ground, the Bornstein children - Jerry, Rita (Dr. Morton Levy), Florence (Sid Gluckman), Beatrice (Leon Ettinger), and Dorothy (Laurence's mother who married Albert Morrell) came.
And then Bornstein's brothers, Barnett and Morris along with cousins Max Bornstein, the Webman family, the Lipman family, the Seigel family, the Bernard Gluckman family and the Jacobs family, to name a few. All became members of the only synagogue in town at the time, Congregation Ohev Shalom.
Morrell's father, Al, was asked to go to Israel in 1951 to assist the New State in developing their citrus industry. In Israel, Al met a third cousin who was in charge of citrus research for the Ministry of Agriculture. As a result of that meeting Al was able to get thousands of dollars sent to Israel by the U.S. Department of Agriculture to assist in the development of the citrus industry.
"Due to the relationships that my father established in Israel, whenever a representative from the Israeli citrus industry visited the United States they all seemed to come visit and stay at our home. This was just another aspect of growing up in a strong Zionist household," Morrell recalled.
"My brother, Henry, was born in Orlando in 1936, my sister, Linda, in 1939 and then I, the youngest, was born in 1942, during the war," he said. There were no hospitals in Clermont, so Morrell's mother had to travel to Orlando to give birth.
"My family wanted to move to Orlando, but was held back due to the war, and due to rationing which restricted us from buying things like gas and tires, among many other consumer goods. After the war ended, the whole family moved to Orlando, which was considered 'the big city' back then."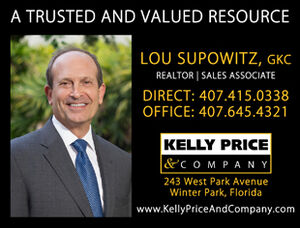 With hard work and perseverance the citrus business grew. "My grandfather had a "Yiddishe Kopf" (a Jewish way of thinking) and a hard work ethic." Delivery of their product traveled by train and boat to their primary accounts up north, primarily in New York City.
Morrell's grandfather gave each of his children 40 acres of land to develop by planting, caring for the orange trees and then bringing them to harvest. Business was good and the family expanded into different enterprises that supported the citrus business.
"My grandfather conceived a way of working with the other citrus farmers in the area so he began the Consolidated Growers Association, which was made up of family members and friends joining together forming a citrus growing and packing cooperative. My father was responsible for the citrus production, Leon Ettinger was to manage the scheduling and equipment and Sidney Gluckman was to manage the citrus packing house located in Eustis, Florida. Gluckman worked with the former owner Max Blattner who acted as the sales-manager. The association lasted several years until internal squabbling forced it to be dissolved." Morrell said.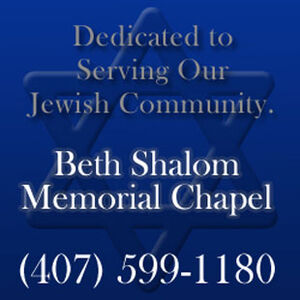 "I grew up with extended family all around. I had 18 first cousins, and numerous second and third cousins. Family holidays were never small events. I have fond memories of those times," Morrell reminisced.
"There was very little outward anti-Semitism that I experienced here. Yes, we weren't allowed to join the County Club of Orlando nor could we attend the spring formal there, but overall there were no major outward aggression toward the Jews in Orlando."
In the mid-1950s there was a split between the members of Congregation Ohev Shalom and what later became the new Temple Israel.
"That was in 1954. In 1955, I was the third bar mitzvah at Temple Israel where I have been an active member ever since."
Morrell has been a Sabbath school teacher; USY adviser along with his wife, Ellen; has served on the Temple's Board of Directors; as well as the Executive Board; and is now very active in the Temple Israel Cemetery Corporation.
During high school, Morrell was active in BBYO (AZA) and he competed on the Boone High School track/field team. In AZA he was Athletic chairman setting up competitions with other senior boys' church league teams in both basketball and softball. "For a bunch of Hebrew School educated kids, we did pretty well," he quipped.
Morrell attended Emory University in Atlanta, joined AEPi fraternity and participated in both soccer, and track and field on the collegiate level. He received his undergraduate degree in economics, with a minor in biology/botany.
During the summer of 1963, he went to Camp Blue Star to work. It was there that he met his future wife, Ellen Joseph, who was from Indianapolis, Indiana. After a long-distant relationship with a couple of visits to see her, he met her parents then decided to get married. "For the first year of marriage, I was in Orlando and Ellen remained in Indianapolis to teach. During that time I was learning all about the citrus industry."
Morrell's father passed away right after he graduated from college. He went home to take over the family business. "I had no choice nor did I want another at that time in my life."