Scene Around
I truly love New York City …
I was born in Brooklyn, one of the five boroughs of New York City … you know, Manhattan, Brooklyn, Queens, the Bronx and Staten Island. And, I grew up there. (That should explain my weird sense of humor!)
Recently, I was watching "I Love NYC" on television, a salute to a place that was on its way back from a horrible pandemic. It took place in Manhattan's Central Park and began with a fabulous salute of music played by the New York Philharmonic Orchestra.
Many stars performed with still many to go. One of my all-time favorites, Barry Alan Pincus (you know him as BARRY MANILOW, a landsman) was singing some of the many hit songs he wrote when, all of a sudden, on the loud speaker, everyone was warned to leave the area because of impending storms and lightening over Central Park. The show never did resume but CNN host, ANDERSON COOPER, not a Jew, but using many Jewish terms like "mensch" and "chutzpa" continued to entertain the television audiences for a time.
(I really wanted it to continue! Oh well.)
More about fabulous Jewish songwriters …
I just learned (well almost) a new song … actually a very old song, but a good one! It was written by two talented Jews (who else?) Samuel Cohen and Julius Stein. You would recognize them by their professional (and very famous names), Sammy Cahn and Julie Styne.
The title of the song is "It's The Same Old Dream." As soon as this pandemic is over (hopefully) I will add it to my repertoire.
(If you don't know it and want to hear it, phone me. I'll sing some of it to you.)
Jews and Muslims cultivate relationships? ...
The World Jewish Congress partnered with the Muslim World League for a joint celebration of Ramadan. The convening, featuring MWL Secretary General H.E. Dr. Mohammad bin Abdulkarim Al-Issa and WJC President Ambassador Ronald S. Lauder, alongside more than 100 senior Jewish and Muslim community leaders from around the world, demonstrated a shared dedication to global interfaith collaboration and the cultivation of good relations between Muslim and Jewish faith communities.
Ambassador Lauder opened by citing Psalm 133: "Behold, how good and pleasant it is when brothers live together in harmony."
He reflected on the significance of building interfaith relations, stating "Relationships between communities, especially communities of faith, are sadly not always easy to foster and maintain. In fact, we all know that there has been strife among different faiths throughout history. But when we make efforts to come together, to work together, and to acknowledge the differences in our faiths, we begin the process that builds trust among people. None of this can be taken for granted. We must constantly work at this."
Ambassador Lauder expressed hope for continued shared efforts alongside the MWL to improve coexistence in our world and increase dialogue.
"The campaign against racism, antisemitism, Islamophobia, and anti-Christian attacks will be infinitely more effective if it is united. Christians should lead the defense of Jews and Muslims. Muslims should lead the defense of Christians and Jews. Jews should lead the defense of Muslims and Christians. And we must all stand together against racism.
History shows that Jews and Muslims can live together as brothers, achieving great things. History also show us that we can take a more negative path. We hold that choice in our hands. And here today, we can send out a powerful, unified message to the entire world that we strongly choose the path of brotherhood, the path of peace, and the path to a better world for us all and, especially, a better world for our children."
Echoing Amb. Lauder's emphasis on interfaith dialogues and cooperation, Al-Issa noted that religion should be used as a tool to promote peace and unity rather than division. (Amen!)
Winter Park Playhouse …
Starting Sept. 24th and running through Oct. 11th (with previews on Sept. 23-24), "The Book Of Merman" will be presented.
Fresh from its successful Off-Broadway run, this new side-splitting musical comedy takes a hilarious look at a seemingly fated encounter between Ethel Merman and two young Morman missionaries who arrive at her door. With a witty original score and a beautiful message about being true to yourself, this musical is good clean fun!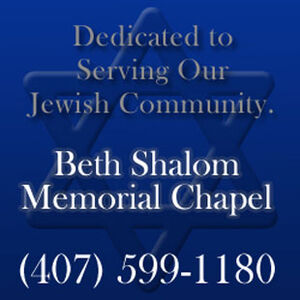 (Yes! Just what I need! Good clean fun and a lot of laughs!)
A message from CEO of the Jewish Federation of Greater Orlando…
This was written by our own KEITH DVORCHIK:
"There are certain things that evoke powerful memories and emotion. The smell of frying onions and potatoes brings me back to my Grandma Esther's kitchen. The sounds of hammering and sawing take me to my Grandpa Si's workshop. At this time of year, it's the sound of the Shofar that brings me back to my childhood as well as reminds me that it's time to stop and reflect on the past year.
"Last year, due to Covid, there was not the same sounding of the Shofar that we normally hear. Much was done online or virtual. Thanks to Ed and Marian Bromberg, the Federation's Sound the Shofar program provided the gift of nearly 200 shofars to members of the community so they would have the ability to hear the shofar in person, not just virtually. In a year when nothing seemed right or the same, this gift enabled Jews in Orlando to have something that connected them from generation to generation.
"This year, we were so excited about returning together to celebrate the chagim, Rosh Hashanah and Yom Kippur, and hear the blast of the Shofar together once again..."
(This warm message from Keith made me cry.)
Shout-Out …
Okay, I ate out again! How else can I keep this fabulous figure? (OH SHUT UP!)
I recently went to the Outback Steak House on Aloma Avenue in Winter Park.
I was served by a terrific waitress, JAMIE CABELL.
She was on the ball in every way… and the food, as always, was delicious…. And NO CALORIES! (I repeat, SHUT UP!)
One for the road …
Mr. Weiss ordered a pair of pants from a local tailor. When they were not ready in the promised two weeks, Weiss agreed to wait another two weeks … and then another two weeks … and finally, after six months, the tailor presented him with his new pants and displayed them proudly for everyone to see.
"I want to ask you a question," Weiss said to the tailor. "How come God Almighty was able to create the world, the entire universe, in only six days, and it took you six months to make a pair of pants?"
"Ah," replied the tailor, "Look at the condition of the world… and look at this gorgeous pair of pants."
(You know… the tailor is right!)