Weekly roundup of world briefs
London lawmakers reject plan for high-rise building next to historic synagogue
By Cnaan Liphshiz
(JTA) — City council members in London voted against a controversial plan to build a high-rise building near an 18th-century synagogue.
The plan by developers would have replaced a seven-story building adjacent to the Bevis Marks synagogue in central London with a 48-story tower. The plan was rejected on Tuesday in a vote by a vote of 14-7, the BBC reported.
The custodians of the synagogue, which today serves the Spanish and Portuguese Jewish community of London, argued the envisioned building would block sunlight to the synagogue, though the developers disputed this.
As in other large synagogues of communities of Sephardi Jews who left the Iberian Peninsula after the Spanish Inquisition, which began in the 15th century, Bevis Marks depends for lighting on candle and sunlight.
"We already find it difficult at times to read prayers and carry out a normal service due to poor light conditions," Shalom Morris, a resident rabbi at Bevis Marks, told the BBC. He said he was "delighted" that the plan was canceled.
Several thousand people signed a petition against the plan, including prominent British Jews such as Simon Schama, a renowned historian, author and television presenter.
"Saving the light for Bevis Marks is a matter of the deepest historical and cultural significance," the Jewish Chronicle quoted Schama as saying.
At Jewish museum, NY Gov. Hochul unveils $25M for nonprofit security
By Julia Gergely
(JTA) — New York Gov. Kathy Hochul announced $25 million in grants to boost security at nonprofits threatened by hate crimes.
Speaking at the Museum of Jewish Heritage in Lower Manhattan Wednesday, where a Confederate flag was tied to its doors earlier this year, Hochul also announced the rollout of a new online hate-crime reporting system meant to help the state deploy resources immediately and effectively. 
"You continue to wear that yarmulke every single day and I will protect you," said Hochul. "This stops now. We're letting people know that if they dare raise a hand to any New Yorker, they are picking a fight with 20 million others, starting with their governor."
The grants are part of the Securing Communities Against Hate Crimes Grant Program, which solicited grant proposals in spring 2020 from schools, day care centers, museums and camps to boost infrastructure and security against hate crimes and hate-related incidents in New York. Hochul said the new funding will support another 800 projects across the state.
This year, the NYPD has already reported 371 hate-related incidents in New York City, across the Jewish, Asian, Black and LGBTQ communities. The Federal Bureau of Investigation's 2020 Hate Crime Statistics report showed that overall hate crimes were rising, and that antisemitic hate crimes made up 57 percent of all religious bias crimes.
The Jewish Community Relations Council of New York praised Hochul, saying "at long last" hundreds of organizations that submitted grant applications in spring 2020 will have access to funds to upgrade security hardware, planning and training.
HBO picks up film about boxer who escaped Auschwitz death march
By Gabe Friedman
(JTA) — HBO has bought the rights to "The Survivor," a film by acclaimed Jewish director Barry Levinson based on the true story of a boxer who escaped an Auschwitz death march after being forced to fight with his fellow prisoners.
Jewish actor Ben Foster stars as Harry Haft, a Polish Jew who was imprisoned at the concentration camp at 16 but escaped as the Nazis evacuated the camps ahead of the advancing Red Army. He eventually moved to New York City. There he embarked on a fighting career that found him matched up against the likes of legendary heavyweight Rocky Marciano.
The movie, which premiered at this year's Toronto International Film Festival, is based on "Harry Haft: Survivor of Auschwitz, Challenger of Rocky Marciano," a 2006 book written by Haft's son Alan. HBO Films has not set a release date.
Also involved in the production was a team from the University of Southern California's Shoah Foundation, an archive of Holocaust survivor testimonies started by Steven Spielberg. The USC team "provided detailed historical consulting in addition to access to a testimony of Haft, filmed in 2007," according to Deadline.
Foster has worked under Levinson before, in the film "Liberty Heights," a tale of Black-Jewish relations in 1950s Baltimore.
Israel hints Oman is next to join Abraham Accords
By Ron Kampeas
(JTA) — A top Israeli foreign ministry official suggested that Oman will likely be the next country to join the Abraham Accords, leading to full normalization between the countries.
Eliav Benjamin, the head of Israel's foreign ministry's bureau of the Middle East and Peace Process Division, met via Zoom with reporters on Tuesday to discuss the status of the accords reached last year between Israel and the United Arab Emirates, Bahrain, Morocco and Sudan.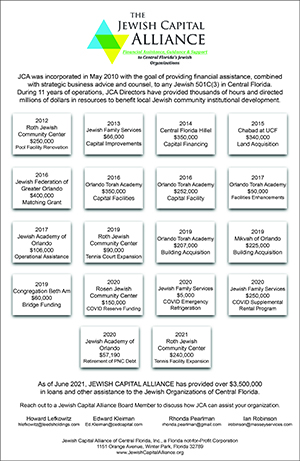 Asked which country might be next, Benjamin singled out Oman as a country that Israel has sustained low-level relations with since 1991, when a round of peace talks were held in Madrid.
"With Oman, we have ongoing cooperation and plans," Benjamin said, noting that it was one of a handful of Arab countries to allow Israel to establish an interests office after the 1993 Israel-Palestinian Oslo agreement. Those offices shut down after the launch of the Second Intifada in 2000, during which Palestinians killed nearly 1,000 through suicide bombings and other attacks.
Despite that setback, Israel remains involved in MEDRC, a freshwater research facility established in Oman in 1996, Benjamin said. "So we already have the relations with Oman," he said.
He suggested that Oman might opt for full normalization sooner rather than later.
Sustaining and expanding the Abraham Accords is a rare area of shared foreign policy between the Trump administration, which last year brokered the accords, and the Biden administration.
"I really hope that when we meet, if not before, his time next year we will be able to talk about our countries that have joined," Benjamin said.
Adam Sandler is Gen Z's favorite celebrity
By Gabe Friedman
(JTA) — Who says Adam Sandler's heyday is behind him?
A survey of 10,000 teens, conducted Aug. 17 to Sept. 16, found that the Jewish actor and comedian is their favorite celebrity.
"Adam Sandler moved up from no. 4 in the Spring to the top celebrity taking the spot from Kevin Hart," according to Piper Sandler, an investment bank and securities firm with no relation to the actor, which asked the question as part of its twice-yearly survey of teen attitudes.
After repeated movie flops in the 2010s, the 55-year-old star of early career hits like "Happy Gilmore" and "Billy Madison" is having a pop culture resurgence. His acclaimed performance in the 2019 drama "Uncut Gems" as a frenetic Jewish jeweler sparked a "hot dad" fashion conversation. Young fans on Instagram can't get enough of his love for pickup basketball (and the retro baggy shorts he wears while playing). His crashing of a Jewish wedding in 2018 delighted the couple and made headlines.
What's next for the "Sandman"? Two more dramas, neither of which have release dates: "Spaceman," in which he will star as an astronaut on a solo mission, and "Hustle," about a basketball scout who tries to resurrect his career by bringing a player over from Europe into the NBA.
American Girl releases Chanukah outfit and gift set for dolls, part of 'Cultural Celebra
By Shira Hanau
(JTA) — For Jewish fans of American Girl dolls, Chanukah came early this year
Last week, the popular doll company released a new set of holiday doll outfits and accessories to diversify its holiday outfits. Kids can now dress up their dolls in special outfits for Eid Al-Fitr, Diwali, the Lunar New Year, Kwanzaa and Chanukah. The new holiday outfits come with a booklet explaining the significance of each of the holidays.
The Chanukah outfit includes a sparkly blue dress, silver shoes, a head band, and a Star of David necklace. In addition to the clothing, priced at $36, fans of the dolls can also purchase a Chanukah gift set that includes a menorah, Star of David bracelet, dreidel and Chanukah gelt.
American Girl is known for its lifelike dolls with backstories — and a series of short novels and movies about them — spanning the globe and set throughout history. The company released its first Jewish doll named Rebecca Rubin, whose story was set on the Lower East Side in early 20th century, in 2009. While that doll was recently retired, her own Chanukah set is still available, along with a Shabbat set that includes a teapot, pastries and a braided challah.tion Collection'
The CDC published a study finding that camp during COVID-19 can be safe. Its proof: Camp Ramah.
By Gabe Friedman
(JTA) — The Centers for Disease Control has published a study conducted by the medical committee of the Camp Ramah network, highlighting the Jewish camps' highly successful safety measures for avoiding the spread of COVID-19 this past summer.
Between June and August, nine Ramah campers tested positive for the virus, out of a total of over 7,000 children and teenagers at nine out of the Conservative movement-affiliated system's 10 camps, the study shows.
"Three of the nine cases occurred in vaccinated staff members and six in unvaccinated campers aged 8–14 years. The three staff member cases were identified before the arrival of campers," the study summary reads. COVID-19 vaccines currently are not offered to children under 12.
In the words of the 10 Ramah authors, several of them licensed physicians, the study's findings "highlight important guiding principles for school and youth-based COVID-19 prevention protocols." The authors emphasize that a combination of mandatory testing before attending camp, repeated testing while at camp, frequent hand washing and the establishment of "pods," or isolated groups of campers, led to a successful summer.
Campers in a specific cabin became a pod, and were allowed to interact freely without masks or other restrictions. After rounds of testing, multiple pods merged over time. Three camps achieved camp-wide "pod expansion."
After shutting down completely like most other Jewish and non-Jewish overnight camps during the height of the pandemic in 2020, Ramah restarted this summer.
Rabbi Mitchell Cohen, national director of the National Ramah Commission, described the process — which included rotating groups of campers into prayer sessions, and putting up plastic dividers in dining halls — to the Jewish Telegraphic Agency in April, calling it "absolutely exhausting but incredibly exhilarating."
David Schoen, lawyer who defended Trump during impeachment, to chair Zionist Organization of America
By Ron Kampeas
WASHINGTON (JTA) — The Zionist Organization of America elected as its national chairman David Schoen, the Jewish lawyer whose Orthodox observance drew media attention as he defended former President Donald Trump at Trump's second impeachment trial.
Schoen, a constitutional lawyer who lives in Atlanta, has for years served on ZOA's board and has represented the organization, in one instance leading ZOA's efforts to hold the Palestine Liberation Organization legally accountable for terrorist attacks committed in its name.
He became nationally prominent when he represented Trump after the House of Representatives impeached the former president for spurring the Jan. 6 insurrection at the capital. The Senate acquitted Trump.
Schoen several times covered his head with his hand before taking a drink of water while speaking during Trump's Senate trial, leading observers to guess that he was saying a blessing. He also absented himself from the trial when Shabbat loomed.
Schoen, who usually wears a kippah, said he did not wear one while speaking during the trial because he thought it would look "awkward."
Trump was not Schoen's first high-profile case. He was set to represent Jeffrey Epstein on charges of sex trafficking when the financier was found dead, ostensibly by suicide, in jail. Schoen is a board member of the Alabama chapter of the American Civil Liberties Union and has been honored by the American Bar Association.
The ZOA election was Sunday. The membership reelected longtime president Morton Klein. Klein is the professional leader of the organization and Schoen is its lay leader.
Concentration-camp guard to stand trial for 3,518 murders between 1942 and 1945
(JNS) — A former guard at the Sachsenhausen concentration camp who will stand trial in Germany this month is accused of being complicit in 3,518 murders, reported The Times.
The 100-year-old man, whose name has not been released to the public, is charged with "knowingly and willingly" being involved in the murder of prisoners at the concentration camp between 1942 and 1945 while he served as a camp guard that patrolled the watchtowers and surrounding area. He was allegedly complicit in executions done by firing squads and poisonous gas. His case will open on Thursday.
In August, prosecutors confirmed that the man was fit to stand trial after he underwent a medical assessment.
More than 200,000 people were imprisoned at the Sachsenhausen camp between 1936 and 1945, according to the Sachsenhausen Museum. Tens of thousands of prisoners died at the camp due to hunger, disease, forced labor, medical experiments, mistreatment and extermination operations.
Also set to stand trial this month in Germany is Irmgard Furchner, a 96-year-old former secretary at the Stutthof death camp. She was expected to be in court on Sept. 30 but was declared "on the run" when she failed to appear after taking a taxi from her retirement home near Hamburg to a subway station, where she went missing.
She was detained by police several hours later and held in custody for five days, but was released this week ahead of her trial on Oct. 19.
Israel willing to renew talks with Lebanon on sea borders
(JNS) — Israeli Energy Minister Karine Elharrar said on Tuesday that the Jewish state is prepared to renew talks with Lebanon over the sea-border dispute in the Mediterranean, though its northern neighbor "cannot dictate the lines."
"We need to look for a solution that leads to a breakthrough and not try to think in the old ways of drawing lines," she told Reuters in an interview in Paris.
"We started (negotiations) by one line and then they (Lebanon) pushed the line. Pushing and pushing the lines literally. It's not the way to have a negotiation. They cannot dictate the lines," she said.
The talks began last year and are being mediated by the United States, but hit an impasse in May.
"We share a gas field and have to find a solution on how to use it so that each side will have its share of it in a fair way. We are willing to give it another shot," said Elharrar in the interview.
Vandals paint Holocaust-denial messages at site of Auschwitz-Birkenau
(JNS) — The Auschwitz-Birkenau Memorial and Museum condemned recent vandalism that took place at the site of the former Nazi concentration camp.
"Such [an] incident is, above all, an outrageous attack on the symbol of one of the greatest tragedies in human history and an extremely painful blow to the memory of all the victims of the German Nazi Auschwitz-Birkenau camp," the museum said. "We hope that the person or persons who committed this outrageous act will be found and punished."
It was discovered on Tuesday that nine wooden barracks were spray-painted with anti-Semitic messages in English and German—"two references to the Old Testament, often used by anti-Semites, and [Holocaust] denial slogans," stated the museum.
The graffiti was reported to the police, and video surveillance from the scene is being reviewed.
The spray-painted messages will be removed after the police have gathered all "necessary documentation" from the site of the vandalism, according to the museum, while also asking the public to contact them with any information pertaining to the incident.
It added that funding for the security system at the Auschwitz memorial is provided by the museum's budget, which "unfortunately suffered greatly during the COVID-19 pandemic."